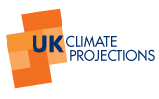 UK Climate Projections 2009 (UKCP09)
Publication State:
published
---
Abstract
The UK Climate Projections 2009 (UKCP09) project provided access to information on plausible changes in 21st century climate for the UK through the UKCP09 website. The website allowed dynamic interaction through a user interface to the data. UKCP09 provides future climate projections for land and marine regions as well as observed (past) climate data for the UK.
UKCP09 was produced in 2009, funded by a number of agencies led by Defra. It is based on sophisticated scientific methods provided by the Met Office, with input from over 30 contributing organisations, it was initially delivered through the UK Climate Impacts Programme (UKCIP). UKCP09 can be used to help organisations assess potential impacts of the projected future climate and to explore adaptation options to address those impacts.
The UKCP09 website is managed by the Environment Agency working with the Met Office. A new set of UK climate projections is due to be released in 2018 under the UKCP18 project.
Abbreviation: Not defined
Keywords: UK, climate, projections, UKCP09
---
Details
| | |
| --- | --- |
| Keywords: | UK, climate, projections, UKCP09 |
| Previously used record identifiers: | No related previous identifiers. |