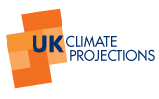 View XML
UKCP09: Land and marine past climate and future scenario projections data for the UK
Publication State:
published
---
Abstract
Past (observed) climate and future climate scenario projections data that were produced as part of the UK climate projections 2009 (UKCP09) service. The data produced by the UK Met Office providing information on plausible changes in 21st century climate for the UK helping to inform on adaptation to a changing climate. A UKCP09 website provided climate information for the UK and its regions. Through the website user interface climate statistics over the UK could be calculated dynamically. The data that informs these calculations is made available here.
UKCP09 provides future climate projections for land and marine regions as well as observed (past) climate data for the UK. Additionally a copy of the projections csv archive is provided. These are zip files of batch processed UKCP09 data outputs.
The projections improve upon the previous climate projections (UKCIP 2002) by incorporating more recent scientific understanding, providing data at a higher spatial resolution and providing an approach to dealing with uncertainties through probabilistic projections.
Abbreviation: Not defined
Keywords: UKCP09, UK, climate projections
---