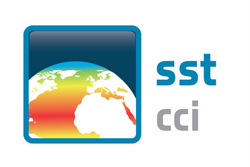 View XML
Collection of Sea Surface Temperature (SST) Data of the Global Oceans as part of the ESA Climate Change Initiative (CCI)
Publication State:
published
---
Abstract
The ESA Sea Surface Temperature Climate Change Initiative (ESA SST_cci) datasets accurately map the surface temperature of the global oceans over the period 1981 to 2016 using observations from many satellites. The data provide independently quantified SSTs to a quality suitable for climate research.
The latest version (v2.1) of the data are described in the data paper: Merchant, C.J., Embury, O., Bulgin, C.E., Block T., Corlett, G.K., Fiedler, E., Good, S.A., Mittaz, J., Rayner, N.A., Berry, D., Eastwood, S., Taylor, M., Tsushima, Y., Waterfall, A., Wilson, R., Donlon, C. Satellite-based time-series of sea-surface temperature since 1981 for climate applications, Scientific Data 6:223 (2019). http://doi.org/10.1038/s41597-019-0236-x
Data are made freely and openly available under a Creative Commons License by Attribution (CC By 4.0) https://creativecommons.org/licenses/by/4.0/ . To comply with the attribution aspect, please cite the above reference and the dataset citation given on the relevant dataset page.
Abbreviation: esa-sst-cci
Keywords: Not defined
---