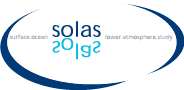 UK SOLAS Cape Verde Atmospheric Observatory Measurements
Publication State:
published
---
Abstract
The UK SOLAS Cape Verde Atmospheric Observatory (16.848N, 24.871W) exists to advance understanding of climatically significant interactions between the atmosphere and ocean and to provide a regional focal point and long-term data context for SOLAS field campaigns. The observatory is based on Calhau Island of Sao Vicente, Cape Verde in the tropical Eastern North Atlantic Ocean, a region which is data poor but plays a key role in atmosphere-ocean interactions of climate-related and biogeochemical parameters including greenhouse gases. It is an open-ocean site that is representative of a region likely to be sensitive to future climate change, and is minimally influenced by local effects and intermittent continental pollution. Measurements began at the site in October 2006.
Abbreviation: SOLAS-CapeVerde
Keywords: Cape Verde, SOLAS, NERC, NCAS
---
Details
| | |
| --- | --- |
| Keywords: | Cape Verde, SOLAS, NERC, NCAS |
| Previously used record identifiers: | http://badc.nerc.ac.uk/view/badc.nerc.ac.uk__ATOM__activity_12478452439927910 |
Related Documents
No documents related to this record were found.