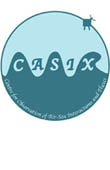 View XML
CASIX TOPEX: high-resolution gridded monthly means of surface marine data
Publication State:
published
---
Abstract
TOPography EXperiment (TOPEX) for ocean circulation (otherwise known as Poseidon) was launched on August 10, 1992 and was a joint satellite mission between NASA, the U.S. space agency, and CNES, the French space agency, to map ocean surface topography. The first major oceanographic research vessel to sail into space, TOPEX/Poseidon helped revolutionise oceanography by proving the value of satellite ocean observations.
This dataset collection contains monthly means on a 1x1 latitude/longitude grid for 12 years (1993-2004). The data contains the following parameters: wind speed, squared wind speed, cubed wind speed, wind speed * significant wave height, significant wave height, 1/sigma0(Ku) and gas transfer velocity.
The dataset was produced by Fangohr, S. and D.K. Woolf of SOCS, as part of the NERC programme's Centre for observation of Air-Sea Interactions and FluXes (CASIX) and National Centre for Earth Observation (NCEO).
Abbreviation: kriged_topex
Keywords: TOPEX, ocean, satellite, marine
---
Details
| | |
| --- | --- |
| Previous Info: | No news update for this record |
| Previously used record identifiers: | http://badc.nerc.ac.uk/view/neodc.nerc.ac.uk__ATOM__DE_caab3b16-73cf-11df-92a9-00e081470264 |