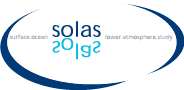 Surface Ocean / Lower Atmosphere Study (UK SOLAS)
Publication State:
published
---
Abstract
UK SOLAS was the UK's contribution to the International SOLAS project.
The Surface Ocean - Lower Atmosphere Study (SOLAS) is an international project involving more than 20 nations. Its central goal is to achieve quantitative understanding of the key biogeochemical-physical interactions and feedbacks between the ocean and atmosphere, and of how this coupled system affects and is affected by climate and environmental change.
This understanding is vital to the construction of Earth System models.
The programme, funded by the Natural Environment Research Council (NERC), ran for six years. It focuses on processes in and the interaction between the surface ocean and the lower atmosphere in the North Atlantic region.
UK SOLAS aims
To determine the mechanisms controlling rates of chemical transfer and improve estimates of chemical exchanges
To evaluate the impact of these exchanges on the biogeochemistry of the surface ocean and lower atmosphere and on feedbacks between the ocean and atmosphere
To quantify the impacts of these boundary layer processes on the global climate system
The outputs will improve our ability to predict climate change, giving insights into natural marine production and the fate of important trace gases. They will show whether these processes are sensitive to other environmental factors. This information is needed by climate modellers and policy makers.
UK SOLAS has brought together scientists, with the skills to address these aims, from numerous research centres and universities. It worked closely with NERC's Quantifying and Understanding the Earth System (QUEST) programme.
Fieldwork included eight dedicated research cruises in the North Atlantic. Ongoing measurements were made aboard the Norwegian weather ship Polarfront. Time series measurements were made at the SOLAS Cape Verde Observatory and at the Plymouth Marine Laboratory (PML) L4 station. Additional atmospheric data came from a series of collaborative aircraft campaigns. These campaigns were funded by UK SOLAS, African Monsoon Multidisciplinary Analyses (AMMA-UK), Dust and Biomass Experiment (DABEX) and the Facility for Airborne Atmospheric Measurements (FAAM).
NERC provided funding for 19 projects. CEDA holds data from DODO, Rhamble, SLATEA and Cape Verde measurements.
Abbreviation: solas-project
Keywords: SOLAS, NERC, DODO, RHAMBLE, atmosphere, ocean
---
Details
| | |
| --- | --- |
| Keywords: | SOLAS, NERC, DODO, RHAMBLE, atmosphere, ocean |
| Previously used record identifiers: | http://badc.nerc.ac.uk/view/badc.nerc.ac.uk__ATOM__activity_activity_solas |