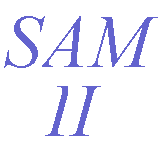 ---
View XML
Stratospheric Aerosol Measurement II (SAM II): Polar Arctic and Antarctic Aerosol Extinction Profiles
Publication State:
published
---
Abstract
The SAM II instrument, aboard the Earth-orbiting Nimbus 7 spacecraft, was designed to measure solar irradiance attenuated by aerosol particles in the Arctic and Antarctic stratosphere. The scientific objective of the SAM II experiment was to develop a stratospheric aerosol database for the polar regions by measuring and mapping vertical profiles of the atmospheric extinction due to aerosols. This database allows for studies of aerosol changes due to seasonal and short-term meteorological variations, atmospheric chemistry, cloud microphysics, and volcanic activity and other perturbations. The results obtained are useful in a number of applications, particularly the evaluation of any potential climatic effect caused by stratospheric aerosols.
This dataset collection contains 14 years of polar Arctic and Antarctic aerosol extinction profiles, atmospheric temperature and pressure data obtained from the Stratospheric Aerosol Instrument II (SAM II) on the NIMBUS 7 satellite.
Citable as:
NASA Langley Research Center; National Aeronautics and Space Administration; McCormick, M.P.; Powell, K. (1993): Stratospheric Aerosol Measurement II (SAM II): Polar Arctic and Antarctic Aerosol Extinction Profiles. NASA Langley Research Center Distributed Active Archive Center,
date of citation
.
http://catalogue.ceda.ac.uk/uuid/4be22f465e970f2ef8423bcaf3272bf6
Abbreviation: SAM, II-dataset-collection
Keywords: SAM II, aerosol, polar, temperature, pressure
---
Details
| | |
| --- | --- |
| Previous Info: | No news update for this record |
| Previously used record identifiers: | http://badc.nerc.ac.uk/view/badc.nerc.ac.uk__ATOM__dataent_SAM2 |