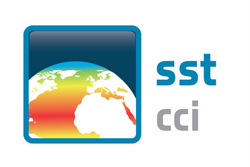 View XML
ESA Sea Surface Temperature Climate Change Initiative (SST_cci): Level 4 Analysis Climate Data Record, version 2.1
Update Frequency:
Not Planned
Publication State:
Citable
Publication Date:
2019-08-02
DOI Publication Date:
2019-08-22
Dataset Size:
25.81K Files | 416GB
---
Abstract
This v2.1 SST_cci Level 4 Analysis Climate Data Record (CDR) provides a globally-complete daily analysis of sea surface temperature (SST) on a 0.05 degree regular latitude - longitude grid. It combines data from both the Advanced Very High Resolution Radiometer (AVHRR ) and Along Track Scanning Radiometer (ATSR) SST_cci Climate Data Records, using a data assimilation method to provide SSTs where there were no measurements. These data cover the period between 09/1981 and 12/2016.
The dataset has been produced as part of the European Space Agency (ESA) Climate Change Initiative Sea Surface Temperature project(ESA SST_cci). The data products from SST_cci accurately map the surface temperature of the global oceans over the period 1981 to 2016 using observations from many satellites. The data provide independently quantified SSTs to a quality suitable for climate research.
The CDR Version 2.1 product supercedes the CDR Version 2.0 product. Data are made freely and openly available under a Creative Commons License by Attribution (CC By 4.0) https://creativecommons.org/licenses/by/4.0/
When citing this dataset please also cite the associated data paper: Merchant, C.J., Embury, O., Bulgin, C.E., Block T., Corlett, G.K., Fiedler, E., Good, S.A., Mittaz, J., Rayner, N.A., Berry, D., Eastwood, S., Taylor, M., Tsushima, Y., Waterfall, A., Wilson, R., Donlon, C. Satellite-based time-series of sea-surface temperature since 1981 for climate applications, Scientific Data 6:223 (2019). http://doi.org/10.1038/s41597-019-0236-x
Citable as:
Good, S.A.; Embury, O.; Bulgin, C.E.; Mittaz, J. (2019): ESA Sea Surface Temperature Climate Change Initiative (SST_cci): Level 4 Analysis Climate Data Record, version 2.1. Centre for Environmental Data Analysis,
22 August 2019
. doi:10.5285/62c0f97b1eac4e0197a674870afe1ee6.
https://dx.doi.org/10.5285/62c0f97b1eac4e0197a674870afe1ee6
Abbreviation: Not defined
Keywords: SST, ESA Climate Change Initiative
---
Details
| | |
| --- | --- |
| Previous Info: | No news update for this record |
| Previously used record identifiers: | No related previous identifiers. |
| Access rules: | |
| Data lineage: | Data were processed by the ESA CCI SST project team and supplied to the Centre for Environmental Data Analysis (CEDA) for archiving in the context of the ESA CCI Open Data Portal project and the National Centre for Earth Observation (NCEO). |
| Data Quality: | As provided by the CCI SST team |
| File Format: | Data are in NetCDF format |
Process overview
This dataset was generated by the
computation
detailed below.
Title

Derivation of the ESA CCI Sea Surface Temperature Level 4 product (CDR v2)

Abstract

The L4 Sea Surface Temperature Analysis data produced by the ESA Climate Change Initiative (CCI) consistes of daily, spatially complete estimated daily SST data, derived using the Operational Sea Surface Temperature and Sea Ice Analysis (OSTIA) processing system. This creates the L4 data from the ATSR and AVHRR Level 2 and Level 3 data sets also produced in the SST CCI.

For further information please see the SST CCI product user guide.

Input Description

None

Output Description

None

Software Reference

None
units: degrees_north
var_id: lat_bnds
long_name: Latitude cell boundaries
names: Latitude cell boundaries
units: degrees_east
var_id: lon_bnds
long_name: Longitude cell boundaries
names: Longitude cell boundaries
var_id: time_bnds
long_name: Time cell boundaries
names: Time cell boundaries
units: kelvin
standard_name: sea_water_temperature
var_id: analysed_sst
long_name: analysed sea surface temperature
names: sea_water_temperature, analysed sea surface temperature
units: kelvin
standard_name: sea_water_temperature_anomaly
long_name: analysed sea surface temperature anomaly
var_id: analysed_sst_anomaly
names: sea_water_temperature_anomaly, analysed sea surface temperature anomaly
units: kelvin
long_name: estimated error standard deviation of analysed_sst
standard_name: sea_water_temperature standard_error
var_id: analysis_uncertainty
names: sea_water_temperature standard_error, estimated error standard deviation of analysed_sst
var_id: mask
long_name: land sea ice lake bit mask
names: land sea ice lake bit mask
units: 1
standard_name: sea_ice_area_fraction
var_id: sea_ice_fraction
long_name: sea ice area fraction
names: sea_ice_area_fraction, sea ice area fraction
var_id: mask
long_name: sea/land/lake/ice field composite mask
names: sea/land/lake/ice field composite mask
Co-ordinate Variables
units: degrees_north
standard_name: latitude
var_id: lat
long_name: Latitude
names: latitude, Latitude
units: degrees_east
standard_name: longitude
var_id: lon
long_name: Longitude
names: longitude, Longitude
units: degrees_north
standard_name: latitude
long_name: latitude
var_id: lat
names: latitude
units: degrees_east
standard_name: longitude
long_name: longitude
var_id: lon
names: longitude
standard_name: time
var_id: time
long_name: reference time of sst field
names: time, reference time of sst field