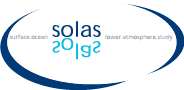 View XML
UK SOLAS Dust Outflow and Deposition to the Ocean (DODO) FAAM Aircraft campaign
Publication State:
published
---
Abstract
The UK SOLAS Dust Outflow and Deposition to the Ocean (DODO) project aimed at quantifying the chemical and microphysical properties of Saharan dust in the tropical Atlantic region.
Case studies were conducted using in situ measurements made by the FAAM BAe-146 aircraft to predict dust deposition to the northern hemisphere Atlantic Ocean. These studies aimed at describing how changing chemical and physical properties in the dust affect its long range transport and also assessed the radiative impact of the dust and its effect on sea surface temperatures in nutrient rich waters of the Atlantic Ocean. The dust sources were fingerprinted using single particle characterisation and by assessing their main composition. The climatological representativeness of the studies will be assessed and used to predict the seasonal footprint of dust deposition to the north Atlantic Ocean.
Two aircraft campaigns using the Facility for Airborne Atmospheric Measurements (FAAM) aircraft were conducted:
- DODO 1 in association with the DABEX campaign from Dakar in Jan-Feb. 2006
- DODO2 in association with the AMMA campaign from Dakar in Sep-Oct. 2006.
Measurements have included Chemical composition, microphysics and optical properties of aerosols, Radiative fluxes, Trace gas chemistry.

Abbreviation: SOLAS-DODO-FAAM
Keywords: DODO, AMMA, DABEX, SOLAS, Africa, aerosols, FAAM
---
Details
| | |
| --- | --- |
| Previous Info: | No news update for this record |
| Previously used record identifiers: | http://badc.nerc.ac.uk/view/badc.nerc.ac.uk__ATOM__dep_11696570444312880 |