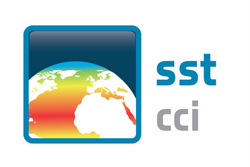 View XML
ESA Sea Surface Temperature Climate Change Initiative (SST_cci): Climatology Climate Data Record, version 2.1
Update Frequency:
Not Planned
Latest Data Update:
2019-07-02
Publication State:
Citable
Publication Date:
2019-08-02
DOI Publication Date:
2019-08-22
Dataset Size:
365 Files | 3GB
---
This dataset has been superseded
. See Latest Version
here
Abstract
This v2.1 SST_cci Climatology Data Record (CDR) consists of Level 4 daily climatology files gridded on a 0.05 degree grid.
The dataset has been produced as part of the European Space Agency (ESA) Climate Change Initiative Sea Surface Temperature project(ESA SST_cci). The data products from SST_cci accurately map the surface temperature of the global oceans over the period 1981 to 2016 using observations from many satellites. The data provide independently quantified SSTs to a quality suitable for climate research.
Data are made freely and openly available under a Creative Commons License by Attribution (CC By 4.0) https://creativecommons.org/licenses/by/4.0/ .
When citing this dataset please also cite the associated data paper: Merchant, C.J., Embury, O., Bulgin, C.E., Block T., Corlett, G.K., Fiedler, E., Good, S.A., Mittaz, J., Rayner, N.A., Berry, D., Eastwood, S., Taylor, M., Tsushima, Y., Waterfall, A., Wilson, R., Donlon, C. Satellite-based time-series of sea-surface temperature since 1981 for climate applications, Scientific Data 6:223 (2019). http://doi.org/10.1038/s41597-019-0236-x
Citable as:
Good, S.A.; Embury, O. (2019): ESA Sea Surface Temperature Climate Change Initiative (SST_cci): Climatology Climate Data Record, version 2.1. Centre for Environmental Data Analysis,
22 August 2019
. doi:10.5285/83e51cf29821434ea14db56c564946d5.
https://dx.doi.org/10.5285/83e51cf29821434ea14db56c564946d5
Abbreviation: Not defined
Keywords: SST, ESA Climate Change Initiative, CCI
---
Details
| | |
| --- | --- |
| Previous Info: | No news update for this record |
| Previously used record identifiers: | No related previous identifiers. |
| Access rules: | |
| Data lineage: | Data were processed by the ESA CCI SST project team and supplied to the Centre for Environmental Data Analysis (CEDA) for archiving in the context of the ESA CCI Open Data Portal project and the National Centre for Earth Observation (NCEO). |
| Data Quality: | As provided by the CCI SST team |
| File Format: | Data are in NetCDF format |
---
Citations: 1
The following citations have been automatically harvested from external sources associated with this resource where DOI tracking is possible. As such some citations may be missing from this list whilst others may not be accurate. Please contact the helpdesk to raise any issues to help refine these citation trackings.
Process overview
This dataset was generated by the
computation
detailed below.
| | |
| --- | --- |
| Title | CCI SST Processor |
| Abstract | This computation involved: CCI SST Processor. This processor was developed in the ESA Climate Change Initiative, Sea Surface Temperature Project |
| Input Description | None |
| Output Description | None |
| Software Reference | None |
units: degrees_north
var_id: lat_bnds
long_name: Latitude cell boundaries
names: Latitude cell boundaries
units: degrees_east
var_id: lon_bnds
long_name: Longitude cell boundaries
names: Longitude cell boundaries
var_id: time_bnds
long_name: Time cell boundaries
names: Time cell boundaries
units: kelvin
standard_name: sea_water_temperature
var_id: analysed_sst
long_name: analysed sea surface temperature
names: sea_water_temperature, analysed sea surface temperature
units: 1
standard_name: sea_ice_area_fraction
var_id: sea_ice_fraction
long_name: sea ice area fraction
names: sea_ice_area_fraction, sea ice area fraction
var_id: mask
long_name: sea/land/lake/ice field composite mask
names: sea/land/lake/ice field composite mask
Co-ordinate Variables
units: degrees_north
standard_name: latitude
var_id: lat
long_name: Latitude
names: latitude, Latitude
units: degrees_east
standard_name: longitude
var_id: lon
long_name: Longitude
names: longitude, Longitude
standard_name: time
var_id: time
long_name: reference time of sst field
names: time, reference time of sst field