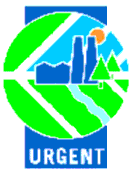 Observation, Modelling And Management Of Urban Air Pollution (PUMA COnsortium - PUMACO) project part of the Urban Regeneration and the Environment (URGENT) NERC Research Programme
Publication State:
published
---
Abstract
URGENT - Observation, Modelling And Management Of Urban Air Pollution (PUMA COnsortium - PUMACO) was a NERC Urban Regeneration and the Environment (URGENT) Air project (GST/02/1981 - Duration: 1/01/1998 - 30/09/2001) led by Prof. Roy M. Harrison, University of Birmingham.
The objectives of this project were:
-To apply a high spatial resolution meso-scale meteorological model to the West Midlands. This was the first of its kind in the UK.
-To add a coupled dispersion and atmospheric chemistry model, capable of predicting both primary and secondary air pollutant concentrations at urban background locations across the conurbation with a horizontal resolution of about 2km and a vertical resolution as low as 25m. The model were validated against high quality measurements of primary pollutants such as carbon monoxide, sulphur dioxide and NOX, as well as secondary pollutants including nitrogen dioxide, ozone and secondary inorganic particulate matter. It was compared with an existing model (UAM).
-To make measurements of concentrations of a wide range of both long-lived and transient chemical species including hydrocarbons, carbonyl compounds, oxyacids of nitrogen and the free radical species OH, HO2, RO2 and NO3, which play a key role in atmospheric chemistry.
-To validate the atmospheric chemical reaction mechanisms within the model in a depth not previously attempted.
-To gain insights into the chemical processes controlling the composition of the urban atmosphere at a very fundamental level.
-To produce a management model applicable for national and local government to predict the impact on air quality of specific control strategies for a wide range of criteria pollutants and on a range of timescales (minutes to years).
This project was seeking to apply and validate a well accepted meso-scale meteorological model (the Colorado State University RAMS model) coupled with a very detailed chemical scheme within a Lagrangian particle dispersion model.
A dozen of urban and suburban sites in and around the West Midlands County (UK) were chosen for the project. The principal urban site was Pritchatts Road, Birmingham City. Peripheric sites included Halfpenny Green Airport (West of Birmingham) and Withybrook Equestrian Centre (East of Birmingham). The field campaigns ran from 11 June - 13 July 1999 and 17 January - 17 February 2000. A variety of observation platforms were used. They included two ambulant laboratories (Birmingham and Leeds teams), a pollution monitoring van and a 10 m high tower allowing measurements to be made at a height of 5 or 10 metres. Most observations were made when the platform was stationary but some data were collected while driving (peripheric sites).
Abbreviation: Not defined
Keywords: URGENT, PUMACO, Chemistry, Pollutants, Air pollution,
---
Details
| | |
| --- | --- |
| Keywords: | URGENT, PUMACO, Chemistry, Pollutants, Air pollution, |
| Previously used record identifiers: | No related previous identifiers. |