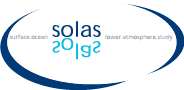 View XML
UK SOLAS Reactive halogens in the marine boundary layer (RHaMBLe) campaign at Cape Verde (2007)
Publication State:
published
---
Abstract
The UK SOLAS Reactive halogens in the marine boundary layer (RHaMBLe) campaign aimed at quantifying marine halogen cycling and investigating its spatial variability. The aim was also to determine the effects of marine halogen cycling on atmospheric oxidative chemistry.
Fieldwork has provided observations at the SOLAS Cape Verde Observatory in May 2007.
Measurements included trace molecules and radicals, aerosol characteristics and distribution (Leeds FAGE, filter packs, mist chambers).
Abbreviation: SOLAS-Rhamble-CapeVerde
Keywords: Rhamble, SOLAS, Cape Verde, aerosols
---
Details
| | |
| --- | --- |
| Previous Info: | No news update for this record |
| Previously used record identifiers: | No related previous identifiers. |