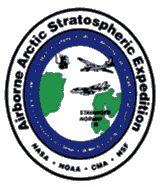 Airborne Arctic Stratospheric Expedition (AASE)
Publication State:
published
---
Abstract
A NASA aircraft expedition based in Stavanger, Norway during January and February 1989. The data consist of various chemical composition and meteorological measurements collected on board the NASA ER-2 and DC-8 aircraft, ozonesonde soundings from 3 stations (Angmagssalik and Scoresbysund, Greenland and Lerwick, UK), aerosol and temperature profiles from the SAM II satellite, global gridded NIMBUS 7 TOMS ozone column and selected radiosonde soundings from stations in the region of the experiment. This dataset is public.
Abbreviation: AASE-project
Keywords: AASE, AASE-98, chemistry
---
Details
| | |
| --- | --- |
| Keywords: | AASE, AASE-98, chemistry |
| Previously used record identifiers: | http://badc.nerc.ac.uk/view/badc.nerc.ac.uk__ATOM__activity_activity_AASE |
Related Documents
No documents related to this record were found.