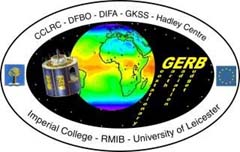 Geostationary Earth Radiation Budget Experiment 1 and 2 (GERB-1 and GERB-2) European Consortium
Publication State:
published
---
Abstract
The Geostationary Earth Radiation Budget 1 & 2 instruments (GERB-1 and GERB-2) make accurate measurements of the Earth Radiation Budget. They are specifically designed to be mounted on a geostationary satellite and are carried onboard the Meteosat Second Generation satellites operated by EUMETSAT. they were produced by a European consortium led by the UK (NERC) together with Belgium, Italy, and EUMETSAT, with funding from national agencies.
Abbreviation: GERB_euro_consortium
Keywords: GERB, solar, thermal, radiation
---
Details
| | |
| --- | --- |
| Keywords: | GERB, solar, thermal, radiation |
| Previously used record identifiers: | http://badc.nerc.ac.uk/view/badc.nerc.ac.uk__ATOM__activity_activity_gerb |
Related Documents
No documents related to this record were found.