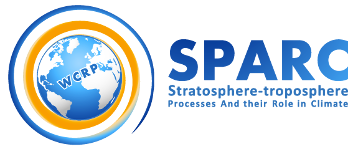 View XML
S-RIP: Zonal-mean dynamical variables of global atmospheric reanalyses on pressure levels
Publication State:
Citable
Publication Date:
2017-11-28
---
Abstract
This dataset contains zonal-mean atmospheric diagnostics computed from reanalysis datasets on pressure levels. Primary variables include temperature, geopotential height, and the three-dimensional wind field. Advanced diagnostics include zonal covariance terms that can be used to compute, for instance, eddy kinetic energy and eddy fluxes. Terms from the primitive zonal-mean momentum equation and the transformed Eulerian momentum equation are also provided.
This dataset was produced to facilitate the comparison of reanalysis datasets for the collaborators of the SPARC- Reanalysis Intercomparison Project (S-RIP) project. The dataset is substantially smaller in size compared to the full three dimensional reanalysis fields and uses unified numerical methods. The dataset includes all global reanalyses available at the time of its development and will be extended to new reanalysis products in the future.
Abbreviation: Not defined
Keywords: S-RIP, Zonal mean, Pressure levels, Momentum equation, Transformed Eulerian mean, TEM, E-P flux
---
Details
| | |
| --- | --- |
| Previous Info: | No news update for this record |
| Previously used record identifiers: | No related previous identifiers. |
| Access rules: | |
| Data lineage: | The dataset was created for the SPARC- Reanalysis Intercomparison Project (S-RIP). Data has been archived at the Centre for Environmental Data Anaylsis (CEDA). |
| Data Quality: | Data is as given by the data provider, no quality control has been performed by the Centre for Environmental Data Analysis (CEDA) |
| File Format: | Data are netCDF formatted |
Process overview
This dataset was generated by the
computation
detailed below.
| | |
| --- | --- |
| Title | S-RIP reanalysis |
| Abstract | Three dimensional atmospheric fields were first downloaded from reanalysis data centers. Then, zonal-mean diagnostics were computed onto two distinct grids. The first is the grid originally provided by each data center. The second is a common 2.5 by 2.5 degrees grid onto which each data set is interpolated using bilinear interpolation. All diagnostics are performed using the same numerical methods for each reanalysis data set. |
| Input Description | None |
| Output Description | None |
| Software Reference | None |
units: hPa
standard_name: air_pressure
var_id: pressure
names: air_pressure
units: K
standard_name: air_temperature
var_id: t
names: air_temperature
units: m s-1
standard_name: eastward_wind
var_id: u
names: eastward_wind
units: m
standard_name: geopotential_height
var_id: h
names: geopotential_height
units: Pa s-1
var_id: omega
standard_name: lagrangian_tendency_of_air_pressure
names: lagrangian_tendency_of_air_pressure
units: m s-1
var_id: vstar
standard_name: meridional_residual_circulation
names: meridional_residual_circulation
units: m3 s-2
standard_name: northward_eliassen_palm_flux_in_air
var_id: EPF_phi_qg_k3
names: northward_eliassen_palm_flux_in_air
units: m s-1
standard_name: northward_wind
var_id: v
names: northward_wind
units: m s-2
standard_name: tendency_of_eastward_wind_due_to_advection_of_zonal_momentum_by_northward_residual_circulation
var_id: uvstar
names: tendency_of_eastward_wind_due_to_advection_of_zonal_momentum_by_northward_residual_circulation
units: m s-2
standard_name: tendency_of_eastward_wind_due_to_advection_of_zonal_momentum_by_vertical_residual_circulation
var_id: uomegastar
names: tendency_of_eastward_wind_due_to_advection_of_zonal_momentum_by_vertical_residual_circulation
units: m s-2
var_id: fv
standard_name: tendency_of_eastward_wind_due_to_coriolis_torque
names: tendency_of_eastward_wind_due_to_coriolis_torque
units: m s-2
standard_name: tendency_of_eastward_wind_due_to_coriolis_torque_resulting_from_northward_residual_circulation
var_id: fvstar
names: tendency_of_eastward_wind_due_to_coriolis_torque_resulting_from_northward_residual_circulation
units: m s-2
standard_name: tendency_of_eastward_wind_due_to_eliassen_palm_flux_divergence
var_id: EPFD_phi_qg_k3
names: tendency_of_eastward_wind_due_to_eliassen_palm_flux_divergence
var_id: uv
units: m s-2
standard_name: tendency_of_eastward_wind_due_to_meridional_advection_of_zonal_momentum
names: tendency_of_eastward_wind_due_to_meridional_advection_of_zonal_momentum
units: m s-2
standard_name: tendency_of_eastward_wind_due_to_vertical_advection_of_zonal_momentum
var_id: uw
names: tendency_of_eastward_wind_due_to_vertical_advection_of_zonal_momentum
units: m s-2
standard_name: tendency_of_eastward_wind_due_to_vertical_momentum_flux_convergence
var_id: vertflux_k3
names: tendency_of_eastward_wind_due_to_vertical_momentum_flux_convergence
standard_name: upward_eliassen_palm_flux_in_air
units: m2 s-2 Pa
var_id: EPF_p_pr_k3
names: upward_eliassen_palm_flux_in_air
units: Pa s-1
standard_name: vertical_residual_circulation
var_id: omegastar
names: vertical_residual_circulation
units: m Pa s-2
standard_name: zonal_covariance_of_eastward_wind_and_lagrangian_tendency_of_air_pressure
var_id: uomega_k3
names: zonal_covariance_of_eastward_wind_and_lagrangian_tendency_of_air_pressure
units: m2 s-2
standard_name: zonal_covariance_of_eastward_wind_and_northward_wind
var_id: uv_k3
names: zonal_covariance_of_eastward_wind_and_northward_wind
units: m K s-1
standard_name: zonal_covariance_of_northward_wind_and_air_temperature
var_id: vt_k3
names: zonal_covariance_of_northward_wind_and_air_temperature
units: K Pa s-1
standard_name: zonal_covariance_of_temperature_and_lagrangian_tendency_of_air_pressure
var_id: tomega_k3
names: zonal_covariance_of_temperature_and_lagrangian_tendency_of_air_pressure
units: m2 s-2
standard_name: zonal_variance_of_eastward_wind
var_id: uu_k3
names: zonal_variance_of_eastward_wind
units: m2 s-2
standard_name: zonal_variance_of_northward_wind
var_id: vv_k3
names: zonal_variance_of_northward_wind
units: K2
standard_name: zonal_variance_of_temperature
var_id: tt_k3
names: zonal_variance_of_temperature
Co-ordinate Variables
units: degree_north
standard_name: latitude
var_id: latitude
names: latitude
standard_name: time
var_id: time
names: time