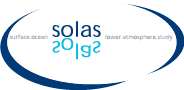 UK SOLAS Reactive Halogens in the Marine Boundary Layer (RHaMBLe)
Publication State:
published
---
Abstract
RHaMBLe aims to quantify impacts of marine halogen emissions on atmospheric composition by the direct observation of a range of reactive halogen species (RHS) in the marine atmosphere. Emphasis is placed on the roles of halogens in oxidative processes and on secondary aerosol formation and transformations resulting from the cycling of RHS.
Fieldwork has provided open ocean and coastal measurements. Open ocean work included a research cruise (D319) upwind of Cape Verde (Jan-Jun 2007), and supplementary observations at the SOLAS Cape Verde Observatory. Coastal observations were made during the summer of 2006 at Roscoff in Brittany. Measurements included trace molecules and radicals, aerosol characteristics and distribution.
NERC Grants: NE/D006570/1; NE/D006589/1; NE/D006562/1; NE/D006554/1; NE/D00652X/1

Abbreviation: SOLAS-Rhamble
Keywords: rhamble, solas, nerc, halogen
---
Details
| | |
| --- | --- |
| Keywords: | rhamble, solas, nerc, halogen |
| Previously used record identifiers: | http://badc.nerc.ac.uk/view/badc.nerc.ac.uk__ATOM__ACTIVITY_7c948484-3683-11df-85b7-00e081470264 |