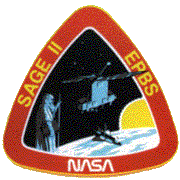 View XML
Stratospheric Aerosol and Gas Experiment II (SAGE II): Global Profiles of Aerosol Extinction, Temperature, Ozone, Nitrogen Dioxide and Water Vapour
Publication State:
published
---
Abstract
The SAGE II (Stratospheric Aerosol and Gas Experiment II) sensor was launched into a 57 degree inclination orbit aboard the Earth Radiation Budget Satellite (ERBS) in October 1984. During each sunrise and sunset encountered by the orbiting spacecraft, the instrument used the solar occultation technique to measure attenuated solar radiation through the Earth's limb in seven channels centered at wavelengths ranging from 0.385 to 1.02 micrometers.
Version 6.1 data are available from October 1984 through July 2000, in the form of index files and spec files, with software to assist processing in IDL. Version 6.2 data continue through to August 2005. The update from 6.1 to 6.2 rectifies an altitude registration problem, and there is an improvement to the water vapour product. More information about the data is available from the SAGE II web site of the NASA Langley Research Center.
Version 1 contained SAGE II monthly mean global colour image maps and the relevant gridded data for aerosol extinction at 1020 nm, 525 nm, 453 nm and 385 nm wavelength, ozone mixing ratio, water vapour mixing ratio and relative humidity, nitrogen dioxide mixing ratio at up 14 pressure levels, for the period January 1985 to December 1993.
As the original SAGE II measurements were made at geometrical heights, meteorological data from the National Meteorological Center (NMC) were used to determine the actual pressure heights for the SAGE II profile data and also have been used to calculate the relative humidity. For easy reference, the NMC atmospheric temperature, geometrical altitude and tropopause data used in the determination of SAGE II data are also included. Users of the image/data version 1.0 products need to be aware that these meteorological data are not measured by the SAGE II instrument itself.
Citable as:
National Aeronautics and Space Administration; McCormick, M.P.; Thomasson, L. (2006): Stratospheric Aerosol and Gas Experiment II (SAGE II): Global Profiles of Aerosol Extinction, Temperature, Ozone, Nitrogen Dioxide and Water Vapour. NCAS British Atmospheric Data Centre,
date of citation
.
http://catalogue.ceda.ac.uk/uuid/bd5e5f99d8f789324698379efba64502
Abbreviation: sage2-dataset-collection
Keywords: SAGE, chemistry
---
Details
| | |
| --- | --- |
| Previous Info: | No news update for this record |
| Previously used record identifiers: | http://badc.nerc.ac.uk/view/badc.nerc.ac.uk__ATOM__dataent_sage2 |