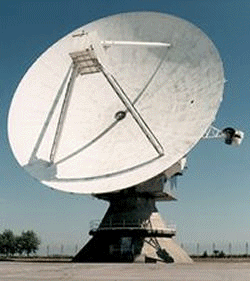 View XML
Chilbolton Facility for Atmospheric and Radio Research (CFARR) Grimm Optical Particle Counter data
Update Frequency:
Continual
Publication State:
Published
Publication Date:
2013-10-14
Dataset Size:
1.8K Files | 374MB
---
Abstract
The Chilbolton Facility for Atmopsheric and Radio Research's aerosol particle concentration measurements are provided by a 164DM environmental dust monitor manufactured by Grimm Aerosol Technik. A Lufft WS500 weather station is incorporated into the instrument to provide co-located meteorological measurements. Alternatively, particle mass concentrations can be produced as PM1, PM2.5 and PM10 measurements. The instrument measures the size and number density of aerosol molecules by using a 0.5m vertical inlet to suck ambient air into a measurement chamber. The scattering of a laser beam transmitted through the chamber is used to deduce size and concentration information. It is operated continuously on the roof of a cabin at a height of 8m above ground at the Chilbolton Observatory site. Measurements are taken every 60s, providinga erosol particle concentration (counts/m3) in 31 size bins in the range 0.265-34.0 um, air temperature, relative humidity, air pressure, wind speed and wind direction. The instrument is calibrated every 18 months by the manufacturer
Abbreviation: Not defined
Keywords: CFARR, particle counter
---
Details
Previous Info:

No news update for this record

Previously used record identifiers:

http://badc.nerc.ac.uk/view/badc.nerc.ac.uk__ATOM__ACTIVITY_ee24c16c-34e6-11e3-82de-00163e251233

Access rules:
Data lineage:

Data are collected by 4 radar systems, of which the largest is the 3 GHz Doppler radar (CAMRa), and 4 lidar systems, at Chilbolton Observatory, Hampshire.
Data are prepared by Chilbolton Facility for Atmospheric and Radio Research (CFARR) staff prior to submission to BADC for archiving.

Data Quality:

Data are checked by CFARR staff prior to submission to BADC

File Format:

Data are netCDF formatted.
Related Documents
No documents related to this record were found.
Process overview
This dataset was generated by instruments deployed on platforms as listed below.
Instrument/Platform pairings
units: m-3
long_name: Number concentration of ambient aerosol in air as a function of diameter
standard_name: number_concentration_of_ambient_aerosol_in_air
var_id: number_concentration_of_ambient_aerosol_in_air
names: Number concentration of ambient aerosol in air as a function of diameter, number_concentration_of_ambient_aerosol_in_air
long_name: Range Of The First Cloud Base From The Lidar
names: Range Of The First Cloud Base From The Lidar
units: Pa
standard_name: air_pressure
var_id: air_pressure
long_name: air pressure measured by aerosol spectrometer weather station
names: air_pressure, air pressure measured by aerosol spectrometer weather station
units: K
standard_name: air_temperature
var_id: air_temperature
long_name: air temperature measured by aerosol spectrometer weather station
names: air_temperature, air temperature measured by aerosol spectrometer weather station
units: m
standard_name: height
var_id: height
long_name: height of ground level above mean sea level (Ordnance Survey Great Britain)
names: height, height of ground level above mean sea level (Ordnance Survey Great Britain)
units: m
standard_name: height
var_id: height
long_name: height of instrument above ground
names: height, height of instrument above ground
var_id: particle_diameter
units: um
long_name: particle diameter (in microns)
names: particle diameter (in microns)
standard_name: relative_humidity
var_id: relative_humidity
units: %
long_name: relative_humidity measured by aerosol spectrometer weather station
names: relative_humidity, relative_humidity measured by aerosol spectrometer weather station
units: degree
standard_name: wind_from_direction
var_id: wind_from_direction
long_name: wind direction measured by aerosol spectrometer sonic anemometer
names: wind_from_direction, wind direction measured by aerosol spectrometer sonic anemometer
standard_name: wind_speed
var_id: wind_speed
units: m/s
long_name: wind speed measured by aerosol spectrometer sonic anemometer
names: wind_speed, wind speed measured by aerosol spectrometer sonic anemometer
Co-ordinate Variables
units: degree_north
standard_name: latitude
var_id: latitude
long_name: latitude
names: latitude
units: degree_east
standard_name: longitude
var_id: longitude
long_name: longitude
names: longitude
standard_name: time
var_id: time
names: time