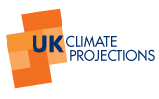 View XML
UKCP09: Climate scenarios projection data of sea level rise for UK waters
Update Frequency:
Not Planned
Publication State:
Published
Publication Date:
2017-09-05
---
Abstract
UK Climate Projections 2009 (UKCP09) sea level rise data provides projections of changes in absolute sea level rise in waters surrounding the UK and changes in relative sea level for coastal areas, where the influence of land movements is considered (and data included here) over the period 1999-2099. Data are provided for three emissions scenarios: Low (IPCC SRES: B1), Medium (IPCC SRES: A1B), and High (IPCC SRES: A1FI).
These projections also include a high risk, low probability scenario (known as the H++ scenario). The H++ scenario has been included to reflect the fact that there considerable uncertainties about the upper limit of absolute sea-level rise. This scenario relies, in part, on expert judgement and is designed to encourage users to think about thresholds of existing systems and the limits to adaptation.
Note: Unlike some other components of UKCP09, the sea level projections are not probabilistic. They provide a frequency distribution of projections based on results from eleven models contributed to the IPCC Fourth Assessment Report. The model projections of sea level rise have not been weighted based on comparison with historical sea level observations, and are therefore treated as equally plausible.
More information about the sea level rise methodology (including assumptions and caveats) is given in Chapter 3 of the Marine & coastal projections report.
Abbreviation: Not defined
Keywords: UKCP09, UK sea level rise, climate projections
---
Details
| | |
| --- | --- |
| Previous Info: | No news update for this record |
| Previously used record identifiers: | No related previous identifiers. |
| Access rules: | |
| Data lineage: | Original data were produced by the Met Office as part of the UKCP09 service before preparation for archival with the Centre for Environmental Data Analysis (CEDA). |
| Data Quality: | The UKCP09 data were quality controlled by the UKCP09 partners prior to being made available through the UKCP09 data portal in 2009. See the UKCP09 climate projections review and response along with further details are in given in the relevant projections reports (and external websites) which are available under "Docs". |
| File Format: | The data are NetCDF formatted and adhere to v1.0 of the CF data conventions. |
Process overview
This dataset was generated by the
computation
detailed below.
| | |
| --- | --- |
| Title | UKCP09 data computation |
| Abstract | These UKCP09 data were generated using outputs from a Met-Office Hadley Centre (MOHC) regional climate model. See the climate projections report for full details of the methodology. |
| Input Description | None |
| Output Description | None |
| Software Reference | None |
units: m
long_name: Absolute Sea Level Rise
var_id: abs_sea_level_rise
names: Absolute Sea Level Rise, abs_sea_level_rise
units: m/yr
long_name: Land Movement Rate (m/yr)
var_id: land_movement_rate
names: Land Movement Rate (m/yr), land_movement_rate
units: m
long_name: Relative Sea Level Rise
var_id: rel_sea_level_rise
names: rel_sea_level_rise, Relative Sea Level Rise
units: -
var_id: em_scen
long_name: em_scen
names: em_scen
units: %
var_id: percentile
long_name: percentile
names: percentile
Co-ordinate Variables
standard_name: time
var_id: time
long_name: Time (years)
names: time, Time (years)
units: degrees_north
standard_name: latitude
var_id: latitude
names: latitude
units: degrees_east
standard_name: longitude
var_id: longitude
names: longitude