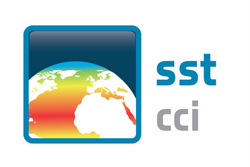 View XML
Copernicus Climate Change Service Dataset: Sea Surface Temperature Integrated Climate Data Record (ICDR) from the Advanced Very High Resolution Radiometer (AVHRR), Level 3C (L3C), version 2.0
Update Frequency:
Continual
Publication State:
Working
Publication Date:
---
Abstract
This dataset provides gridded Sea Surface Temperature data derived from the Advance Very High Resolution Radiometer (AVHRR) series of satellites. Data is available separately for the AVHRR instruments on NOAA-19 and METOP-A.
This dataset is produced as an Intermediate Climate Data Record, extending forwards from 2017, and aims to be produced in short delay mode in the near future.
A historic Climate Data Record (CDR) has also been produced under the ESA Climate Change Initiative Sea Surface Temperature (CCI_sst). This is available as a separate dataset in the CEDA catalgoue and through the ESA CCI Open Data Portal.
Citable as:
Centre for Environmental Data Analysis; Embury, O.; Roberts-Jones, J.; Fiedler, E.K.; Bulgin, C.E.; Corlett, G.K.; Good, S.A.; McLaren, A.; Rayner, N.A.; Donlon, C. (9999): Copernicus Climate Change Service Dataset: Sea Surface Temperature Integrated Climate Data Record (ICDR) from the Advanced Very High Resolution Radiometer (AVHRR), Level 3C (L3C), version 2.0. Centre for Environmental Data Analysis,
date of citation
.
https://catalogue.ceda.ac.uk/uuid/f194fe3a5c4f4d0180f133535096b43b
Abbreviation: Not defined
Keywords: Not defined
---
Details
| | |
| --- | --- |
| Previous Info: | No news update for this record |
| Previously used record identifiers: | No related previous identifiers. |
| Access rules: | |
| Data lineage: | Data were processed by the ESA CCI SST project team and supplied to NEODC by the UK Met Office. |
| Data Quality: | as provided by the CCI SST team |
| File Format: | NetCDF format |
Related Documents
No documents related to this record were found.
Process overview
This dataset was generated by the
computation
detailed below.
| | |
| --- | --- |
| Title | CCI SST Processor |
| Abstract | This computation involved: CCI SST Processor. |
| Input Description | None |
| Output Description | None |
| Software Reference | None |
units: m s-1
standard_name: wind_speed
var_id: wind_speed
long_name: 10m wind speed
names: wind_speed, 10m wind speed
long_name: L2P flags
var_id: l2p_flags
names: L2P flags
units: kelvin
long_name: SSES bias estimate
var_id: sses_bias
names: SSES bias estimate
units: kelvin
long_name: SSES standard deviation
var_id: sses_standard_deviation
names: SSES standard deviation
units: kelvin
long_name: Time and depth adjustment uncertainty
var_id: adjustment_uncertainty
names: Time and depth adjustment uncertainty
units: kelvin
long_name: Total uncertainty in sea_surface_temperature_depth
var_id: sst_depth_total_uncertainty
names: Total uncertainty in sea_surface_temperature_depth
units: kelvin
long_name: Uncertainty from errors likely to be correlated over large scales
var_id: large_scale_correlated_uncertainty
names: Uncertainty from errors likely to be correlated over large scales
units: kelvin
long_name: Uncertainty from errors likely to be correlated over synoptic scales
var_id: synoptically_correlated_uncertainty
names: Uncertainty from errors likely to be correlated over synoptic scales
units: kelvin
long_name: Uncertainty from errors unlikely to be correlated between SSTs
var_id: uncorrelated_uncertainty
names: Uncertainty from errors unlikely to be correlated between SSTs
var_id: quality_level
long_name: quality level of SST pixel
names: quality level of SST pixel
units: kelvin
long_name: sea surface skin temperature
standard_name: sea_surface_skin_temperature
var_id: sea_surface_temperature
names: sea_surface_skin_temperature, sea surface skin temperature
units: kelvin
standard_name: sea_water_temperature
long_name: sea surface temperature at 0.2 m
var_id: sea_surface_temperature_depth
names: sea_water_temperature, sea surface temperature at 0.2 m
units: seconds
long_name: time difference from reference time
var_id: sst_dtime
names: time difference from reference time
Co-ordinate Variables
units: degrees_north
standard_name: latitude
var_id: lat
long_name: Latitude coordinates
names: latitude, Latitude coordinates
units: degrees_east
standard_name: longitude
var_id: lon
long_name: Longitude coordinates
names: longitude, Longitude coordinates
standard_name: time
var_id: time
long_name: reference time of sst file
names: time, reference time of sst file