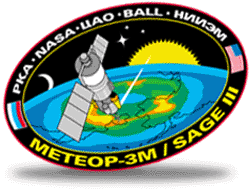 View XML
SAGE III: Level 2 Cloud product data version 3, HDF-EOS formatted
Update Frequency:
Not Planned
Publication State:
Published
Publication Date:
2007-01-13
---
Abstract
Stratospheric Aerosol and Gas Experiment III (SAGE III) was an instrument on board a Meteor-3M spacecraft, launched on December 10, 2001. Routine measurement operations began in March 2002 until the SAGE III mission was terminated in March 2006. The specific measurement objectives of SAGE III provide 1 km vertical resolution profiles of: aerosols and clouds at seven wavelengths from the mid-troposphere into the stratosphere and where appropriate, the mesosphere; O3 from the mid-troposphere to 85 km; H2O from the planetary boundary layer to 50 km; NO2 from the tropopause to 45 km; NO3 from 20 to 55 km; OClO from 15 to 25 km; and, O2 from the mid-troposphere to 70 km.
This dataset contains level 2 version 3 cloud product data.
Abbreviation: Not defined
Keywords: SAGE III, aerosols, clouds
---
Details
| | |
| --- | --- |
| Previous Info: | No news update for this record |
| Previously used record identifiers: | http://badc.nerc.ac.uk/view/badc.nerc.ac.uk__ATOM__dep_11686499503112427 |
| Access rules: | |
| Data lineage: | The Stratospheric Aerosol and Gas Experiment III (SAGE III) data were downloaded from the EOS Data Gateway, Langley DAAC Data Pool and it should be noted that the version number on that system represents the Earth Science Data Type version rather than the SAGE III Data version. Accordingly, the newly-released V3 data are stored as version '002'. Data and software supplied to the BADC by NASA Langley are stored in the BADC SAGE 3 archive. |
| Data Quality: | For details of quality control see user guide - http://data.ceda.ac.uk/badc/sage3/doc/sage3_data_products_users_guide.pdf |
| File Format: | Data are HDF-EOS formatted |
Process overview
This dataset was generated by a combination of instruments deployed on platforms and computations as detailed below.
Instrument/Platform pairings
Mobile platform operations
Computation Element: 1
| | |
| --- | --- |
| Title | deployed on Meteor -3M satellite |
| Abstract | This computation involved: deployed on Meteor -3M satellite. Meteor-3M is a joint Russian-US environment/atmosphere monitoring meteorological satellite launched on December 10th, 2001. |
| Input Description | None |
| Output Description | None |
| Software Reference | None |
long_name: Aerosol Extinction
gcmd_url: http://vocab.ndg.nerc.ac.uk/term/P141/4/GVAR0017
gcmd_keyword: Aerosol Extinction
names: Aerosol Extinction, http://vocab.ndg.nerc.ac.uk/term/P141/4/GVAR0017
long_name: Air Temperature
gcmd_url: http://vocab.ndg.nerc.ac.uk/term/P141/4/GVAR0027
gcmd_keyword: Air Temperature
names: Air Temperature, http://vocab.ndg.nerc.ac.uk/term/P141/4/GVAR0027
long_name: Barometric Altitude
gcmd_url: http://vocab.ndg.nerc.ac.uk/term/P141/4/GVAR0074
gcmd_keyword: Barometric Altitude
names: http://vocab.ndg.nerc.ac.uk/term/P141/4/GVAR0074, Barometric Altitude
long_name: Chlorine Dioxide
gcmd_url: http://vocab.ndg.nerc.ac.uk/term/P141/4/GVAR0127
gcmd_keyword: Chlorine Dioxide
names: Chlorine Dioxide, http://vocab.ndg.nerc.ac.uk/term/P141/4/GVAR0127
long_name: Cloud Amount
names: Cloud Amount
long_name: Extinction At 1020 nm
names: Extinction At 1020 nm
long_name: Extinction At 385 nm
names: Extinction At 385 nm
long_name: Frequency
names: Frequency
long_name: Halons And Halogens
names: Halons And Halogens
long_name: NO3
alt_names: ['Nitrate']
names: Nitrate
long_name: Nitrogen Compounds
gcmd_url: http://vocab.ndg.nerc.ac.uk/term/P141/4/GVAR0558
gcmd_keyword: Nitrogen Compounds
names: Nitrogen Compounds, http://vocab.ndg.nerc.ac.uk/term/P141/4/GVAR0558
long_name: Nitrogen Dioxide
gcmd_url: http://vocab.ndg.nerc.ac.uk/term/P141/4/GVAR0559
gcmd_keyword: Nitrogen Dioxide
names: Nitrogen Dioxide, http://vocab.ndg.nerc.ac.uk/term/P141/4/GVAR0559
long_name: Nitrogen Oxides
gcmd_url: http://vocab.ndg.nerc.ac.uk/term/P141/4/GVAR0560
gcmd_keyword: Nitrogen Oxides
names: http://vocab.ndg.nerc.ac.uk/term/P141/4/GVAR0560, Nitrogen Oxides
long_name: Oxygen Compounds
names: Oxygen Compounds
long_name: Ozone
gcmd_url: http://vocab.ndg.nerc.ac.uk/term/P041/4/G164
gcmd_keyword: EARTH SCIENCE > Atmosphere > Atmospheric Chemistry/Oxygen Compounds > Ozone
names: EARTH SCIENCE > Atmosphere > Atmospheric Chemistry/Oxygen Compounds > Ozone, http://vocab.ndg.nerc.ac.uk/term/P041/4/G164
long_name: Temperature
names: Temperature
long_name: Water Vapor
gcmd_url: http://vocab.ndg.nerc.ac.uk/term/P141/4/GVAR0943
gcmd_keyword: Water Vapor
names: Water Vapor, http://vocab.ndg.nerc.ac.uk/term/P141/4/GVAR0943
Co-ordinate Variables