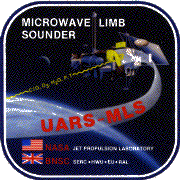 View XML
Upper Atmosphere Research Satellite (UARS) Microwave Limb Sounder (MLS) Level 3 data (1991-1997) - Version 4
Update Frequency:
Not Planned
Publication State:
Published
Publication Date:
2007-01-18
---
Abstract
The Microwave Limb Sounder (MLS) is an instrument on board the Upper Atmosphere Research Satellite (UARS) which measured global ClO, O3, H2O, temperature and SO2. Data are version 4 and public (gridded in time or latitude along the satellite track) between 80S - 80N, approximately 10-60 km in the vertical, from October 1991 to June 1997.
This directory tree now contains Version 4 MLS data files, in subdirectories for constituent and year, for FTP to remote machines. The data is held in IEEE binary files as supplied by the Goddard DAAC. Remember to switch to BINARY mode when transferring these files by FTP. New software to read the data files is also available.
Abbreviation: v0004, UARS-MLS
Keywords: MLS, UARS, atmospheric chemistry, profiles
---
Details
| | |
| --- | --- |
| Previous Info: | No news update for this record |
| Previously used record identifiers: | http://badc.nerc.ac.uk/view/badc.nerc.ac.uk__ATOM__dep_11691464755712534 |
| Access rules: | |
| Data lineage: | Data files acquired as is directly from NASA (mirror transfer). |
| Data Quality: | Data quality controlled by NASA. Please see dataset associated documentation. |
| File Format: | The data are provided in IEEE binary files. |
Process overview
This dataset was generated by a combination of instruments deployed on platforms and computations as detailed below.
Instrument/Platform pairings
Mobile platform operations
Computation Element: 1
| | |
| --- | --- |
| Title | DETAILS NEEDED - COMPUTATION CREATED FOR SATELLITE COMPOSITE. deployed on Upper Air Research Satellite (UARS) |
| Abstract | This computation involved: DETAILS NEEDED - COMPUTATION CREATED FOR SATELLITE COMPOSITE. deployed on Upper Air Research Satellite (UARS). |
| Input Description | None |
| Output Description | None |
| Software Reference | None |
long_name: Air Temperature
gcmd_url: http://vocab.ndg.nerc.ac.uk/term/P141/4/GVAR0027
gcmd_keyword: Air Temperature
names: Air Temperature, http://vocab.ndg.nerc.ac.uk/term/P141/4/GVAR0027
long_name: Carbon And Hydrocarbon Compounds
names: Carbon And Hydrocarbon Compounds
long_name: Chlorine Monoxide
gcmd_url: http://vocab.ndg.nerc.ac.uk/term/P141/4/GVAR0128
gcmd_keyword: Chlorine Monoxide
names: Chlorine Monoxide, http://vocab.ndg.nerc.ac.uk/term/P141/4/GVAR0128
long_name: Halons And Halogens
names: Halons And Halogens
long_name: Methane
gcmd_url: http://vocab.ndg.nerc.ac.uk/term/P041/4/G138
gcmd_keyword: EARTH SCIENCE > Atmosphere > Atmospheric Chemistry/Carbon and Hydrocarbon Compounds > Methane
names: EARTH SCIENCE > Atmosphere > Atmospheric Chemistry/Carbon and Hydrocarbon Compounds > Methane, http://vocab.ndg.nerc.ac.uk/term/P041/4/G138
long_name: Oxygen Compounds
names: Oxygen Compounds
long_name: Ozone
gcmd_url: http://vocab.ndg.nerc.ac.uk/term/P041/4/G164
gcmd_keyword: EARTH SCIENCE > Atmosphere > Atmospheric Chemistry/Oxygen Compounds > Ozone
names: EARTH SCIENCE > Atmosphere > Atmospheric Chemistry/Oxygen Compounds > Ozone, http://vocab.ndg.nerc.ac.uk/term/P041/4/G164
long_name: Sulfur Compounds
names: Sulfur Compounds
long_name: Sulfur Dioxide
gcmd_url: http://vocab.ndg.nerc.ac.uk/term/P141/4/GVAR0843
gcmd_keyword: Sulfur Dioxide
names: Sulfur Dioxide, http://vocab.ndg.nerc.ac.uk/term/P141/4/GVAR0843
long_name: Water Vapor
gcmd_url: http://vocab.ndg.nerc.ac.uk/term/P141/4/GVAR0943
gcmd_keyword: Water Vapor
names: Water Vapor, http://vocab.ndg.nerc.ac.uk/term/P141/4/GVAR0943
Co-ordinate Variables