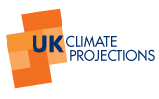 View XML
UKCP09: Marine data for UK waters from past and future multi-level ocean model simulations
Update Frequency:
Not Planned
Publication State:
Published
Publication Date:
2017-09-05
---
Abstract
The UK climate projections 2009 (UKCP09) marine and coastal multi-level ocean projections provide detailed information on the potential future implications of climate change on the marine environment in UK waters.
Marine parameters are provided for projections of changes in water temperature, salinity, currents and stability of the water column over a 12km marine grid, for the 30 year time period 2070-2099 (and the baseline period 1961-1990) for the medium emissions scenario (IPCC SRES: A1B).
Note: The multi-level ocean projections are based on a single model simulation. In contrast to some other components of UKCP09 these are not probabilistic projections, meaning they do not quantify the range of future changes associated with modelling uncertainties or natural climate variability.
More information about the variables and methodology (including assumptions and caveats) are given in Chapter 6 of the Marine & coastal projections report (see linked documentation).
Abbreviation: Not defined
Keywords: UKCP09, UK, marine, model, climate projections
---
Details
| | |
| --- | --- |
| Previous Info: | No news update for this record |
| Previously used record identifiers: | No related previous identifiers. |
| Access rules: | |
| Data lineage: | Original data were produced by the Met Office as part of the UKCP09 service before preparation for archival with the Centre for Environmental Data Analysis (CEDA). |
| Data Quality: | The UKCP09 data were quality controlled by the UKCP09 partners prior to being made available through the UKCP09 data portal in 2009. See the UKCP09 climate projections review and response along with further details are in given in the relevant projections reports (and external websites) which are available under "Docs". |
| File Format: | The data are NetCDF formatted and adhere to version 1.0 of the CF data conventions. |
Process overview
This dataset was generated by the
computation
detailed below.
| | |
| --- | --- |
| Title | UKCP09 data computation with POLCOMS model |
| Abstract | These UKCP09 data were generated using outputs from a Met-Office Hadley Centre (MOHC) regional climate model simulation to drive the Atlantic Margin application shelf sea model of the Proudman Oceanographic Laboratory Coastal Ocean Modelling System (POLCOMS) (now the National Oceanography Centre Liverpool; NOCL). The POLCOMS shelf sea model is well established having been used operationally by the UK Met Office since 2002 and used in many scientific projects by NOCL (formerly POL) and the UK research community. It has been validated with observations from marine weather stations. See the marine and coastal projections report for full details. |
| Input Description | None |
| Output Description | None |
| Software Reference | None |
units: days
long_name: Average number of seasonally stratified days
var_id: stratndays
names: Average number of seasonally stratified days, stratndays
units: m
long_name: Bathymetry (sea floor depth below sea level)
standard_name: sea_floor_depth_below_sea_level
var_id: bathymetry
names: bathymetry, Bathymetry (sea floor depth below sea level), sea_floor_depth_below_sea_level
units: days
long_name: Change in average number of seasonally stratified days
var_id: change_in_stratndays
names: change_in_stratndays, Change in average number of seasonally stratified days
units: day
long_name: Change in day of breakdown of seasonal stratification
var_id: change_in_stratbreakdownday
names: change_in_stratbreakdownday, Change in day of breakdown of seasonal stratification
units: day
long_name: Change in day of onset of seasonal stratification
var_id: change_in_stratonsetday
names: Change in day of onset of seasonal stratification, change_in_stratonsetday
units: day
long_name: Change in day of peak seasonal stratification
var_id: change_in_stratpeakday
names: change_in_stratpeakday, Change in day of peak seasonal stratification
units: m
standard_name: ocean_mixed_layer_thickness
long_name: Change in maximum daily mean mixed layer depth
var_id: change_in_mld_dmean_tmax_abs
names: ocean_mixed_layer_thickness, change_in_mld_dmean_tmax_abs, Change in maximum daily mean mixed layer depth
units: J m-3
long_name: Change in maximum daily mean potential energy anomaly per unit depth
var_id: change_in_pea_dmean_tmax_abs
names: Change in maximum daily mean potential energy anomaly per unit depth, change_in_pea_dmean_tmax_abs
standard_name: sea_water_salinity
units: 0.001
long_name: Change in maximum daily mean salinity
var_id: change_in_sal_dmean_tmax_abs
names: sea_water_salinity, change_in_sal_dmean_tmax_abs, Change in maximum daily mean salinity
units: degC
standard_name: sea_water_potential_temperature
long_name: Change in maximum daily mean sea water potential temperature
var_id: change_in_ptemp_dmean_tmax_abs
names: sea_water_potential_temperature, Change in maximum daily mean sea water potential temperature, change_in_ptemp_dmean_tmax_abs
units: J m-2
long_name: Change in maximum daily mean total kinetic energy through water column
var_id: change_in_ke_dmean_tmax_abs
names: change_in_ke_dmean_tmax_abs, Change in maximum daily mean total kinetic energy through water column
units: m
long_name: Change in mean mixed layer depth
var_id: change_in_mld_dmean_tmean_abs
names: change_in_mld_dmean_tmean_abs, Change in mean mixed layer depth
units: J m-3
long_name: Change in mean potential energy anomaly per unit depth
var_id: change_in_pea_dmean_tmean_abs
names: change_in_pea_dmean_tmean_abs, Change in mean potential energy anomaly per unit depth
standard_name: sea_water_salinity
units: 0.001
long_name: Change in mean salinity
var_id: change_in_sal_dmean_tmean_abs
names: sea_water_salinity, Change in mean salinity, change_in_sal_dmean_tmean_abs
units: degC
standard_name: sea_water_potential_temperature
long_name: Change in mean sea water potential temperature
var_id: change_in_ptemp_dmean_tmean_abs
names: sea_water_potential_temperature, Change in mean sea water potential temperature, change_in_ptemp_dmean_tmean_abs
units: J m-2
long_name: Change in mean total kinetic energy through water column
var_id: change_in_ke_dmean_tmean_abs
names: change_in_ke_dmean_tmean_abs, Change in mean total kinetic energy through water column
units: m
long_name: Change in minimum daily mean mixed layer depth
var_id: change_in_mld_dmean_tmin_abs
names: change_in_mld_dmean_tmin_abs, Change in minimum daily mean mixed layer depth
units: J m-3
long_name: Change in minimum daily mean potential energy anomaly per unit depth
var_id: change_in_pea_dmean_tmin_abs
names: Change in minimum daily mean potential energy anomaly per unit depth, change_in_pea_dmean_tmin_abs
standard_name: sea_water_salinity
units: 0.001
long_name: Change in minimum daily mean salinity
var_id: change_in_sal_dmean_tmin_abs
names: sea_water_salinity, change_in_sal_dmean_tmin_abs, Change in minimum daily mean salinity
units: degC
standard_name: sea_water_potential_temperature
long_name: Change in minimum daily mean sea water potential temperature
var_id: change_in_ptemp_dmean_tmin_abs
names: sea_water_potential_temperature, Change in minimum daily mean sea water potential temperature, change_in_ptemp_dmean_tmin_abs
units: J m-2
long_name: Change in minimum daily mean total kinetic energy through water column
var_id: change_in_ke_dmean_tmin_abs
names: Change in minimum daily mean total kinetic energy through water column, change_in_ke_dmean_tmin_abs
units: m
long_name: Change in standard deviation of mean mixed layer depth
var_id: change_in_mld_dmean_tstd_abs
names: Change in standard deviation of mean mixed layer depth, change_in_mld_dmean_tstd_abs
units: J m-3
long_name: Change in standard deviation of mean potential energy anomaly per unit depth
var_id: change_in_pea_dmean_tstd_abs
names: change_in_pea_dmean_tstd_abs, Change in standard deviation of mean potential energy anomaly per unit depth
standard_name: sea_water_salinity
units: 0.001
long_name: Change in standard deviation of mean salinity
var_id: change_in_sal_dmean_tstd_abs
names: sea_water_salinity, Change in standard deviation of mean salinity, change_in_sal_dmean_tstd_abs
units: degC
standard_name: sea_water_potential_temperature
long_name: Change in standard deviation of mean sea water potential temperature
var_id: change_in_ptemp_dmean_tstd_abs
names: sea_water_potential_temperature, change_in_ptemp_dmean_tstd_abs, Change in standard deviation of mean sea water potential temperature
units: J m-2
long_name: Change in standard deviation of mean total kinetic energy through water column
var_id: change_in_ke_dmean_tstd_abs
names: Change in standard deviation of mean total kinetic energy through water column, change_in_ke_dmean_tstd_abs
units: day
long_name: Day of breakdown of seasonal stratification
var_id: stratbreakdownday
names: Day of breakdown of seasonal stratification, stratbreakdownday
units: day
long_name: Day of onset of seasonal stratification
var_id: stratonsetday
names: Day of onset of seasonal stratification, stratonsetday
units: day
long_name: Day of peak seasonal stratification
var_id: stratpeakday
names: Day of peak seasonal stratification, stratpeakday
units: m
standard_name: depth
long_name: Depth below the surface of the near-bed model level
var_id: depthofnearbedlevel
names: depth, depthofnearbedlevel, Depth below the surface of the near-bed model level
units: m
standard_name: depth
long_name: Depth below the surface of the near-surface model level
var_id: depthofsurfacelevel
names: depth, Depth below the surface of the near-surface model level, depthofsurfacelevel
units: m
long_name: Maximum daily mean mixed layer depth
var_id: mld_dmean_tmax_abs
names: Maximum daily mean mixed layer depth, mld_dmean_tmax_abs
units: J m-3
long_name: Maximum daily mean potential energy anomaly per unit depth
var_id: pea_dmean_tmax_abs
names: pea_dmean_tmax_abs, Maximum daily mean potential energy anomaly per unit depth
standard_name: sea_water_salinity
units: 0.001
long_name: Maximum daily mean salinity
var_id: sal_dmean_tmax_abs
names: sea_water_salinity, Maximum daily mean salinity, sal_dmean_tmax_abs
units: degC
standard_name: sea_water_potential_temperature
long_name: Maximum daily mean sea water potential temperature
var_id: ptemp_dmean_tmax_abs
names: sea_water_potential_temperature, ptemp_dmean_tmax_abs, Maximum daily mean sea water potential temperature
units: J m-2
long_name: Maximum daily mean total kinetic energy through water column
var_id: ke_dmean_tmax_abs
names: ke_dmean_tmax_abs, Maximum daily mean total kinetic energy through water column
units: m
long_name: Mean mixed layer depth
var_id: mld_dmean_tmean_abs
names: Mean mixed layer depth, mld_dmean_tmean_abs
units: J m-3
long_name: Mean potential energy anomaly per unit depth
var_id: pea_dmean_tmean_abs
names: Mean potential energy anomaly per unit depth, pea_dmean_tmean_abs
standard_name: sea_water_salinity
units: 0.001
long_name: Mean salinity
var_id: sal_dmean_tmean_abs
names: sea_water_salinity, sal_dmean_tmean_abs, Mean salinity
units: degC
standard_name: sea_water_potential_temperature
long_name: Mean sea water potential temperature
var_id: ptemp_dmean_tmean_abs
names: sea_water_potential_temperature, Mean sea water potential temperature, ptemp_dmean_tmean_abs
units: J m-2
long_name: Mean total kinetic energy through water column
var_id: ke_dmean_tmean_abs
names: ke_dmean_tmean_abs, Mean total kinetic energy through water column
units: m
long_name: Minimum daily mean mixed layer depth
var_id: mld_dmean_tmin_abs
names: mld_dmean_tmin_abs, Minimum daily mean mixed layer depth
units: J m-3
long_name: Minimum daily mean potential energy anomaly per unit depth
var_id: pea_dmean_tmin_abs
names: Minimum daily mean potential energy anomaly per unit depth, pea_dmean_tmin_abs
standard_name: sea_water_salinity
units: 0.001
long_name: Minimum daily mean salinity
var_id: sal_dmean_tmin_abs
names: sea_water_salinity, Minimum daily mean salinity, sal_dmean_tmin_abs
units: degC
standard_name: sea_water_potential_temperature
long_name: Minimum daily mean sea water potential temperature
var_id: ptemp_dmean_tmin_abs
names: sea_water_potential_temperature, Minimum daily mean sea water potential temperature, ptemp_dmean_tmin_abs
units: J m-2
long_name: Minimum daily mean total kinetic energy through water column
var_id: ke_dmean_tmin_abs
names: Minimum daily mean total kinetic energy through water column, ke_dmean_tmin_abs
units: -
var_id: level
long_name: Ocean Level
names: Ocean Level, level
units: m
long_name: Standard deviation of mean mixed layer depth
var_id: mld_dmean_tstd_abs
names: mld_dmean_tstd_abs, Standard deviation of mean mixed layer depth
units: J m-3
long_name: Standard deviation of mean potential energy anomaly per unit depth
var_id: pea_dmean_tstd_abs
names: Standard deviation of mean potential energy anomaly per unit depth, pea_dmean_tstd_abs
standard_name: sea_water_salinity
units: 0.001
long_name: Standard deviation of mean salinity
var_id: sal_dmean_tstd_abs
names: sea_water_salinity, Standard deviation of mean salinity, sal_dmean_tstd_abs
units: degC
standard_name: sea_water_potential_temperature
long_name: Standard deviation of mean sea water potential temperature
var_id: ptemp_dmean_tstd_abs
names: sea_water_potential_temperature, ptemp_dmean_tstd_abs, Standard deviation of mean sea water potential temperature
units: J m-2
long_name: Standard deviation of mean total kinetic energy through water column
var_id: ke_dmean_tstd_abs
names: Standard deviation of mean total kinetic energy through water column, ke_dmean_tstd_abs
units: -
var_id: meaning_period
long_name: meaning_period
names: meaning_period
Co-ordinate Variables
units: degrees_north
standard_name: latitude
var_id: latitude
long_name: latitude
names: latitude
units: degrees_east
standard_name: longitude
var_id: longitude
long_name: longitude
names: longitude
long_name: time
standard_name: time
var_id: time
names: time