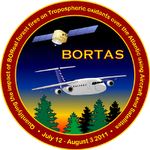 View XML
BORTAS: Global 3-D chemical transport model (CTM) output data
Update Frequency:
As Needed
Publication State:
Published
Publication Date:
2014-09-19
---
Abstract
The Quantifying the impact of BOReal forest fires on Tropospheric oxidants over the Atlantic using Aircraft and Satellites (BORTAS) project. The BORTAS team sampled biomass burning outflow over the North Atlantic in summer 2011 the using Facility for Airborne Atmospheric Measurements (FAAM) BAe-146 aircraft. The data were then used to describe the observed chemistry within plumes and to quantify the impact of boreal fires on the North Atlantic region using a nested 3-D chemistry transport model.
This dataset contains global 3-D chemical transport model (CTM) data.
Abbreviation: Not defined
Keywords: BORTAS, Chemistry, fires
---
Details
Previous Info:

No news update for this record

Previously used record identifiers:

http://badc.nerc.ac.uk/view/badc.nerc.ac.uk__ATOM__ACTIVITY_8f2e8a1c-3ffd-11e4-baad-00163e251233

Access rules:
Data lineage:

Data collected during a groundbased field campaign during July 2010 and the FAAM aircraft in July 2011.
Data to be provided for archiving at the BADC, by campaign participants as campaign unfolds.

Data Quality:

Research data

File Format:

Data are NASA Ames formatted
Related Documents
No documents related to this record were found.
Process overview
This dataset was generated by the
computation
detailed below.
| | |
| --- | --- |
| Title | GEOS-Chem Model |
| Abstract | GEOS-Chem is a global 3-D chemical transport model (CTM) for atmospheric composition driven by meteorological input from the Goddard Earth Observing System (GEOS) of the NASA Global Modeling and Assimilation Office. It is applied by research groups around the world to a wide range of atmospheric composition problems. Scientific direction of the model is provided by the international GEOS-Chem Steering Committee and by User Working Groups. The model is managed by the GEOS-Chem Support Team, based at Harvard University and Dalhousie University with support from the US NASA Earth Science Division and the Canadian National and Engineering Research Council. |
| Input Description | None |
| Output Description | None |
| Software Reference | None |
units: ppbC
names: ACET tracer
units: ppbv
names: ACRPAN tracer
units: ppbv
names: ALCO tracer
units: ppbC
names: ALD2 tracer
units: ppbC
names: ALK4 tracer
units: ppbv
names: ALPH tracer
units: ppbv
names: BCPI tracer
units: ppbv
names: BCPO tracer
units: ppbC
names: BENZ tracer
units: unitless
names: BLKC AOD below aircraft
units: unitless
names: BLKC AOD column
units: ppbC
names: C2H2 tracer
units: ppbC
names: C2H4 tracer
units: ppbC
names: C2H6 tracer
units: ppbC
names: C3H8 tracer
units: ppbv
names: CH2O tracer
units: ppbv
names: CO tracer
units: ppb
names: CObecan
units: ppb
names: CObnwus
units: ppb
names: CObswus
units: ppb
names: CObwcan
units: ppb
names: COfasia
units: ppbv
names: DMS tracer
units: ppbv
names: DST1 tracer
units: ppbv
names: DST2 tracer
units: ppbv
names: DST3 tracer
units: ppbv
names: DST4 tracer
units: ppbv
names: ENPAN tracer
units: ppbv
names: GLPAN tracer
units: ppbv
names: GLYC tracer
units: ppbv
names: GLYX tracer
units: frac
names: GMAO Absolute Humidity
units: hPa
names: GMAO Surface Pressure
units: K
names: GMAO Temperature
units: m/s
names: GMAO U-Wind
units: m/s
names: GMAO V-Wind
units: ppbv
names: GPAN tracer
units: ppbv
names: H2O2 tracer
units: ppbv
names: HAC tracer
units: ppbv
names: HNO3 tracer
units: ppbv
names: HNO4 tracer
units: ppbC
names: ISOP tracer
units: ppbv
names: LIMO tracer
units: deg
names: Latitude
units: deg
names: Longitude
units: ppbv
names: MACR tracer
units: ppbC
names: MBO tracer
units: ppbC
names: MEK tracer
units: ppbv
names: MGLY tracer
units: ppbC
names: MONX tracer
units: ppbv
names: MP tracer
units: ppbv
names: MPAN tracer
units: ppbv
names: MSA tracer
units: ppbv
names: MVK tracer
units: ppbv
names: N2O5 tracer
units: ppbv
names: NH3 tracer
units: ppbv
names: NH4 tracer
units: ppbv
names: NIPAN tracer
units: ppbv
names: NIT tracer
units: ppbv
names: NITs tracer
units: ppbv
names: NOx tracer
units: ppbv
names: OCPI tracer
units: ppbv
names: OCPO tracer
units: unitless
names: ORGC AOD below aircraft
units: unitless
names: ORGC AOD column
units: ppbv
names: Observed CO
units: ppbv
names: Ox tracer
units: ppbv
names: PAN tracer
units: ppbv
names: PMN tracer
units: ppbv
names: PPN tracer
units: ppbC
names: PRPE tracer
units: hPa
names: Pressure
units: ppbv
names: R4N2 tracer
units: ppbv
names: RCHO tracer
units: unitless
names: SALA AOD below aircraft
units: unitless
names: SALA AOD column
units: ppbv
names: SALA tracer
units: unitless
names: SALC AOD below aircraft
units: unitless
names: SALC AOD column
units: ppbv
names: SALC tracer
units: ppbv
names: SO2 tracer
units: ppbv
names: SO4 tracer
units: ppbv
names: SO4s tracer
units: ppbv
names: SOA1 tracer
units: ppbv
names: SOA2 tracer
units: ppbv
names: SOA3 tracer
units: ppbv
names: SOA4 tracer
units: ppbv
names: SOA5 tracer
units: ppbv
names: SOAG tracer
units: ppbv
names: SOAM tracer
units: ppbv
names: SOG1 tracer
units: ppbv
names: SOG2 tracer
units: ppbv
names: SOG3 tracer
units: ppbv
names: SOG4 tracer
units: ppbv
names: SOG5 tracer
units: unitless
names: SULF AOD below aircraft
units: unitless
names: SULF AOD column
units: ppbC
names: TOLU tracer
units: ppbv
names: Total model CO
units: ppbC
names: XYLE tracer
Co-ordinate Variables