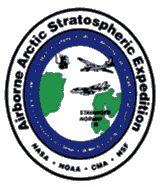 View XML
AASE: Analyses of potential vorticity and pressure on constant potential temperature surfaces
Update Frequency:
Not Planned
Latest Data Update:
1998-07-24
Publication State:
Published
Publication Date:
1990-12-10
Dataset Size:
550 Files | 12MB
---
Abstract
The Airborne Arctic Stratospheric Expedition (AASE) which was based in Stavanger, Norway during January and February, 1989, was designed to study the production and loss mechanisms of ozone in the north polar stratospheric environment, and the effect on ozone distribution of the Arctic polar vortex and of the cold temperatures associated with the formation of Polar Stratospheric Clouds (PSC).
This dataset contains analyses of potential vorticity and pressure on constant potential temperature surfaces.
Abbreviation: Not defined
Keywords: AASE, AASE-98, chemistry, analysis
---
Details
Previous Info:

No news update for this record

Previously used record identifiers:

No related previous identifiers.

Access rules:

Please contact CEDA for information about how to access these data.

For data use licensing information please contact:

support@ceda.ac.uk

.

Data lineage:

Data were collected during January and February 1988-1989.
Copy of CR-ROM published by NASA. The data are held on CD-ROM at the BADC.

Data Quality:

NASA data quality controlled data

File Format:

Data are ASCII formatted
Related Documents
No documents related to this record were found.
Process overview
This dataset was generated by the
computation
detailed below.
| | |
| --- | --- |
| Title | AASE: Analyses of temperature, pressure, geopotential height, and horizontal wind components on constant pressure surfaces |
| Abstract | The data is generated using the Goddard Space Flight Center (GSFC) STRATAN data assimilation scheme to improve upon an initial, first guess field. |
| Input Description | None |
| Output Description | None |
| Software Reference | None |
No variables found.