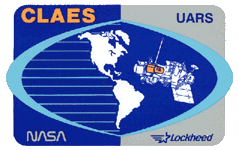 View XML
UARS CLAES data (1991-1993): Version 0007
Update Frequency:
Not Planned
Latest Data Update:
1998-11-19
Publication State:
Published
Publication Date:
2007-01-17
Dataset Size:
6.21K Files | 1008MB
---
Abstract
The Cryogenic Limb Array Etalon Spectrometer (CLAES) measured vertical profiles of temperature and concentrations of ozone, methane, water vapour, nitrogen oxides, and other important species, including CFCs, in the stratosphere. CLAES also maps the horizontal and vertical distributions of aerosols in the stratosphere. These measurements are analysed to better understand the photochemical, radiative, and dynamical processes taking place in the ozone layer. This is the version of the data set as stored in the UCSS catalogue on the CDHF. The dataset contains CH4, NO, H20 and CF2Cl2 measurements . Data are level 3A product (gridded in time and latitude along the satellite track) between 80N - 80S, 10-60 Km, October 1991 - May 1993. This dataset is public.
Abbreviation: Not defined
Keywords: AEROSOLS, ATMOSPHERE, ATMOSPHERICWATERVAPOR, ALTITUDE, ATMOSPHERICTEMPERATURE, ATMOSPHERICCHEMISTRY
---
Details
| | |
| --- | --- |
| Previous Info: | No news update for this record |
| Previously used record identifiers: | http://badc.nerc.ac.uk/view/badc.nerc.ac.uk__ATOM__dep_11690683116812531 |
| Access rules: | |
| Data lineage: | Data collected between the 1st October 1991 and the 5th May 1993 from 80°S to 80°N, by the Cryogenic Limb Array Etalon Spectrometer (CLAES). All data acquired as is from NASA for archiving at the BADC. The data are provided in UARS binary format, which can be retrieved by anonymous FTP or through this WWW interface. Software to convert this format to ASCII is available. |
| Data Quality: | Data quality controlled by NASA. Some information available in the CLAES doc directory. |
| File Format: | Data are UARS binary formatted. |
Related Documents
No documents related to this record were found.
Process overview
This dataset was generated by a combination of instruments deployed on platforms and computations as detailed below.
Instrument/Platform pairings
Mobile platform operations
Computation Element: 1
| | |
| --- | --- |
| Title | DETAILS NEEDED - COMPUTATION CREATED FOR SATELLITE COMPOSITE. deployed on Upper Air Research Satellite (UARS) |
| Abstract | This computation involved: DETAILS NEEDED - COMPUTATION CREATED FOR SATELLITE COMPOSITE. deployed on Upper Air Research Satellite (UARS). |
| Input Description | None |
| Output Description | None |
| Software Reference | None |
long_name: Aerosol Extinction
gcmd_url: http://vocab.ndg.nerc.ac.uk/term/P141/4/GVAR0017
gcmd_keyword: Aerosol Extinction
names: Aerosol Extinction, http://vocab.ndg.nerc.ac.uk/term/P141/4/GVAR0017
long_name: Air Temperature
gcmd_keyword: Air Temperature
gcmd_url: http://vocab.ndg.nerc.ac.uk/term/P141/4/GVAR0027
names: Air Temperature, http://vocab.ndg.nerc.ac.uk/term/P141/4/GVAR0027
long_name: Barometric Altitude
gcmd_keyword: Barometric Altitude
gcmd_url: http://vocab.ndg.nerc.ac.uk/term/P141/4/GVAR0074
names: http://vocab.ndg.nerc.ac.uk/term/P141/4/GVAR0074, Barometric Altitude
long_name: CF2Cl2
alt_names: ['Dichlorodifluoromethane']
names: Dichlorodifluoromethane
long_name: CFCl3
alt_names: ['Trichlorofluoromethane']
names: Trichlorofluoromethane
long_name: Carbon And Hydrocarbon Compounds
names: Carbon And Hydrocarbon Compounds
long_name: Chlorine Nitrate
gcmd_url: http://vocab.ndg.nerc.ac.uk/term/P141/4/GVAR0129
gcmd_keyword: Chlorine Nitrate
names: http://vocab.ndg.nerc.ac.uk/term/P141/4/GVAR0129, Chlorine Nitrate
gcmd_keyword: EARTH SCIENCE > Atmosphere > Atmospheric Chemistry/Halons and Halogens > Chlorofluorocarbons
long_name: Chlorofluorocarbons
gcmd_url: http://vocab.ndg.nerc.ac.uk/term/P041/4/G146
names: EARTH SCIENCE > Atmosphere > Atmospheric Chemistry/Halons and Halogens > Chlorofluorocarbons, http://vocab.ndg.nerc.ac.uk/term/P041/4/G146
long_name: ClONO2
alt_names: ['Chlorine Nitrate']
names: Chlorine Nitrate
long_name: Extinction At 1257 cm-1
names: Extinction At 1257 cm-1
long_name: Extinction At 1605 cm-1
names: Extinction At 1605 cm-1
long_name: Extinction At 1897 cm-1
names: Extinction At 1897 cm-1
long_name: Extinction At 780 cm-1
names: Extinction At 780 cm-1
long_name: Extinction At 790 cm-1
names: Extinction At 790 cm-1
long_name: Extinction At 880 cm-1
names: Extinction At 880 cm-1
long_name: Extinction At 925 cm-1
names: Extinction At 925 cm-1
long_name: Halons And Halogens
names: Halons And Halogens
long_name: Methane
gcmd_url: http://vocab.ndg.nerc.ac.uk/term/P041/4/G138
gcmd_keyword: EARTH SCIENCE > Atmosphere > Atmospheric Chemistry/Carbon and Hydrocarbon Compounds > Methane
names: EARTH SCIENCE > Atmosphere > Atmospheric Chemistry/Carbon and Hydrocarbon Compounds > Methane, http://vocab.ndg.nerc.ac.uk/term/P041/4/G138
long_name: N2O5
alt_names: ['Dinitrogen']
names: Dinitrogen
long_name: NO
alt_names: ['Nitric Oxide']
names: Nitric Oxide
gcmd_keyword: Nitric Acid
long_name: Nitric Acid
gcmd_url: http://vocab.ndg.nerc.ac.uk/term/P141/4/GVAR0554
names: http://vocab.ndg.nerc.ac.uk/term/P141/4/GVAR0554, Nitric Acid
gcmd_keyword: Nitrogen Compounds
gcmd_url: http://vocab.ndg.nerc.ac.uk/term/P141/4/GVAR0558
long_name: Nitrogen Compounds
names: Nitrogen Compounds, http://vocab.ndg.nerc.ac.uk/term/P141/4/GVAR0558
long_name: Nitrogen Dioxide
gcmd_url: http://vocab.ndg.nerc.ac.uk/term/P141/4/GVAR0559
gcmd_keyword: Nitrogen Dioxide
names: Nitrogen Dioxide, http://vocab.ndg.nerc.ac.uk/term/P141/4/GVAR0559
long_name: Nitrogen Oxides
gcmd_keyword: Nitrogen Oxides
gcmd_url: http://vocab.ndg.nerc.ac.uk/term/P141/4/GVAR0560
names: http://vocab.ndg.nerc.ac.uk/term/P141/4/GVAR0560, Nitrogen Oxides
gcmd_keyword: Nitrous Oxide
gcmd_url: http://vocab.ndg.nerc.ac.uk/term/P141/4/GVAR0561
long_name: Nitrous Oxide
names: http://vocab.ndg.nerc.ac.uk/term/P141/4/GVAR0561, Nitrous Oxide
long_name: Oxygen Compounds
names: Oxygen Compounds
gcmd_url: http://vocab.ndg.nerc.ac.uk/term/P041/4/G164
gcmd_keyword: EARTH SCIENCE > Atmosphere > Atmospheric Chemistry/Oxygen Compounds > Ozone
long_name: Ozone
names: EARTH SCIENCE > Atmosphere > Atmospheric Chemistry/Oxygen Compounds > Ozone, http://vocab.ndg.nerc.ac.uk/term/P041/4/G164
long_name: Trace Gases
names: Trace Gases
long_name: Trace Species
names: Trace Species
long_name: Water Vapor
gcmd_url: http://vocab.ndg.nerc.ac.uk/term/P141/4/GVAR0943
gcmd_keyword: Water Vapor
names: Water Vapor, http://vocab.ndg.nerc.ac.uk/term/P141/4/GVAR0943
Co-ordinate Variables