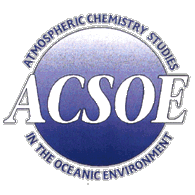 View XML
ACSOE MAGE EAE-97: Shipborne Atmospheric Oxidants Data from on-board RRS Challenger
Update Frequency:
Not Planned
Latest Data Update:
1998-11-10
Publication State:
Published
Publication Date:
2007-03-24
Dataset Size:
6 Files | 44KB
---
Abstract
The Atmospheric Chemistry Studies in the Oceanic Environment (ACSOE) Marine Aerosol and Gas Exchange (MAGE) Eastern Atlantic Experiment 96 (EAE-96) Shipborne Atmospheric Oxidants Data from on-board the RRS Challenger contains observations of various gases and aerosols off the western coast of Ireland in May 1997. The data were collected to understand properties of DMS, gases and aerosols in marine boundary layer conditions.
Citable as:
Natural Environment Research Council; Liss, P.S.; Broadgate, W.J.; Allen, A.; James, J.; Jickells, T.; McArdle, N.; Spokes, L.; Thompson, A.; Yeatman, S.G. (2007): ACSOE MAGE EAE-97: Shipborne Atmospheric Oxidants Data from on-board RRS Challenger. NCAS British Atmospheric Data Centre,
date of citation
.
https://catalogue.ceda.ac.uk/uuid/a2e3339d69bc6f442dca3f54e4031085
Abbreviation: Not defined
Keywords: ACSOE, MAGE, EAE 97
---
Details
| | |
| --- | --- |
| Previous Info: | No news update for this record |
| Previously used record identifiers: | http://badc.nerc.ac.uk/view/badc.nerc.ac.uk__ATOM__dep_11746973489119265 |
| Access rules: | |
| Data lineage: | Data collected by instruments on-board the RRS Challenger. Data acquired by BADC for archiving as programme was underway. |
| Data Quality: | Data files archived as is. Data quality information may be available within each data file. |
| File Format: | The data files are NASA-Ames formatted. |
Related Documents
No documents related to this record were found.
Process overview
This dataset was generated by instruments deployed on platforms as listed below.
Instrument/Platform pairings
Mobile platform operations
No variables found.