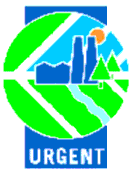 View XML
URGENT PUMACO: Automatic Urban Network (AUN) Summer 1999 Atmospheric Chemistry measurements
Update Frequency:
Not Planned
Latest Data Update:
2000-09-15
Publication State:
Published
Publication Date:
2007-03-22
Dataset Size:
33 Files | 624KB
---
Abstract
Observation, Modelling And Management Of Urban Air Pollution (PUMA COnsortium - PUMACO) was a Natural Environment Research Council (NERC) Urban Regeneration and the Environment (URGENT) Air project (GST/02/1981 - Duration: 1/01/1998 - 30/09/2001) led by Prof. Roy M. Harrison, University of Birmingham.
This dataset contains measurements from the Automatic Urban Network of nitrogen dioxide, sulphur dioxide, carbon monoxide, nitrogen oxide, ozone and PM 2.5.
Abbreviation: Not defined
Keywords: URGENT, PUMA, Chemistry, Pollutants, Air pollution, AUN
---
Details
Previous Info:

No news update for this record

Previously used record identifiers:

No related previous identifiers.

Access rules:
Data lineage:

Data were collected from a dozen of urban and suburban sites in and around the West Midlands County (UK) from 11 June - 13 July 1999 and 17 January - 17 February 2000 using a variety of observation platforms.
Data provided as is by the URGENT PUMACO campaign participants in 2000 to the BADC for archiving.

Data Quality:

Unknown

File Format:

Data are NASA Ames formatted
Related Documents
No documents related to this record were found.
Process overview
This dataset was generated by instruments deployed on platforms as listed below.
Instrument/Platform pairings
| | |
| --- | --- |
| Birmingham: Sulphur Dioxide gas analyser | Deployed on: AUN site: Coventry |
| Birmingham: NOx gas analyser | Deployed on: AUN site: West Bromwich, West Midlands |
| Birmingham: CO, NO2, NO, O3, PM10, SO, SO2, PM2.5, gas analysers | Deployed on: AUN site: Birmingham East |
| Birmingham: NOx gas analyser | Deployed on: AUN site: Walsall Alumwell, West Midlands |
| Birmingham: NOx gas analyser | Deployed on: AUN site: Willenhall, West Midlands |
| Birmingham: CO analyser | Deployed on: AUN site: Coventry |
| Birmingham: CO, NO2, NO, O3, PM10, SO, SO2, PM2.5, gas analysers | Deployed on: AUN site: Wolverhampton |
| Birmingham: CO, NO2, NO, O3, PM10, SO, SO2, PM2.5, gas analysers | Deployed on: AUN site: Birmingham Centre |
| Birmingham: NOx gas analyser | Deployed on: AUN site: Coventry |
| Birmingham: Ozone analyser | Deployed on: AUN site: West Bromwich, West Midlands |
| Birmingham: Ozone analyser | Deployed on: AUN site: Coventry |
| Birmingham: CO analyser | Deployed on: AUN site: West Bromwich, West Midlands |
| Birmingham: Sulphur Dioxide gas analyser | Deployed on: AUN site: West Bromwich, West Midlands |
units: None
names: Error flag
units: microgrammes per cubic metre
names: PM10
Co-ordinate Variables