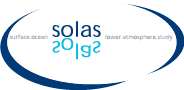 View XML
SOLAS: Leeds: J(o1d) filter radiometer at Cape Verde Observatory (2007-2009)
Update Frequency:
Not Planned
Latest Data Update:
2010-09-29
Publication State:
Published
Publication Date:
2008-03-27
Dataset Size:
5 Files | 26MB
---
Abstract
The overall aim of the UK Surface Ocean / Lower Atmosphere Study (UK SOLAS) is to advance understanding of environmentally significant interactions between the atmosphere and ocean, focusing on material exchanges that involve ocean productivity, atmospheric composition and climate. The knowledge obtained will improve the predictability of climate change and give insights into the distribution and fate of persistent pollutants.
Data from observations made at the The Cape Verde Atmospheric Observatory (16.848N, 24.871W) which exists to advance understanding of climatically significant interactions between the atmosphere and ocean and to provide a regional focal point and long-term data. The observatory is based on Calhau Island of São Vicente, Cape Verde in the tropical Eastern North Atlantic Ocean, a region which is data poor but plays a key role in atmosphere-ocean interactions of climate-related and biogeochemical parameters including greenhouse gases. It is an open-ocean site that is representative of a region likely to be sensitive to future climate change, and is minimally influenced by local effects and intermittent continental pollution. The dataset contains mixing ratio measurements of JO1D from the University of Leeds.
Abbreviation: Not defined
Keywords: SOLAS, Leeds, Cape Verde, Chemistry
---
Details
| | |
| --- | --- |
| Previous Info: | No news update for this record |
| Previously used record identifiers: | http://badc.nerc.ac.uk/view/badc.nerc.ac.uk__ATOM__dep_12066183958525817 |
| Access rules: | |
| Data lineage: | Data collected at Cape Verde Atmospheric Observatory before being transmitted back to UK where NCAS staff prepare data for archiving at BADC. |
| Data Quality: | research data |
| File Format: | Data are NASA Ames formatted |
Related Documents
No documents related to this record were found.
Process overview
This dataset was generated by instruments deployed on platforms as listed below.
Instrument/Platform pairings
units: s-1
names: Error Flag (JO1D )
units: 10^-5_s-1
names: JO1D_
units: None
names: JO1D_Flag
Co-ordinate Variables