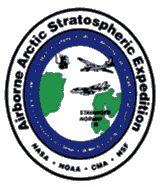 View XML
AASE: Measurements Meteorological Measurement System on the NASA ER-2 Aircraft
Update Frequency:
Not Planned
Latest Data Update:
1998-07-24
Publication State:
Published
Publication Date:
1990-12-10
Dataset Size:
2 Files | 42MB
---
Abstract
The Airborne Arctic Stratospheric Expedition (AASE) which was based in Stavanger, Norway during January and February, 1989, was designed to study the production and loss mechanisms of ozone in the north polar stratospheric environment, and the effect on ozone distribution of the Arctic polar vortex and of the cold temperatures associated with the formation of Polar Stratospheric Clouds (PSC).
This dataset contains measurements from the meteorological meteorological measurement system on the NASA ER-2 Aircraft.
Abbreviation: Not defined
Keywords: AASE, AASE-98, chemistry, ER2
---
Details
Previous Info:

No news update for this record

Previously used record identifiers:

No related previous identifiers.

Access rules:

Please contact CEDA for information about how to access these data.

For data use licensing information please contact:

support@ceda.ac.uk

.

Data lineage:

Data were collected during January and February, 1988-1989 onboard the NASA ER-2.
Copy of CR-ROM published by NASA. The data are held on CD-ROM at the BADC.

Data Quality:

NASA data quality controlled data

File Format:

Data are ASCII formatted
Related Documents
No documents related to this record were found.
Process overview
This dataset was generated by instruments deployed on platforms as listed below.
Instrument/Platform pairings
Mobile platform operations
long_name: Aerosol Extinction
gcmd_url: http://vocab.ndg.nerc.ac.uk/term/P141/4/GVAR0017
gcmd_keyword: Aerosol Extinction
names: Aerosol Extinction, http://vocab.ndg.nerc.ac.uk/term/P141/4/GVAR0017
long_name: Air Temperature
gcmd_url: http://vocab.ndg.nerc.ac.uk/term/P141/4/GVAR0027
gcmd_keyword: Air Temperature
names: Air Temperature, http://vocab.ndg.nerc.ac.uk/term/P141/4/GVAR0027
long_name: Bro
alt_names: ['Bromine']
names: Bromine
long_name: C2F3Cl3
names: C2F3Cl3
long_name: CCl4
alt_names: ['Tetrachloromethane']
names: Tetrachloromethane
long_name: CF2Cl2
alt_names: ['Dichlorodifluoromethane']
names: Dichlorodifluoromethane
long_name: CFCl3
alt_names: ['Trichlorofluoromethane']
names: Trichlorofluoromethane
long_name: CH3CCl3
alt_names: ['Trichloroethane']
names: Trichloroethane
long_name: Carbon And Hydrocarbon Compounds
names: Carbon And Hydrocarbon Compounds
long_name: Carbon Dioxide
gcmd_url: http://vocab.ndg.nerc.ac.uk/term/P141/4/GVAR0111
gcmd_keyword: Carbon Dioxide
names: Carbon Dioxide, http://vocab.ndg.nerc.ac.uk/term/P141/4/GVAR0111
long_name: Carbon Monoxide
gcmd_url: http://vocab.ndg.nerc.ac.uk/term/P141/4/GVAR0112
gcmd_keyword: Carbon Monoxide
names: http://vocab.ndg.nerc.ac.uk/term/P141/4/GVAR0112, Carbon Monoxide
long_name: Chlorine Monoxide
gcmd_url: http://vocab.ndg.nerc.ac.uk/term/P141/4/GVAR0128
gcmd_keyword: Chlorine Monoxide
names: Chlorine Monoxide, http://vocab.ndg.nerc.ac.uk/term/P141/4/GVAR0128
long_name: Chlorofluorocarbons
gcmd_url: http://vocab.ndg.nerc.ac.uk/term/P041/4/G146
gcmd_keyword: EARTH SCIENCE > Atmosphere > Atmospheric Chemistry/Halons and Halogens > Chlorofluorocarbons
names: EARTH SCIENCE > Atmosphere > Atmospheric Chemistry/Halons and Halogens > Chlorofluorocarbons, http://vocab.ndg.nerc.ac.uk/term/P041/4/G146
long_name: Cl
alt_names: ['Clorine']
names: Clorine
long_name: ClO
alt_names: ['Hypochlorite']
names: Hypochlorite
long_name: Dew Point Temperature
gcmd_url: http://vocab.ndg.nerc.ac.uk/term/P141/4/GVAR0210
gcmd_keyword: Dew Point Temperature
names: Dew Point Temperature, http://vocab.ndg.nerc.ac.uk/term/P141/4/GVAR0210
long_name: F
alt_names: ['Fluorine']
names: Fluorine
long_name: Geopotential Height
gcmd_url: http://vocab.ndg.nerc.ac.uk/term/P141/4/GVAR0341
gcmd_keyword: Geopotential Height
names: Geopotential Height, http://vocab.ndg.nerc.ac.uk/term/P141/4/GVAR0341
long_name: HCl
alt_names: ['Hydrogen Chloride']
names: Hydrogen Chloride
long_name: HF
alt_names: ['Hydrogen Fluoride']
names: Hydrogen Fluoride
long_name: HNO3 COLUMN
alt_names: ['Nitric Acid Column']
names: Nitric Acid Column
long_name: Halocarbons
gcmd_url: http://vocab.ndg.nerc.ac.uk/term/P041/4/G147
gcmd_keyword: EARTH SCIENCE > Atmosphere > Atmospheric Chemistry/Halons and Halogens > Halocarbons
names: http://vocab.ndg.nerc.ac.uk/term/P041/4/G147, EARTH SCIENCE > Atmosphere > Atmospheric Chemistry/Halons and Halogens > Halocarbons
long_name: Halons And Halogens
names: Halons And Halogens
long_name: Height
names: Height
long_name: Methane
gcmd_url: http://vocab.ndg.nerc.ac.uk/term/P041/4/G138
gcmd_keyword: EARTH SCIENCE > Atmosphere > Atmospheric Chemistry/Carbon and Hydrocarbon Compounds > Methane
names: EARTH SCIENCE > Atmosphere > Atmospheric Chemistry/Carbon and Hydrocarbon Compounds > Methane, http://vocab.ndg.nerc.ac.uk/term/P041/4/G138
long_name: NO
alt_names: ['Nitric Oxide']
names: Nitric Oxide
long_name: NOX
names: NOX
long_name: NOY
names: NOY
long_name: Nitric Acid
gcmd_url: http://vocab.ndg.nerc.ac.uk/term/P141/4/GVAR0554
gcmd_keyword: Nitric Acid
names: http://vocab.ndg.nerc.ac.uk/term/P141/4/GVAR0554, Nitric Acid
long_name: Nitrogen Compounds
gcmd_url: http://vocab.ndg.nerc.ac.uk/term/P141/4/GVAR0558
gcmd_keyword: Nitrogen Compounds
names: Nitrogen Compounds, http://vocab.ndg.nerc.ac.uk/term/P141/4/GVAR0558
long_name: Nitrogen Oxides
gcmd_url: http://vocab.ndg.nerc.ac.uk/term/P141/4/GVAR0560
gcmd_keyword: Nitrogen Oxides
names: http://vocab.ndg.nerc.ac.uk/term/P141/4/GVAR0560, Nitrogen Oxides
long_name: Oxygen Compounds
names: Oxygen Compounds
long_name: Ozone
gcmd_url: http://vocab.ndg.nerc.ac.uk/term/P041/4/G164
gcmd_keyword: EARTH SCIENCE > Atmosphere > Atmospheric Chemistry/Oxygen Compounds > Ozone
names: EARTH SCIENCE > Atmosphere > Atmospheric Chemistry/Oxygen Compounds > Ozone, http://vocab.ndg.nerc.ac.uk/term/P041/4/G164
long_name: Potential Vorticity
names: Potential Vorticity
long_name: Temperature
names: Temperature
long_name: Trace Elements
gcmd_url: http://vocab.ndg.nerc.ac.uk/term/P141/4/GVAR0885
gcmd_keyword: Trace Elements
names: Trace Elements, http://vocab.ndg.nerc.ac.uk/term/P141/4/GVAR0885
long_name: Trace Gases
names: Trace Gases
long_name: Trace Metals
gcmd_url: http://vocab.ndg.nerc.ac.uk/term/P141/4/GVAR0888
gcmd_keyword: Trace Metals
names: http://vocab.ndg.nerc.ac.uk/term/P141/4/GVAR0888, Trace Metals
long_name: Trace Species
names: Trace Species
long_name: U Zonal Windspeed
names: U Zonal Windspeed
long_name: Upper Level Winds
gcmd_url: http://vocab.ndg.nerc.ac.uk/term/P141/4/GVAR0909
gcmd_keyword: Upper Level Winds
names: http://vocab.ndg.nerc.ac.uk/term/P141/4/GVAR0909, Upper Level Winds
long_name: Vertical Profile Of Air Temperature
names: Vertical Profile Of Air Temperature
long_name: Vorticity
gcmd_url: http://vocab.ndg.nerc.ac.uk/term/P041/4/G254
gcmd_keyword: EARTH SCIENCE > Atmosphere > Atmospheric Winds > Vorticity
names: EARTH SCIENCE > Atmosphere > Atmospheric Winds > Vorticity, http://vocab.ndg.nerc.ac.uk/term/P041/4/G254
long_name: Water Vapor
gcmd_url: http://vocab.ndg.nerc.ac.uk/term/P141/4/GVAR0943
gcmd_keyword: Water Vapor
names: Water Vapor, http://vocab.ndg.nerc.ac.uk/term/P141/4/GVAR0943
Co-ordinate Variables