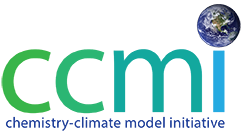 View XML
SNU-ACMG GRIMs-CCM model data, part of the Chemistry-Climate Model Initiative (CCMI-1) project database
Latest Data Update:
2018-04-16
Publication State:
Published
Publication Date:
2021-03-10
Dataset Size:
498 Files | 188GB
---
Abstract
Data from the Seoul National University Atmospheric Chemistry Modelling Group (SNU-ACMG) Global/Regional Integrated Model system‐Chemistry Climate Model (GRIMs-CCM) model , part of the International Global Atmospheric Chemistry (IGAC)/ Stratosphere-troposphere Processes and their Role in Climate (SPARC) Chemistry-Climate Model Initiative phase 1 (CCMI-1).
CCMI-1 is a global chemistry climate model intercomparison project, coordinated by the University of Reading on behalf of the World Climate Research Programme (WCRP).
The dataset includes data for the CCMI-1 reference experiments ref-C1 and ref-C1SD.
ref-C1: Using state-of-knowledge historic forcings and observed sea surface conditions, the models simulate the recent past (1960–2010).
ref-C1SD: Similar to ref-C1 but the models are nudged towards reanalysis datasets, and correspondingly the simulations only cover 1980–2010. ("SD" stands for specified dynamics.)
Abbreviation: Not defined
Keywords: IGAC, SPARC, WCRP, SNU-ACMG, GRIMs-CCM, CCMI-1, ref-C1, ref-C1SD
---
Details
Previous Info:

No news update for this record

Previously used record identifiers:

No related previous identifiers.

Access rules:

Access to these data is available to any registered CEDA user. Please Login or Register for an account to gain access.

Use of these data is covered by the following licence:

http://creativecommons.org/licenses/by/4.0/

. When using these data you must cite them correctly using the citation given on the CEDA Data Catalogue record.

Data lineage:

The CCMI-1 model output uses CMOR to convert data to CF netCDF. The CMOR conversion is performed by the individual modelling groups and the resulting CF netCDF files are archived at the BADC.

Data Quality:

Data passed CCMI-1 metadata consistency checks.

File Format:

NetCDF
Process overview
This dataset was generated by the
computation
detailed below.
| | |
| --- | --- |
| Title | SNU-ACMG GRIMs-CCM |
| Abstract | Seoul National University Atmospheric Chemistry Modelling Group (SNU-ACMG) Global/Regional Integrated Model system‐Chemistry Climate Model (GRIMs‐CCM) |
| Input Description | None |
| Output Description | None |
| Software Reference | None |
units: kg kg-1
standard_name: mass_fraction_of_sulfate_dry_aerosol_in_air
long_name: Aerosol Sulfate Mass Mixing Ratio
var_id: mmraerso4
names: mass_fraction_of_sulfate_dry_aerosol_in_air, Aerosol Sulfate Mass Mixing Ratio
standard_name: air_pressure
units: Pa
long_name: Air Pressure
var_id: pmlev
names: air_pressure, Air Pressure
long_name: Air Temperature
var_id: ta
standard_name: air_temperature
units: K
names: air_temperature, Air Temperature
units: W m-2
var_id: swtoaasaer
long_name: All-Sky SW-RF Aerosols at TOA
names: All-Sky SW-RF Aerosols at TOA
long_name: Ambient Aerosol Absorption Optical Thickness at 550 nm
standard_name: atmosphere_absorption_optical_thickness_due_to_ambient_aerosol
var_id: abs550aer
units: 1
names: atmosphere_absorption_optical_thickness_due_to_ambient_aerosol, Ambient Aerosol Absorption Optical Thickness at 550 nm
var_id: od550aer
long_name: Ambient Aerosol Optical Thickness at 550 nm
units: 1
standard_name: atmosphere_optical_thickness_due_to_ambient_aerosol
names: atmosphere_optical_thickness_due_to_ambient_aerosol, Ambient Aerosol Optical Thickness at 550 nm
long_name: Ambient Fine Aerosol Optical Thickness at 550 nm
standard_name: atmosphere_optical_thickness_due_to_pm1_ambient_aerosol
var_id: od550lt1aer
units: 1
names: atmosphere_optical_thickness_due_to_pm1_ambient_aerosol, Ambient Fine Aerosol Optical Thickness at 550 nm
long_name: Anthropogenic Direct Emission Rate of SO4
var_id: emiaso4
units: kg m-2 s-1
names: Anthropogenic Direct Emission Rate of SO4
long_name: Anthropogenic Emission Rate of Black Carbon Aerosol Mass
var_id: emiabc
units: kg m-2 s-1
names: Anthropogenic Emission Rate of Black Carbon Aerosol Mass
units: kg m-2 s-1
long_name: Anthropogenic Emission Rate of Dry Aerosol Total Organic Matter
var_id: emiaoa
names: Anthropogenic Emission Rate of Dry Aerosol Total Organic Matter
var_id: emianh3
units: kg m-2 s-1
long_name: Anthropogenic Emission Rate of NH3
names: Anthropogenic Emission Rate of NH3
long_name: Anthropogenic Emission Rate of NOx
var_id: emianox
units: kg m-2 s-1
names: Anthropogenic Emission Rate of NOx
long_name: Anthropogenic Emission Rate of SO2
units: kg m-2 s-1
var_id: emiaso2
names: Anthropogenic Emission Rate of SO2
units: kg m-2 s-1
long_name: Aqueous-Phase Production Rate of SO4
var_id: cheaqpso4
names: Aqueous-Phase Production Rate of SO4
long_name: Aqueous-Phase Production Rate of SO4 via S(iv)+H2O2
var_id: cheaqph2o2so4
units: kg m-2 s-1
names: Aqueous-Phase Production Rate of SO4 via S(iv)+H2O2
long_name: Aqueous-Phase Production Rate of SO4 via S(iv)+O3
var_id: cheaqpo3so4
units: kg m-2 s-1
names: Aqueous-Phase Production Rate of SO4 via S(iv)+O3
standard_name: cell_area
var_id: areacella
units: m2
long_name: Atmosphere Grid-Cell Area
names: Atmosphere Grid-Cell Area, cell_area
units: m
var_id: dh
long_name: Atmosphere Model Cell Geometric Thickness
names: Atmosphere Model Cell Geometric Thickness
units: kg kg-1
long_name: BC Mass Mixing Ratio
standard_name: mass_fraction_of_black_carbon_dry_aerosol_in_air
var_id: mmrbc
names: mass_fraction_of_black_carbon_dry_aerosol_in_air, BC Mass Mixing Ratio
units: 1
long_name: Black Carbon AOD at 550nm
standard_name: atmosphere_optical_thickness_due_to_black_carbon_ambient_aerosol
var_id: od550bc
names: atmosphere_optical_thickness_due_to_black_carbon_ambient_aerosol, Black Carbon AOD at 550nm
units: mole mole-1
long_name: C2H6 Volume Mixing Ratio
var_id: vmrc2h6
standard_name: mole_fraction_of_ethane_in_air
names: mole_fraction_of_ethane_in_air, C2H6 Volume Mixing Ratio
units: mole mole-1
standard_name: mole_fraction_of_formaldehyde_in_air
long_name: CH2O Volume Mixing Ratio
var_id: vmrch2o
names: mole_fraction_of_formaldehyde_in_air, CH2O Volume Mixing Ratio
units: mole mole-1
long_name: CO Volume Mixing Ratio
standard_name: mole_fraction_of_carbon_monoxide_in_air
var_id: vmrco
names: CO Volume Mixing Ratio, mole_fraction_of_carbon_monoxide_in_air
units: W m-2
long_name: Clear-Sky SW-RF Aerosols at TOA
var_id: swtoacsaer
names: Clear-Sky SW-RF Aerosols at TOA
long_name: Cloud Area Fraction
standard_name: cloud_area_fraction_in_atmosphere_layer
var_id: cl
units: %
names: cloud_area_fraction_in_atmosphere_layer, Cloud Area Fraction
units: 1
long_name: Cloud Optical Depth
standard_name: atmosphere_optical_thickness_due_to_cloud
var_id: cod
names: Cloud Optical Depth, atmosphere_optical_thickness_due_to_cloud
units: mole mole-1
long_name: DMS Volume Mixing Ratio
standard_name: mole_fraction_of_dimethyl_sulfide_in_air
var_id: vmrdms
names: mole_fraction_of_dimethyl_sulfide_in_air, DMS Volume Mixing Ratio
long_name: Dry Deposition Rate of Black Carbon Aerosol Mass
standard_name: tendency_of_atmosphere_mass_content_of_black_carbon_dry_aerosol_due_to_dry_deposition
units: kg m-2 s-1
var_id: drybc
names: Dry Deposition Rate of Black Carbon Aerosol Mass, tendency_of_atmosphere_mass_content_of_black_carbon_dry_aerosol_due_to_dry_deposition
standard_name: tendency_of_atmosphere_mass_content_of_particulate_organic_matter_dry_aerosol_due_to_dry_deposition
var_id: dryoa
long_name: Dry Deposition Rate of Dry Aerosol Organic Matter
units: kg m-2 s-1
names: tendency_of_atmosphere_mass_content_of_particulate_organic_matter_dry_aerosol_due_to_dry_deposition, Dry Deposition Rate of Dry Aerosol Organic Matter
long_name: Dry Deposition Rate of Dust
standard_name: tendency_of_atmosphere_mass_content_of_dust_dry_aerosol_due_to_dry_deposition
var_id: drydust
units: kg m-2 s-1
names: tendency_of_atmosphere_mass_content_of_dust_dry_aerosol_due_to_dry_deposition, Dry Deposition Rate of Dust
standard_name: tendency_of_atmosphere_mass_content_of_nitric_acid_due_to_dry_deposition
var_id: dryhno3
units: kg m-2 s-1
long_name: Dry Deposition Rate of HNO3
names: tendency_of_atmosphere_mass_content_of_nitric_acid_due_to_dry_deposition, Dry Deposition Rate of HNO3
units: kg m-2 s-1
long_name: Dry Deposition Rate of NH3
standard_name: tendency_of_atmosphere_mass_content_of_ammonia_due_to_dry_deposition
var_id: drynh3
names: Dry Deposition Rate of NH3, tendency_of_atmosphere_mass_content_of_ammonia_due_to_dry_deposition
long_name: Dry Deposition Rate of NH4
standard_name: tendency_of_atmosphere_mass_content_of_ammonium_dry_aerosol_due_to_dry_deposition
var_id: drynh4
units: kg m-2 s-1
names: Dry Deposition Rate of NH4, tendency_of_atmosphere_mass_content_of_ammonium_dry_aerosol_due_to_dry_deposition
long_name: Dry Deposition Rate of NO2
standard_name: tendency_of_atmosphere_mass_content_of_nitrogen_dioxide_due_to_dry_deposition
var_id: dryno2
units: kg m-2 s-1
names: tendency_of_atmosphere_mass_content_of_nitrogen_dioxide_due_to_dry_deposition, Dry Deposition Rate of NO2
units: kg m-2 s-1
long_name: Dry Deposition Rate of NOy
var_id: drynoy
names: Dry Deposition Rate of NOy
standard_name: tendency_of_atmosphere_mass_content_of_ozone_due_to_dry_deposition
var_id: dryo3
long_name: Dry Deposition Rate of Ozone
units: kg m-2 s-1
names: tendency_of_atmosphere_mass_content_of_ozone_due_to_dry_deposition, Dry Deposition Rate of Ozone
long_name: Dry Deposition Rate of SO2
standard_name: tendency_of_atmosphere_mass_content_of_sulfur_dioxide_due_to_dry_deposition
var_id: dryso2
units: kg m-2 s-1
names: tendency_of_atmosphere_mass_content_of_sulfur_dioxide_due_to_dry_deposition, Dry Deposition Rate of SO2
units: kg m-2 s-1
long_name: Dry Deposition Rate of SO4
standard_name: tendency_of_atmosphere_mass_content_of_sulfate_dry_aerosol_due_to_dry_deposition
var_id: dryso4
names: Dry Deposition Rate of SO4, tendency_of_atmosphere_mass_content_of_sulfate_dry_aerosol_due_to_dry_deposition
long_name: Dry Deposition Rate of Seasalt
standard_name: tendency_of_atmosphere_mass_content_of_seasalt_dry_aerosol_due_to_dry_deposition
var_id: dryss
units: kg m-2 s-1
names: tendency_of_atmosphere_mass_content_of_seasalt_dry_aerosol_due_to_dry_deposition, Dry Deposition Rate of Seasalt
standard_name: atmosphere_optical_thickness_due_to_dust_ambient_aerosol
var_id: od550dust
long_name: Dust AOD at 550nm
units: 1
names: atmosphere_optical_thickness_due_to_dust_ambient_aerosol, Dust AOD at 550nm
units: kg kg-1
long_name: Dust Aerosol Mass Mixing Ratio
var_id: mmrdust
standard_name: mass_fraction_of_dust_dry_aerosol_in_air
names: mass_fraction_of_dust_dry_aerosol_in_air, Dust Aerosol Mass Mixing Ratio
units: m s-1
standard_name: eastward_wind
var_id: ua
long_name: Eastward Wind
names: eastward_wind, Eastward Wind
standard_name: tendency_of_atmosphere_mass_content_of_black_carbon_dry_aerosol_due_to_emission
var_id: emibc
units: kg m-2 s-1
long_name: Emission Rate of Black Carbon Aerosol Mass
names: tendency_of_atmosphere_mass_content_of_black_carbon_dry_aerosol_due_to_emission, Emission Rate of Black Carbon Aerosol Mass
units: m
long_name: Geopotential Height
standard_name: geopotential_height
var_id: zg
names: geopotential_height, Geopotential Height
units: mole mole-1
long_name: HNO3 Volume Mixing Ratio
standard_name: mole_fraction_of_nitric_acid_in_air
var_id: vmrhno3
names: mole_fraction_of_nitric_acid_in_air, HNO3 Volume Mixing Ratio
units: mole mole-1
long_name: Isoprene Volume Mixing Ratio
var_id: vmrisop
standard_name: mole_fraction_of_isoprene_in_air
names: Isoprene Volume Mixing Ratio, mole_fraction_of_isoprene_in_air
units: %
long_name: Land Area Fraction
standard_name: land_area_fraction
var_id: sftlf
names: land_area_fraction, Land Area Fraction
var_id: emilnox
units: kg m-2 s-1
long_name: Layer-Integrated Lightning Production of NOx
names: Layer-Integrated Lightning Production of NOx
long_name: Layer-Integrated Net Chemistry Tendency of O3
var_id: do3chm
units: kg m-2 s-1
names: Layer-Integrated Net Chemistry Tendency of O3
units: kg kg-1
long_name: NH4 Mass Mixing Ratio
standard_name: mass_fraction_of_ammonium_dry_aerosol_in_air
var_id: mmraernh4
names: mass_fraction_of_ammonium_dry_aerosol_in_air, NH4 Mass Mixing Ratio
units: kg kg-1
var_id: mmraerno3
long_name: NO3 Aerosol Mass Mixing Ratio
standard_name: mass_fraction_of_nitrate_dry_aerosol_in_air
names: NO3 Aerosol Mass Mixing Ratio, mass_fraction_of_nitrate_dry_aerosol_in_air
units: m s-1
var_id: va
standard_name: northward_wind
long_name: Northward Wind
names: northward_wind, Northward Wind
long_name: O3 Destruction Rate
var_id: o3loss
units: mole m-3 s-1
names: O3 Destruction Rate
units: mole m-3 s-1
long_name: O3 Production Rate
var_id: o3prod
names: O3 Production Rate
units: mole mole-1
long_name: OH Volume Mixing Ratio
standard_name: mole_fraction_of_hydroxyl_radical_in_air
var_id: vmroh
names: OH Volume Mixing Ratio, mole_fraction_of_hydroxyl_radical_in_air
units: mole mole-1
standard_name: mole_fraction_of_ozone_in_air
var_id: vmro3
long_name: Ozone Volume Mixing Ratio
names: mole_fraction_of_ozone_in_air, Ozone Volume Mixing Ratio
units: mole mole-1
long_name: PAN Volume Mixing Ratio
standard_name: mole_fraction_of_peroxyacetyl_nitrate_in_air
var_id: vmrpan
names: mole_fraction_of_peroxyacetyl_nitrate_in_air, PAN Volume Mixing Ratio
units: kg kg-1
var_id: mmrpm1
long_name: PM1.0 Mass Mixing Ratio at 50 Percent RH
standard_name: mass_fraction_of_pm1_ambient_aerosol_in_air
names: PM1.0 Mass Mixing Ratio at 50 Percent RH, mass_fraction_of_pm1_ambient_aerosol_in_air
long_name: PM10 Mass Mixing Ratio at 50 Percent RH
standard_name: mass_fraction_of_pm10_ambient_aerosol_in_air
units: kg kg-1
var_id: mmrpm10
names: PM10 Mass Mixing Ratio at 50 Percent RH, mass_fraction_of_pm10_ambient_aerosol_in_air
units: kg kg-1
long_name: PM2.5 Mass Mixing Ratio at 50 Percent RH
standard_name: mass_fraction_of_pm2p5_ambient_aerosol_in_air
var_id: mmrpm2p5
names: mass_fraction_of_pm2p5_ambient_aerosol_in_air, PM2.5 Mass Mixing Ratio at 50 Percent RH
long_name: POM AOD at 550nm
standard_name: atmosphere_optical_thickness_due_to_particulate_organic_matter_ambient_aerosol
units: 1
var_id: od550oa
names: atmosphere_optical_thickness_due_to_particulate_organic_matter_ambient_aerosol, POM AOD at 550nm
units: kg kg-1
long_name: POM Mass Mixing Ratio
standard_name: mass_fraction_of_particulate_organic_matter_dry_aerosol_in_air
var_id: mmroa
names: POM Mass Mixing Ratio, mass_fraction_of_particulate_organic_matter_dry_aerosol_in_air
units: s-1
long_name: Photolysis Rate of NO2
var_id: jno2
names: Photolysis Rate of NO2
units: s-1
long_name: Photolysis Rate of O3 to O1D
var_id: photo1d
names: Photolysis Rate of O3 to O1D
var_id: pr
units: kg m-2 s-1
long_name: Precipitation
standard_name: precipitation_flux
names: precipitation_flux, Precipitation
long_name: Radiation Wavelength
standard_name: radiation_wavelength
var_id: wv550nm
units: nm
names: Radiation Wavelength, radiation_wavelength
units: mole m-3 s-1
long_name: Rate of CO Oxidation
var_id: lossco
names: Rate of CO Oxidation
standard_name: tendency_of_atmosphere_mass_content_of_particulate_organic_matter_dry_aerosol_due_to_net_chemical_production_and_emission
long_name: Rate of Emission and Production of Dry Aerosol Total Organic Matter
units: kg m-2 s-1
var_id: emioa
names: Rate of Emission and Production of Dry Aerosol Total Organic Matter, tendency_of_atmosphere_mass_content_of_particulate_organic_matter_dry_aerosol_due_to_net_chemical_production_and_emission
standard_name: relative_humidity
units: %
long_name: Relative Humidity
var_id: relh50p
names: Relative Humidity, relative_humidity
units: mole mole-1
long_name: SO2 Volume Mixing Ratio
var_id: vmrso2
standard_name: mole_fraction_of_sulfur_dioxide_in_air
names: mole_fraction_of_sulfur_dioxide_in_air, SO2 Volume Mixing Ratio
standard_name: sea_ice_area_fraction
units: %
var_id: sic
long_name: Sea Ice Area Fraction
names: sea_ice_area_fraction, Sea Ice Area Fraction
units: kg kg-1
standard_name: mass_fraction_of_seasalt_dry_aerosol_in_air
long_name: Sea Salt Mass Mixing Ratio
var_id: mmrss
names: mass_fraction_of_seasalt_dry_aerosol_in_air, Sea Salt Mass Mixing Ratio
long_name: Sea Surface Temperature
var_id: tos
standard_name: sea_surface_temperature
units: K
names: sea_surface_temperature, Sea Surface Temperature
standard_name: atmosphere_optical_thickness_due_to_seasalt_ambient_aerosol
var_id: od550ss
long_name: Seasalt AOD at 550nm
units: 1
names: atmosphere_optical_thickness_due_to_seasalt_ambient_aerosol, Seasalt AOD at 550nm
long_name: Specific Humidity
var_id: hus
standard_name: specific_humidity
units: 1
names: specific_humidity, Specific Humidity
var_id: od550so4
long_name: Sulfate AOD at 550nm
units: 1
names: Sulfate AOD at 550nm
long_name: Surface Air Pressure
units: Pa
var_id: ps
standard_name: surface_air_pressure
names: surface_air_pressure, Surface Air Pressure
var_id: albsrfc
units: 1
long_name: Surface Albedo
standard_name: surface_albedo
names: surface_albedo, Surface Albedo
units: m
long_name: Surface Altitude
standard_name: surface_altitude
var_id: orog
names: Surface Altitude, surface_altitude
units: W m-2
long_name: Surface Downwelling Longwave Radiation
standard_name: surface_downwelling_longwave_flux_in_air
var_id: rlds
names: surface_downwelling_longwave_flux_in_air, Surface Downwelling Longwave Radiation
units: W m-2
standard_name: surface_downwelling_shortwave_flux_in_air
long_name: Surface Downwelling Shortwave Radiation
var_id: rsds
names: surface_downwelling_shortwave_flux_in_air, Surface Downwelling Shortwave Radiation
units: W m-2
long_name: Surface Upward Latent Heat Flux
standard_name: surface_upward_latent_heat_flux
var_id: hfls
names: surface_upward_latent_heat_flux, Surface Upward Latent Heat Flux
units: W m-2
standard_name: surface_upward_sensible_heat_flux
var_id: hfss
long_name: Surface Upward Sensible Heat Flux
names: surface_upward_sensible_heat_flux, Surface Upward Sensible Heat Flux
units: W m-2
var_id: rlus
long_name: Surface Upwelling Longwave Radiation
standard_name: surface_upwelling_longwave_flux_in_air
names: Surface Upwelling Longwave Radiation, surface_upwelling_longwave_flux_in_air
units: W m-2
long_name: Surface Upwelling Shortwave Radiation
standard_name: surface_upwelling_shortwave_flux_in_air
var_id: rsus
names: surface_upwelling_shortwave_flux_in_air, Surface Upwelling Shortwave Radiation
units: W m-2
standard_name: toa_outgoing_longwave_flux
long_name: TOA Outgoing Longwave Radiation
var_id: rlut
names: toa_outgoing_longwave_flux, TOA Outgoing Longwave Radiation
units: W m-2
standard_name: toa_outgoing_shortwave_flux
long_name: TOA Outgoing Shortwave Radiation
var_id: rsut
names: toa_outgoing_shortwave_flux, TOA Outgoing Shortwave Radiation
standard_name: cloud_area_fraction
long_name: Total Cloud Fraction
units: %
var_id: clt
names: cloud_area_fraction, Total Cloud Fraction
long_name: Total Direct Emission Rate of SO4
standard_name: tendency_of_atmosphere_mass_content_of_sulfate_dry_aerosol_due_to_emission
var_id: emiso4
units: kg m-2 s-1
names: Total Direct Emission Rate of SO4, tendency_of_atmosphere_mass_content_of_sulfate_dry_aerosol_due_to_emission
var_id: emiaco
units: kg m-2 s-1
long_name: Total Emission Rate of Anthropogenic CO
names: Total Emission Rate of Anthropogenic CO
var_id: emiavoc
units: kg m-2 s-1
long_name: Total Emission Rate of Anthropogenic NMVOC
names: Total Emission Rate of Anthropogenic NMVOC
long_name: Total Emission Rate of Biogenic Isoprene
var_id: emibisop
units: kg m-2 s-1
names: Total Emission Rate of Biogenic Isoprene
long_name: Total Emission Rate of Biogenic NMVOC
var_id: emibvoc
units: kg m-2 s-1
names: Total Emission Rate of Biogenic NMVOC
long_name: Total Emission Rate of CO
standard_name: tendency_of_atmosphere_mass_content_of_carbon_monoxide_due_to_emission
var_id: emico
units: kg m-2 s-1
names: Total Emission Rate of CO, tendency_of_atmosphere_mass_content_of_carbon_monoxide_due_to_emission
var_id: emidms
units: kg m-2 s-1
long_name: Total Emission Rate of DMS
standard_name: tendency_of_atmosphere_mass_content_of_dimethyl_sulfide_due_to_emission
names: Total Emission Rate of DMS, tendency_of_atmosphere_mass_content_of_dimethyl_sulfide_due_to_emission
units: kg m-2 s-1
long_name: Total Emission Rate of Dust
standard_name: tendency_of_atmosphere_mass_content_of_dust_dry_aerosol_due_to_emission
var_id: emidust
names: Total Emission Rate of Dust, tendency_of_atmosphere_mass_content_of_dust_dry_aerosol_due_to_emission
units: kg (C) m-2 s-1
long_name: Total Emission Rate of Isoprene
standard_name: tendency_of_atmosphere_mass_content_of_isoprene_due_to_emission
var_id: emiisop
names: Total Emission Rate of Isoprene, tendency_of_atmosphere_mass_content_of_isoprene_due_to_emission
units: kg m-2 s-1
long_name: Total Emission Rate of NH3
standard_name: tendency_of_atmosphere_mass_content_of_ammonia_due_to_emission
var_id: eminh3
names: Total Emission Rate of NH3, tendency_of_atmosphere_mass_content_of_ammonia_due_to_emission
long_name: Total Emission Rate of NMVOC
var_id: emivoc
units: kg m-2 s-1
names: Total Emission Rate of NMVOC
long_name: Total Emission Rate of NOx
standard_name: tendency_of_atmosphere_mass_content_of_nox_expressed_as_nitrogen_due_to_emission
var_id: eminox
units: kg m-2 s-1
names: tendency_of_atmosphere_mass_content_of_nox_expressed_as_nitrogen_due_to_emission, Total Emission Rate of NOx
var_id: emiso2
units: kg m-2 s-1
long_name: Total Emission Rate of SO2
standard_name: tendency_of_atmosphere_mass_content_of_sulfur_dioxide_due_to_emission
names: Total Emission Rate of SO2, tendency_of_atmosphere_mass_content_of_sulfur_dioxide_due_to_emission
long_name: Total Emission Rate of Seasalt
standard_name: tendency_of_atmosphere_mass_content_of_seasalt_dry_aerosol_due_to_emission
var_id: emiss
units: kg m-2 s-1
names: Total Emission Rate of Seasalt, tendency_of_atmosphere_mass_content_of_seasalt_dry_aerosol_due_to_emission
var_id: emiapom
units: kg m-2 s-1
long_name: Total Emission of Anthropogenic POM
names: Total Emission of Anthropogenic POM
long_name: Total Emission of POM
var_id: emipom
units: kg m-2 s-1
names: Total Emission of POM
long_name: Total Ozone Column
var_id: toz
units: DU
standard_name: equivalent_thickness_at_stp_of_atmosphere_ozone_content
names: Total Ozone Column, equivalent_thickness_at_stp_of_atmosphere_ozone_content
var_id: ptp
units: Pa
long_name: Tropopause Air Pressure
standard_name: tropopause_air_pressure
names: Tropopause Air Pressure, tropopause_air_pressure
long_name: Tropospheric Ozone Column
var_id: tropoz
units: DU
names: Tropospheric Ozone Column
var_id: mcu
long_name: Updraft Convective Mass Flux
standard_name: atmosphere_updraft_convective_mass_flux
units: kg m-2 s-1
names: atmosphere_updraft_convective_mass_flux, Updraft Convective Mass Flux
units: kg m-2
long_name: Vertically Integrated Mass Content of Air in Layer
standard_name: atmosphere_mass_of_air_per_unit_area
var_id: airmass
names: atmosphere_mass_of_air_per_unit_area, Vertically Integrated Mass Content of Air in Layer
units: mole mole-1
long_name: Water Vapour Volume Mixing Ratio
var_id: vmrh2o
standard_name: mole_fraction_of_water_vapor_in_air
names: mole_fraction_of_water_vapor_in_air, Water Vapour Volume Mixing Ratio
long_name: Wet Deposition Rate of Black Carbon Aerosol Mass
standard_name: tendency_of_atmosphere_mass_content_of_black_carbon_dry_aerosol_due_to_wet_deposition
var_id: wetbc
units: kg m-2 s-1
names: tendency_of_atmosphere_mass_content_of_black_carbon_dry_aerosol_due_to_wet_deposition, Wet Deposition Rate of Black Carbon Aerosol Mass
long_name: Wet Deposition Rate of Dry Aerosol Organic Matter
standard_name: tendency_of_atmosphere_mass_content_of_particulate_organic_matter_dry_aerosol_due_to_wet_deposition
var_id: wetoa
units: kg m-2 s-1
names: tendency_of_atmosphere_mass_content_of_particulate_organic_matter_dry_aerosol_due_to_wet_deposition, Wet Deposition Rate of Dry Aerosol Organic Matter
units: kg m-2 s-1
long_name: Wet Deposition Rate of Dust
standard_name: tendency_of_atmosphere_mass_content_of_dust_dry_aerosol_due_to_wet_deposition
var_id: wetdust
names: Wet Deposition Rate of Dust, tendency_of_atmosphere_mass_content_of_dust_dry_aerosol_due_to_wet_deposition
units: kg m-2 s-1
long_name: Wet Deposition Rate of HNO3
standard_name: tendency_of_atmosphere_mass_content_of_nitric_acid_due_to_wet_deposition
var_id: wethno3
names: Wet Deposition Rate of HNO3, tendency_of_atmosphere_mass_content_of_nitric_acid_due_to_wet_deposition
var_id: wetnh3
long_name: Wet Deposition Rate of NH3
standard_name: tendency_of_atmosphere_mass_content_of_ammonia_due_to_wet_deposition
units: kg m-2 s-1
names: tendency_of_atmosphere_mass_content_of_ammonia_due_to_wet_deposition, Wet Deposition Rate of NH3
standard_name: tendency_of_atmosphere_mass_content_of_ammonium_dry_aerosol_due_to_wet_deposition
var_id: wetnh4
units: kg m-2 s-1
long_name: Wet Deposition Rate of NH4
names: tendency_of_atmosphere_mass_content_of_ammonium_dry_aerosol_due_to_wet_deposition, Wet Deposition Rate of NH4
standard_name: tendency_of_atmosphere_mass_content_of_sulfur_dioxide_due_to_wet_deposition
var_id: wetso2
units: kg m-2 s-1
long_name: Wet Deposition Rate of SO2
names: Wet Deposition Rate of SO2, tendency_of_atmosphere_mass_content_of_sulfur_dioxide_due_to_wet_deposition
long_name: Wet Deposition Rate of SO4
var_id: wetso4
units: kg m-2 s-1
names: Wet Deposition Rate of SO4
long_name: Wet Deposition Rate of Seasalt
standard_name: tendency_of_atmosphere_mass_content_of_seasalt_dry_aerosol_due_to_wet_deposition
var_id: wetss
units: kg m-2 s-1
names: tendency_of_atmosphere_mass_content_of_seasalt_dry_aerosol_due_to_wet_deposition, Wet Deposition Rate of Seasalt
long_name: Wet Deposition of NOy incl aerosol nitrate
var_id: wetnoy
units: kg m-2 s-1
names: Wet Deposition of NOy incl aerosol nitrate
long_name: Zonal Mean Air Temperature
var_id: zmta
standard_name: air_temperature
units: K
names: air_temperature, Zonal Mean Air Temperature
units: mole mole-1
long_name: Zonal Mean CH2O Volume Mixing Ratio
standard_name: mole_fraction_of_formaldehyde_in_air
var_id: zmch2o
names: mole_fraction_of_formaldehyde_in_air, Zonal Mean CH2O Volume Mixing Ratio
units: mole mole-1
standard_name: mole_fraction_of_carbon_monoxide_in_air
long_name: Zonal Mean CO Volume Mixing Ratio
var_id: zmco
names: mole_fraction_of_carbon_monoxide_in_air, Zonal Mean CO Volume Mixing Ratio
units: m s-1
standard_name: eastward_wind
var_id: zmua
long_name: Zonal Mean Eastward Wind
names: eastward_wind, Zonal Mean Eastward Wind
units: m
standard_name: geopotential_height
long_name: Zonal Mean Geopotential Height
var_id: zmzg
names: geopotential_height, Zonal Mean Geopotential Height
units: mole mole-1
long_name: Zonal Mean HNO3 Volume Mixing Ratio
var_id: zmhno3
standard_name: mole_fraction_of_nitric_acid_in_air
names: mole_fraction_of_nitric_acid_in_air, Zonal Mean HNO3 Volume Mixing Ratio
long_name: Zonal Mean Northward Wind
units: m s-1
var_id: zmva
standard_name: northward_wind
names: northward_wind, Zonal Mean Northward Wind
units: mole mole-1
long_name: Zonal Mean OH Volume Mixing Ratio
var_id: zmoh
standard_name: mole_fraction_of_hydroxyl_radical_in_air
names: mole_fraction_of_hydroxyl_radical_in_air, Zonal Mean OH Volume Mixing Ratio
units: mole mole-1
var_id: zmo3
standard_name: mole_fraction_of_ozone_in_air
long_name: Zonal Mean Ozone Volume Mixing Ratio
names: mole_fraction_of_ozone_in_air, Zonal Mean Ozone Volume Mixing Ratio
units: mole mole-1
standard_name: mole_fraction_of_water_vapor_in_air
long_name: Zonal Mean Water Vapour Volume Mixing Ratio
var_id: zmh2o
names: mole_fraction_of_water_vapor_in_air, Zonal Mean Water Vapour Volume Mixing Ratio
standard_name: atmosphere_hybrid_sigma_pressure_coordinate
var_id: lev_bnds
units: 1
names: atmosphere_hybrid_sigma_pressure_coordinate
standard_name: atmosphere_hybrid_sigma_pressure_coordinate
long_name: hybrid sigma pressure coordinate
units: 1
var_id: lev
names: atmosphere_hybrid_sigma_pressure_coordinate, hybrid sigma pressure coordinate
long_name: pressure
var_id: plev
units: Pa
standard_name: air_pressure
names: air_pressure, pressure
var_id: a
units: 1
long_name: vertical coordinate formula term: a(k)
names: vertical coordinate formula term: a(k)
long_name: vertical coordinate formula term: a(k+1/2)
var_id: a_bnds
units: 1
names: vertical coordinate formula term: a(k+1/2)
long_name: vertical coordinate formula term: b(k)
var_id: b
units: 1
names: vertical coordinate formula term: b(k)
units: 1
long_name: vertical coordinate formula term: b(k+1/2)
var_id: b_bnds
names: vertical coordinate formula term: b(k+1/2)
units: Pa
var_id: p0
long_name: vertical coordinate formula term: reference pressure
names: vertical coordinate formula term: reference pressure
Co-ordinate Variables
standard_name: latitude
var_id: lat
long_name: latitude
units: degrees_north
names: latitude
var_id: lon
units: degrees_east
standard_name: longitude
long_name: longitude
names: longitude
long_name: time
standard_name: time
var_id: time
names: time