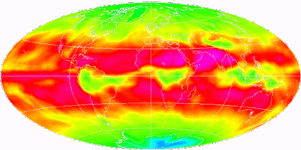 View XML
ERBE: ERBE instrument measurements on aboard the Earth Radiation Budget Satellite (ERBS)
Update Frequency:
Not Planned
Publication State:
Published
Publication Date:
1990-12-10
Dataset Size:
1.05K Files | 74MB
---
Abstract
This dataset consists of data from the Earth Radiation Budget Experiment (ERBE) instrument on the NASA Earth Radiation Budget Satellite (ERBS), launched from the Space Shuttle Challenger in October 1984 (STS-41G). ERBS was placed into an orbit at 603-km altitude, 57-deg. inclination.
The ERBE instrument's main aim was to provide accurate measurements of incoming solar energy and shortwave and longwave radiation reflected or emitted from the Earth back into space.
This dataset contains colour images (shortwave/longwave/net radiation, albedo, clear-sky albedo, clear-sky shortwave/longwave/net radiation, and shortwave/longwave/net cloud forcing) from the ERBE instrument, a scanning radiometer on ERBS.
Monthly average values are included for the time periods during which the scanners were operational.
This dataset is public, though NASA noted that this is intended for research purposes and the data has no commercial value.
Abbreviation: Not defined
Keywords: ATMOSPHERICRADIATION, ATMOSPHERE
---
Details
| | |
| --- | --- |
| Previous Info: | No news update for this record |
| Previously used record identifiers: | http://badc.nerc.ac.uk/view/badc.nerc.ac.uk__ATOM__dep_11701747196413327 |
| Access rules: | |
| Data lineage: | Data collected by NASA using the Earth Radiation Budget Satellite (ERBS), processed and prepared by NASA. A copy of the data were then obtained by the BADC to be made available through the BADC archive. |
| Data Quality: | Data collected and processed by NASA prior to publication. |
| File Format: | Data are GIF formatted |
Related Documents
No documents related to this record were found.
Process overview
This dataset was generated by a combination of instruments deployed on platforms and computations as detailed below.
Instrument/Platform pairings
Mobile platform operations
Computation Element: 1
| | |
| --- | --- |
| Title | deployed on Earth Radiation Budget Satellite (ERBS) |
| Abstract | This computation involved: deployed on Earth Radiation Budget Satellite (ERBS). |
| Input Description | None |
| Output Description | None |
| Software Reference | None |
long_name: Albedo
gcmd_url: http://vocab.ndg.nerc.ac.uk/term/P041/4/G199
gcmd_keyword: EARTH SCIENCE > Atmosphere > Atmospheric Radiation > Albedo
names: EARTH SCIENCE > Atmosphere > Atmospheric Radiation > Albedo, http://vocab.ndg.nerc.ac.uk/term/P041/4/G199
long_name: Incidence
names: Incidence
long_name: Net Radiation
gcmd_url: http://vocab.ndg.nerc.ac.uk/term/P141/4/GVAR0546
gcmd_keyword: Net Radiation
names: Net Radiation, http://vocab.ndg.nerc.ac.uk/term/P141/4/GVAR0546
long_name: Radiative Flux
gcmd_url: http://vocab.ndg.nerc.ac.uk/term/P141/4/GVAR0677
gcmd_keyword: Radiative Flux
names: Radiative Flux, http://vocab.ndg.nerc.ac.uk/term/P141/4/GVAR0677
long_name: Shortwave Radiation
gcmd_url: http://vocab.ndg.nerc.ac.uk/term/P141/4/GVAR0755
gcmd_keyword: Shortwave Radiation
names: Shortwave Radiation, http://vocab.ndg.nerc.ac.uk/term/P141/4/GVAR0755
long_name: Solar Irradiance
gcmd_url: http://vocab.ndg.nerc.ac.uk/term/P141/4/GVAR0809
gcmd_keyword: Solar Irradiance
names: http://vocab.ndg.nerc.ac.uk/term/P141/4/GVAR0809, Solar Irradiance
Co-ordinate Variables