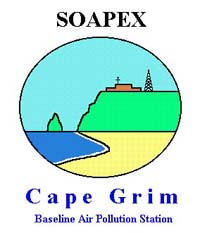 View XML
Southern Ocean Atmospheric Photochemistry Experiment 2 (SOAPEX-2) Project: Seawater measurements from Southern Surveyor research vessel
Update Frequency:
Not Planned
Publication State:
Published
Publication Date:
2007-01-29
Dataset Size:
2 Files | 12KB
---
Abstract
Southern Ocean Atmospheric Photochemistry Experiment 2 (SOAPEX-2) is primarily an experiment to study atmospheric cleansing by free radicals in extremely clean and slightly perturbed tropospheric air and focuses on a field campaign carried out at Cape Grim, Tasmania in January-February 1999. The dataset contains concentrations of seawater alkyl nitrates and halocarbons. This dataset is public.
Abbreviation: Not defined
Keywords: SOAPEX, Air pollution, Seawater
---
Details
| | |
| --- | --- |
| Previous Info: | No news update for this record |
| Previously used record identifiers: | http://badc.nerc.ac.uk/view/badc.nerc.ac.uk__ATOM__dep_11701140275213263 |
| Access rules: | |
| Data lineage: | Data provided as is to the BADC during and after the SOAPEX campaign. |
| Data Quality: | Research data |
| File Format: | Data are NASA Ames formatted. |
Related Documents
No documents related to this record were found.
Process overview
This dataset was generated by instruments deployed on platforms as listed below.
Instrument/Platform pairings
Mobile platform operations
long_name: Air Quality
gcmd_url: http://vocab.ndg.nerc.ac.uk/term/P131/4/GTER0006
gcmd_keyword: Air Quality
names: Air Quality, http://vocab.ndg.nerc.ac.uk/term/P131/4/GTER0006
long_name: Atmospheric Chemistry
gcmd_url: http://vocab.ndg.nerc.ac.uk/term/P131/4/GTER0014
gcmd_keyword: Atmospheric Chemistry
names: Atmospheric Chemistry, http://vocab.ndg.nerc.ac.uk/term/P131/4/GTER0014
long_name: Carbon And Hydrocarbon Compounds
names: Carbon And Hydrocarbon Compounds
long_name: Formaldehyde
gcmd_url: http://vocab.ndg.nerc.ac.uk/term/P041/4/G135
gcmd_keyword: EARTH SCIENCE > Atmosphere > Atmospheric Chemistry/Carbon and Hydrocarbon Compounds > Formaldehyde
names: http://vocab.ndg.nerc.ac.uk/term/P041/4/G135, EARTH SCIENCE > Atmosphere > Atmospheric Chemistry/Carbon and Hydrocarbon Compounds > Formaldehyde
long_name: Halocarbons
gcmd_url: http://vocab.ndg.nerc.ac.uk/term/P041/4/G147
gcmd_keyword: EARTH SCIENCE > Atmosphere > Atmospheric Chemistry/Halons and Halogens > Halocarbons
names: http://vocab.ndg.nerc.ac.uk/term/P041/4/G147, EARTH SCIENCE > Atmosphere > Atmospheric Chemistry/Halons and Halogens > Halocarbons
long_name: Halons And Halogens
names: Halons And Halogens
long_name: Hydrogen Compounds
names: Hydrogen Compounds
long_name: Hydroperoxy
gcmd_url: http://vocab.ndg.nerc.ac.uk/term/P041/4/G153
gcmd_keyword: EARTH SCIENCE > Atmosphere > Atmospheric Chemistry/Hydrogen Compounds > Hydroperoxy
names: http://vocab.ndg.nerc.ac.uk/term/P041/4/G153, EARTH SCIENCE > Atmosphere > Atmospheric Chemistry/Hydrogen Compounds > Hydroperoxy
long_name: Hydroxyl
gcmd_url: http://vocab.ndg.nerc.ac.uk/term/P041/4/G154
gcmd_keyword: EARTH SCIENCE > Atmosphere > Atmospheric Chemistry/Hydrogen Compounds > Hydroxyl
names: http://vocab.ndg.nerc.ac.uk/term/P041/4/G154, EARTH SCIENCE > Atmosphere > Atmospheric Chemistry/Hydrogen Compounds > Hydroxyl
long_name: Methane
gcmd_url: http://vocab.ndg.nerc.ac.uk/term/P041/4/G138
gcmd_keyword: EARTH SCIENCE > Atmosphere > Atmospheric Chemistry/Carbon and Hydrocarbon Compounds > Methane
names: EARTH SCIENCE > Atmosphere > Atmospheric Chemistry/Carbon and Hydrocarbon Compounds > Methane, http://vocab.ndg.nerc.ac.uk/term/P041/4/G138
long_name: Nitrate
gcmd_url: http://vocab.ndg.nerc.ac.uk/term/P041/4/G892
gcmd_keyword: EARTH SCIENCE > Oceans > Ocean Chemistry > Nitrate
names: EARTH SCIENCE > Oceans > Ocean Chemistry > Nitrate, http://vocab.ndg.nerc.ac.uk/term/P041/4/G892
long_name: Nitrogen Oxides
gcmd_url: http://vocab.ndg.nerc.ac.uk/term/P141/4/GVAR0560
gcmd_keyword: Nitrogen Oxides
names: http://vocab.ndg.nerc.ac.uk/term/P141/4/GVAR0560, Nitrogen Oxides
long_name: Non-methane Hydrocarbons
gcmd_url: http://vocab.ndg.nerc.ac.uk/term/P141/4/GVAR0563
gcmd_keyword: Non-methane Hydrocarbons
names: http://vocab.ndg.nerc.ac.uk/term/P141/4/GVAR0563, Non-methane Hydrocarbons
long_name: Ocean Chemistry
gcmd_url: http://vocab.ndg.nerc.ac.uk/term/P131/4/GTER0074
gcmd_keyword: Ocean Chemistry
names: http://vocab.ndg.nerc.ac.uk/term/P131/4/GTER0074, Ocean Chemistry
long_name: Oxygen Compounds
names: Oxygen Compounds
long_name: Ozone
gcmd_url: http://vocab.ndg.nerc.ac.uk/term/P041/4/G164
gcmd_keyword: EARTH SCIENCE > Atmosphere > Atmospheric Chemistry/Oxygen Compounds > Ozone
names: EARTH SCIENCE > Atmosphere > Atmospheric Chemistry/Oxygen Compounds > Ozone, http://vocab.ndg.nerc.ac.uk/term/P041/4/G164
Co-ordinate Variables