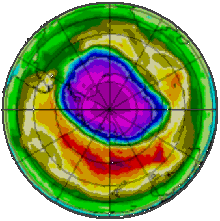 ---
View XML
Total Ozone Mapping Spectrometer (TOMS): NIMBUS-7 Daily UV Exposure measurements at the Earth's Surface
Update Frequency:
Not Planned
Publication State:
Published
Publication Date:
1996-12-10
---
Abstract
Data from the Total Ozone Mapping Spectrometer (TOMS), which used backscattered ultraviolet radiance to infer total column ozone measurements (gridded daily for the entire globe). This CD-ROM contains one file for each day from November 1, 1978 to March 6, 1993 (with a few missing days). Each file contains data representing the relative daily areal exposures of ultraviolet (UV) radiation effective in causing skin irritation, computed at each 1 degree latitude by 1.25 degree longitude pixel, between latitudes 65S and 65N. These data were derived from measurements made by NASA's Total Ozone Mapping Spectrometer (TOMS), which was flown aboard the Nimbus-7 satellite.

Abbreviation: Not defined
Keywords: ATMOSPHERICRADIATION, ATMOSPHERE, ATMOSPHERICCHEMISTRY
---
Details
| | |
| --- | --- |
| Previous Info: | No news update for this record |
| Previously used record identifiers: | No related previous identifiers. |
| Access rules: | |
| Data lineage: | Data collected by NASA's Total Ozone Mapping Spectrometer (TOMS) and published on CD-ROM. A copy of the data were obtained by the BADC to assist in data access and to ensure long term preservation. |
| Data Quality: | Data were prepared by NASA. Check documentation for further details |
| File Format: | Data are ASCII formatted and images are GIF formatted |
Process overview
This dataset was generated by a combination of instruments deployed on platforms and computations as detailed below.
Instrument/Platform pairings
Mobile platform operations
Computation Element: 1
| | |
| --- | --- |
| Title | DETAILS NEEDED - COMPUTATION CREATED FOR SATELLITE COMPOSITE. deployed on NIMBUS 7 Satellite |
| Abstract | This computation involved: DETAILS NEEDED - COMPUTATION CREATED FOR SATELLITE COMPOSITE. deployed on NIMBUS 7 Satellite. The NASA Nimbus 7 research-and-development polar-orbiting satellite served as a stabilized, earth-oriented platform for the testing of advanced systems for sensing and collecting data in the pollution, oceanographic and meteorological disciplines. It was launched on October 24, 1978. |
| Input Description | None |
| Output Description | None |
| Software Reference | None |
long_name: Oxygen Compounds
names: Oxygen Compounds
long_name: Ozone
gcmd_url: http://vocab.ndg.nerc.ac.uk/term/P041/4/G164
gcmd_keyword: EARTH SCIENCE > Atmosphere > Atmospheric Chemistry/Oxygen Compounds > Ozone
names: EARTH SCIENCE > Atmosphere > Atmospheric Chemistry/Oxygen Compounds > Ozone, http://vocab.ndg.nerc.ac.uk/term/P041/4/G164
long_name: Total Ozone Column
names: Total Ozone Column
long_name: Ultraviolet Radiation
gcmd_url: http://vocab.ndg.nerc.ac.uk/term/P141/4/GVAR0907
gcmd_keyword: Ultraviolet Radiation
names: Ultraviolet Radiation, http://vocab.ndg.nerc.ac.uk/term/P141/4/GVAR0907
Co-ordinate Variables