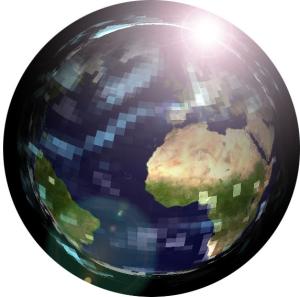 View XML
ClimatePrediction.net model runs on worldwide personal computer network
Update Frequency:
Not Planned
Latest Data Update:
2020-04-29
Publication State:
Removed
Publication Date:
2007-03-19
Dataset Size:
1 Files | 53B
---
THESE DATA HAVE BEEN REMOVED - RECORD FOR REFERENCE ONLY!
Abstract
The Climateprediction.net project is harnessing the spare CPU cycles of tens of thousands of individual users' PCs to run a massive ensemble of climate simulations using the Met Office's Unified Model. A multi-thousand member ensemble of simulation results from the perturbed physics climate sensitivity experiment is available for research purposes.
Abbreviation: Not defined
Keywords: climateprediciton.net, climate, simulation
---
Details
Previous Info:

No news update for this record

Previously used record identifiers:

http://badc.nerc.ac.uk/view/badc.nerc.ac.uk__ATOM__dep_11743467968118188

Access rules:

These data have been removed (see lineage statement for details).


Data lineage:

Data produced by ClimatePrediction.net and provided as is to the BADC.

2021-06-15 These data were removed for the following reason: This data was problematic to store and poorly documented. We have it on tape if needed.

Data Quality:

unknown

File Format:

Availability of data and file format

The data is divided into a series of volumes with a consistent directory structure. Volumes are filled in the order data is submitted and therefore a single volume may contain simulations from multiple Climateprediction.net experiments.

The first volume in the dataset (vol-000) is a quality controlled subset of early Climateprediction.net data that is documented seperately here. This volume contains aproximately 2500 runs with a total size of 13Gb. Subsequent volumes will be an order of magnitude larger.

Each simulation is stored within a volume at a URL matching the following pattern:

ftp://ftp.ceda.ac.uk/badc/cpdn/volumes/vol-xxx/model/yy/result-name

Where

xxx

is a zero-padded volume number,

model

identifies the type of Climate

prediction

.net simulation (e.g.

standard

for the HadSM3 slab model experiment or

sulphur

for the HadSM3 + sulphur cycle experiment) and

yy

is a directory branch designed to limit the size of individual directories. The directory branch

yy

is currently calculated as the first 2 characters of the simulation's UM id, which is usually also part of the

result-name

. However, this feature should not be assumed as future volumes may use a different convention.

Within each simulation directory data is stored as a series of NetCDF files conforming to the CF metadata standard.
Related Documents
No documents related to this record were found.
Process overview
This dataset was generated by the
computation
detailed below.
| | |
| --- | --- |
| Title | ClimatePrediction.net model deployed on Worldwide Personal Computer network |
| Abstract | This computation involved: ClimatePrediction.net model deployed on Worldwide Personal Computer network. Set of General Circulation Models (GCMs) used in the climateprediction.net experiment. |
| Input Description | None |
| Output Description | None |
| Software Reference | None |
units: K
long_name: Air Temperature on pressure levels
var_id: tapzon
names: Air Temperature on pressure levels
units: %
long_name: Convective Cloud amount
var_id: clc
names: Convective Cloud amount
units: m/s
long_name: Eastward wind on pressure levels
var_id: uapzon
names: Eastward wind on pressure levels
long_name: GLOBAL MEAN ATMOS ENERGY CORR'N IN COLUMN W/M2
var_id: gm_field14201
names: GLOBAL MEAN ATMOS ENERGY CORR'N IN COLUMN W/M2
long_name: GLOBAL MEAN CLEAR-SKY (II) DOWN SURFACE LW FLUX
var_id: gm_field2208
names: GLOBAL MEAN CLEAR-SKY (II) DOWN SURFACE LW FLUX
long_name: GLOBAL MEAN CLEAR-SKY (II) DOWN SURFACE SW FLUX
var_id: gm_field1210
names: GLOBAL MEAN CLEAR-SKY (II) DOWN SURFACE SW FLUX
long_name: GLOBAL MEAN CLEAR-SKY (II) UP SURFACE SW FLUX
var_id: gm_field1211
names: GLOBAL MEAN CLEAR-SKY (II) UP SURFACE SW FLUX
long_name: GLOBAL MEAN CONVECTIVE RAINFALL RATE KG/M2/S
var_id: gm_field5205
names: GLOBAL MEAN CONVECTIVE RAINFALL RATE KG/M2/S
long_name: GLOBAL MEAN CONVECTIVE SNOWFALL RATE KG/M2/S
var_id: gm_field5206
names: GLOBAL MEAN CONVECTIVE SNOWFALL RATE KG/M2/S
units: %
long_name: GLOBAL MEAN Convective Cloud amount
var_id: gm_clc
names: GLOBAL MEAN Convective Cloud amount
units: K
long_name: GLOBAL MEAN Daily maximum surface (1.5m) temperature
var_id: gm_tasmax
names: GLOBAL MEAN Daily maximum surface (1.5m) temperature
units: K
long_name: GLOBAL MEAN Daily minimum surface (1.5m) temperature
var_id: gm_tasmin
names: GLOBAL MEAN Daily minimum surface (1.5m) temperature
long_name: GLOBAL MEAN FIELD 210
var_id: gm_field210
names: GLOBAL MEAN FIELD 210
units: K
long_name: GLOBAL MEAN Ground Surface Temperature
var_id: gm_ts
names: GLOBAL MEAN Ground Surface Temperature
units: W/m^2
long_name: GLOBAL MEAN Heat flux latent surface
var_id: gm_hfls
names: GLOBAL MEAN Heat flux latent surface
long_name: GLOBAL MEAN LARGE SCALE RAINFALL RATE KG/M2/S
var_id: gm_field4203
names: GLOBAL MEAN LARGE SCALE RAINFALL RATE KG/M2/S
long_name: GLOBAL MEAN LARGE SCALE SNOWFALL RATE KG/M2/S
var_id: gm_field4204
names: GLOBAL MEAN LARGE SCALE SNOWFALL RATE KG/M2/S
units: W/m^2
long_name: GLOBAL MEAN LW radiation TOA (OLR)
var_id: gm_rlut
names: GLOBAL MEAN LW radiation TOA (OLR)
units: W/m^2
long_name: GLOBAL MEAN LW radiation TOA clear sky
var_id: gm_rlutcs
names: GLOBAL MEAN LW radiation TOA clear sky
units: W/m^2
long_name: GLOBAL MEAN LW radiation downward surface
var_id: gm_rlds
names: GLOBAL MEAN LW radiation downward surface
units: Pa
long_name: GLOBAL MEAN Mean sea-level pressure
var_id: gm_psl
names: GLOBAL MEAN Mean sea-level pressure
units: W/m^2
long_name: GLOBAL MEAN NET DOWN SURFACE SW FLUX: SW TS ONLY
var_id: gm_netrsds
names: GLOBAL MEAN NET DOWN SURFACE SW FLUX: SW TS ONLY
units: W/m^2
long_name: GLOBAL MEAN Net downward surface LW radiation
var_id: gm_rlnds
names: GLOBAL MEAN Net downward surface LW radiation
long_name: GLOBAL MEAN OMEGA ON MODEL LEVELS
var_id: gm_field12201
names: GLOBAL MEAN OMEGA ON MODEL LEVELS
long_name: GLOBAL MEAN QT SOURCE SINK IN QT POS KG/M2/S
var_id: gm_field13201mlyr
names: GLOBAL MEAN QT SOURCE SINK IN QT POS KG/M2/S
long_name: GLOBAL MEAN REF. SEA SURF TEMP (SLAB MODEL) K A
var_id: gm_field40178
names: GLOBAL MEAN REF. SEA SURF TEMP (SLAB MODEL) K A
long_name: GLOBAL MEAN RELATIVE HUMIDITY AT 1.5M
var_id: gm_field3245
names: GLOBAL MEAN RELATIVE HUMIDITY AT 1.5M
long_name: GLOBAL MEAN SEA ICE DEPTH (MEAN OVER ICE)
var_id: gm_field32
names: GLOBAL MEAN SEA ICE DEPTH (MEAN OVER ICE)
long_name: GLOBAL MEAN SEA ICE FRACTION AFTER SLAB K
var_id: gm_field40031
names: GLOBAL MEAN SEA ICE FRACTION AFTER SLAB K
long_name: GLOBAL MEAN SEA ICE FRACTION AFTER TIMESTEP
var_id: gm_field31
names: GLOBAL MEAN SEA ICE FRACTION AFTER TIMESTEP
long_name: GLOBAL MEAN SEAICE DEPTH(GRD BOX MN)AFTER SLAB M
var_id: gm_field40203
names: GLOBAL MEAN SEAICE DEPTH(GRD BOX MN)AFTER SLAB M
long_name: GLOBAL MEAN SLAB CARRYHEAT (W M-2) SLAB
var_id: gm_field40220
names: GLOBAL MEAN SLAB CARRYHEAT (W M-2) SLAB
long_name: GLOBAL MEAN SLAB HEATING RATE (ICE) K/S
var_id: gm_field40221
names: GLOBAL MEAN SLAB HEATING RATE (ICE) K/S
long_name: GLOBAL MEAN SNOW AMOUNT AFTER SLAB KG/M2
var_id: gm_field40023
names: GLOBAL MEAN SNOW AMOUNT AFTER SLAB KG/M2
long_name: GLOBAL MEAN SPECIFIC HUMIDITY AT 1.5M
var_id: gm_field3237
names: GLOBAL MEAN SPECIFIC HUMIDITY AT 1.5M
long_name: GLOBAL MEAN SURFACE NET RADIATION
var_id: gm_field3314
names: GLOBAL MEAN SURFACE NET RADIATION
long_name: GLOBAL MEAN SURFACE SH FLUX FROM SEA (GBM) W/M2
var_id: gm_field3228
names: GLOBAL MEAN SURFACE SH FLUX FROM SEA (GBM) W/M2
long_name: GLOBAL MEAN SURFACE TEMPERATURE AFTER SLAB K
var_id: gm_field40024
names: GLOBAL MEAN SURFACE TEMPERATURE AFTER SLAB K
units: W/m^2
long_name: GLOBAL MEAN SW radiation downward TOA
var_id: gm_rsdt
names: GLOBAL MEAN SW radiation downward TOA
units: W/m^2
long_name: GLOBAL MEAN SW radiation upward TOA
var_id: gm_rsut
names: GLOBAL MEAN SW radiation upward TOA
units: W/m^2
long_name: GLOBAL MEAN SW radiation upward TOA clear sky
var_id: gm_rsutcs
names: GLOBAL MEAN SW radiation upward TOA clear sky
units: K
long_name: GLOBAL MEAN Surface (1.5m) air temperature
var_id: gm_tas
names: GLOBAL MEAN Surface (1.5m) air temperature
units: Pa
long_name: GLOBAL MEAN Surface pressure
var_id: gm_ps
names: GLOBAL MEAN Surface pressure
long_name: GLOBAL MEAN TOTAL CLOUD AMOUNT IN LW RADIATION
var_id: gm_field2204
names: GLOBAL MEAN TOTAL CLOUD AMOUNT IN LW RADIATION
long_name: GLOBAL MEAN TOTAL DOWNWARD SURFACE SW FLUX
var_id: gm_field1235
names: GLOBAL MEAN TOTAL DOWNWARD SURFACE SW FLUX
long_name: GLOBAL MEAN TOTAL RAINFALL RATE: LS+CONV KG/M2/S
var_id: gm_field5214
names: GLOBAL MEAN TOTAL RAINFALL RATE: LS+CONV KG/M2/S
long_name: GLOBAL MEAN TOTAL SNOWFALL RATE: LS+CONV KG/M2/S
var_id: gm_field5215
names: GLOBAL MEAN TOTAL SNOWFALL RATE: LS+CONV KG/M2/S
units: kg/(m^2*s)
long_name: GLOBAL MEAN Total precipitation rate
var_id: gm_pr
names: GLOBAL MEAN Total precipitation rate
long_name: GLOBAL MEAN U COMPNT OF WIND AFTER TIMESTEP
var_id: gm_field2max
names: GLOBAL MEAN U COMPNT OF WIND AFTER TIMESTEP
long_name: GLOBAL MEAN V COMPNT OF WIND AFTER TIMESTEP
var_id: gm_field3max
names: GLOBAL MEAN V COMPNT OF WIND AFTER TIMESTEP
units: W/m^2
long_name: Heat flux latent surface
var_id: hfls
names: Heat flux latent surface
units: W/m^2
long_name: LW radiation TOA (OLR)
var_id: rlutzon
names: LW radiation TOA (OLR)
units: W/m^2
long_name: LW radiation TOA clear sky
var_id: rlutcs
names: LW radiation TOA clear sky
units: Pa
long_name: Mean sea-level pressure
var_id: psl
names: Mean sea-level pressure
units: W/m^2
long_name: NET DOWN SURFACE SW FLUX: SW TS ONLY
var_id: netrsdszon
names: NET DOWN SURFACE SW FLUX: SW TS ONLY
units: W/m^2
long_name: Net downward surface LW radiation
var_id: rlndszon
names: Net downward surface LW radiation
units: m/s
long_name: Northward wind on pressure levels
var_id: vapzon
names: Northward wind on pressure levels
units: hPa
long_name: Pressure level
var_id: level0
names: Pressure level
long_name: REGIONAL MEAN [Alaska] ATMOS ENERGY CORR'N IN COLUMN W/M2
var_id: rm_amal_field14201
names: REGIONAL MEAN [Alaska] ATMOS ENERGY CORR'N IN COLUMN W/M2
long_name: REGIONAL MEAN [Alaska] CLEAR-SKY (II) DOWN SURFACE LW FLUX
var_id: rm_amal_field2208
names: REGIONAL MEAN [Alaska] CLEAR-SKY (II) DOWN SURFACE LW FLUX
long_name: REGIONAL MEAN [Alaska] CLEAR-SKY (II) DOWN SURFACE SW FLUX
var_id: rm_amal_field1210
names: REGIONAL MEAN [Alaska] CLEAR-SKY (II) DOWN SURFACE SW FLUX
long_name: REGIONAL MEAN [Alaska] CLEAR-SKY (II) UP SURFACE SW FLUX
var_id: rm_amal_field1211
names: REGIONAL MEAN [Alaska] CLEAR-SKY (II) UP SURFACE SW FLUX
long_name: REGIONAL MEAN [Alaska] CONVECTIVE RAINFALL RATE KG/M2/S
var_id: rm_amal_field5205
names: REGIONAL MEAN [Alaska] CONVECTIVE RAINFALL RATE KG/M2/S
long_name: REGIONAL MEAN [Alaska] CONVECTIVE SNOWFALL RATE KG/M2/S
var_id: rm_amal_field5206
names: REGIONAL MEAN [Alaska] CONVECTIVE SNOWFALL RATE KG/M2/S
units: %
long_name: REGIONAL MEAN [Alaska] Convective Cloud amount
var_id: rm_amal_clc
names: REGIONAL MEAN [Alaska] Convective Cloud amount
units: K
long_name: REGIONAL MEAN [Alaska] Daily maximum surface (1.5m) temperature
var_id: rm_amal_tasmax
names: REGIONAL MEAN [Alaska] Daily maximum surface (1.5m) temperature
units: K
long_name: REGIONAL MEAN [Alaska] Daily minimum surface (1.5m) temperature
var_id: rm_amal_tasmin
names: REGIONAL MEAN [Alaska] Daily minimum surface (1.5m) temperature
long_name: REGIONAL MEAN [Alaska] FIELD 210
var_id: rm_amal_field210
names: REGIONAL MEAN [Alaska] FIELD 210
units: K
long_name: REGIONAL MEAN [Alaska] Ground Surface Temperature
var_id: rm_amal_ts
names: REGIONAL MEAN [Alaska] Ground Surface Temperature
long_name: REGIONAL MEAN [Alaska] HEAT FLUX THROUGH SEA ICE (GBM) W/M2
var_id: rm_amal_field3201
names: REGIONAL MEAN [Alaska] HEAT FLUX THROUGH SEA ICE (GBM) W/M2
units: W/m^2
long_name: REGIONAL MEAN [Alaska] Heat flux latent surface
var_id: rm_amal_hfls
names: REGIONAL MEAN [Alaska] Heat flux latent surface
long_name: REGIONAL MEAN [Alaska] LARGE SCALE RAINFALL RATE KG/M2/S
var_id: rm_amal_field4203
names: REGIONAL MEAN [Alaska] LARGE SCALE RAINFALL RATE KG/M2/S
long_name: REGIONAL MEAN [Alaska] LARGE SCALE SNOWFALL RATE KG/M2/S
var_id: rm_amal_field4204
names: REGIONAL MEAN [Alaska] LARGE SCALE SNOWFALL RATE KG/M2/S
units: W/m^2
long_name: REGIONAL MEAN [Alaska] LW radiation TOA (OLR)
var_id: rm_amal_rlut
names: REGIONAL MEAN [Alaska] LW radiation TOA (OLR)
units: W/m^2
long_name: REGIONAL MEAN [Alaska] LW radiation TOA clear sky
var_id: rm_amal_rlutcs
names: REGIONAL MEAN [Alaska] LW radiation TOA clear sky
units: W/m^2
long_name: REGIONAL MEAN [Alaska] LW radiation downward surface
var_id: rm_amal_rlds
names: REGIONAL MEAN [Alaska] LW radiation downward surface
units: Pa
long_name: REGIONAL MEAN [Alaska] Mean sea-level pressure
var_id: rm_amal_psl
names: REGIONAL MEAN [Alaska] Mean sea-level pressure
units: W/m^2
long_name: REGIONAL MEAN [Alaska] NET DOWN SURFACE SW FLUX: SW TS ONLY
var_id: rm_amal_netrsds
names: REGIONAL MEAN [Alaska] NET DOWN SURFACE SW FLUX: SW TS ONLY
units: W/m^2
long_name: REGIONAL MEAN [Alaska] Net downward surface LW radiation
var_id: rm_amal_rlnds
names: REGIONAL MEAN [Alaska] Net downward surface LW radiation
long_name: REGIONAL MEAN [Alaska] OMEGA ON MODEL LEVELS
var_id: rm_amal_field12201
names: REGIONAL MEAN [Alaska] OMEGA ON MODEL LEVELS
long_name: REGIONAL MEAN [Alaska] QT SOURCE SINK IN QT POS KG/M2/S
var_id: rm_amal_field13201mlyr
names: REGIONAL MEAN [Alaska] QT SOURCE SINK IN QT POS KG/M2/S
long_name: REGIONAL MEAN [Alaska] REF. SEA SURF TEMP (SLAB MODEL) K A
var_id: rm_amal_field40178
names: REGIONAL MEAN [Alaska] REF. SEA SURF TEMP (SLAB MODEL) K A
long_name: REGIONAL MEAN [Alaska] RELATIVE HUMIDITY AT 1.5M
var_id: rm_amal_field3245
names: REGIONAL MEAN [Alaska] RELATIVE HUMIDITY AT 1.5M
long_name: REGIONAL MEAN [Alaska] SEA ICE DEPTH (MEAN OVER ICE)
var_id: rm_amal_field32
names: REGIONAL MEAN [Alaska] SEA ICE DEPTH (MEAN OVER ICE)
long_name: REGIONAL MEAN [Alaska] SEA ICE FRACTION AFTER SLAB K
var_id: rm_amal_field40031
names: REGIONAL MEAN [Alaska] SEA ICE FRACTION AFTER SLAB K
long_name: REGIONAL MEAN [Alaska] SEA ICE FRACTION AFTER TIMESTEP
var_id: rm_amal_field31
names: REGIONAL MEAN [Alaska] SEA ICE FRACTION AFTER TIMESTEP
long_name: REGIONAL MEAN [Alaska] SEAICE DEPTH(GRD BOX MN)AFTER SLAB M
var_id: rm_amal_field40203
names: REGIONAL MEAN [Alaska] SEAICE DEPTH(GRD BOX MN)AFTER SLAB M
long_name: REGIONAL MEAN [Alaska] SLAB CARRYHEAT (W M-2) SLAB
var_id: rm_amal_field40220
names: REGIONAL MEAN [Alaska] SLAB CARRYHEAT (W M-2) SLAB
long_name: REGIONAL MEAN [Alaska] SLAB HEATING RATE (ICE) K/S
var_id: rm_amal_field40221
names: REGIONAL MEAN [Alaska] SLAB HEATING RATE (ICE) K/S
long_name: REGIONAL MEAN [Alaska] SPECIFIC HUMIDITY AT 1.5M
var_id: rm_amal_field3237
names: REGIONAL MEAN [Alaska] SPECIFIC HUMIDITY AT 1.5M
long_name: REGIONAL MEAN [Alaska] SURF & BL TOTL MOISTURE FLUX KG/M2/S
var_id: rm_amal_field3223
names: REGIONAL MEAN [Alaska] SURF & BL TOTL MOISTURE FLUX KG/M2/S
units: W/m^2
long_name: REGIONAL MEAN [Alaska] SURFACE & B.LAYER HEAT FLUXES
var_id: rm_amal_hfbl
names: REGIONAL MEAN [Alaska] SURFACE & B.LAYER HEAT FLUXES
long_name: REGIONAL MEAN [Alaska] SURFACE SH FLUX FROM SEA (GBM) W/M2
var_id: rm_amal_field3228
names: REGIONAL MEAN [Alaska] SURFACE SH FLUX FROM SEA (GBM) W/M2
units: W/m^2
long_name: REGIONAL MEAN [Alaska] SW radiation downward TOA
var_id: rm_amal_rsdt
names: REGIONAL MEAN [Alaska] SW radiation downward TOA
units: W/m^2
long_name: REGIONAL MEAN [Alaska] SW radiation upward TOA
var_id: rm_amal_rsut
names: REGIONAL MEAN [Alaska] SW radiation upward TOA
units: W/m^2
long_name: REGIONAL MEAN [Alaska] SW radiation upward TOA clear sky
var_id: rm_amal_rsutcs
names: REGIONAL MEAN [Alaska] SW radiation upward TOA clear sky
units: K
long_name: REGIONAL MEAN [Alaska] Surface (1.5m) air temperature
var_id: rm_amal_tas
names: REGIONAL MEAN [Alaska] Surface (1.5m) air temperature
long_name: REGIONAL MEAN [Alaska] TOTAL CLOUD AMOUNT IN LW RADIATION
var_id: rm_amal_field2204
names: REGIONAL MEAN [Alaska] TOTAL CLOUD AMOUNT IN LW RADIATION
long_name: REGIONAL MEAN [Alaska] TOTAL DOWNWARD SURFACE SW FLUX
var_id: rm_amal_field1235
names: REGIONAL MEAN [Alaska] TOTAL DOWNWARD SURFACE SW FLUX
long_name: REGIONAL MEAN [Alaska] TOTAL RAINFALL RATE: LS+CONV KG/M2/S
var_id: rm_amal_field5214
names: REGIONAL MEAN [Alaska] TOTAL RAINFALL RATE: LS+CONV KG/M2/S
long_name: REGIONAL MEAN [Alaska] TOTAL SNOWFALL RATE: LS+CONV KG/M2/S
var_id: rm_amal_field5215
names: REGIONAL MEAN [Alaska] TOTAL SNOWFALL RATE: LS+CONV KG/M2/S
units: kg/(m^2*s)
long_name: REGIONAL MEAN [Alaska] Total precipitation rate
var_id: rm_amal_prmax
names: REGIONAL MEAN [Alaska] Total precipitation rate
long_name: REGIONAL MEAN [Alaska] U COMPNT OF WIND AFTER TIMESTEP
var_id: rm_amal_field2max
names: REGIONAL MEAN [Alaska] U COMPNT OF WIND AFTER TIMESTEP
long_name: REGIONAL MEAN [Alaska] V COMPNT OF WIND AFTER TIMESTEP
var_id: rm_amal_field3max
names: REGIONAL MEAN [Alaska] V COMPNT OF WIND AFTER TIMESTEP
long_name: REGIONAL MEAN [Alaska] WIND MIXING EN'GY FLUX INTO SEA W/M2
var_id: rm_amal_field3224
names: REGIONAL MEAN [Alaska] WIND MIXING EN'GY FLUX INTO SEA W/M2
units: N/m^2
long_name: REGIONAL MEAN [Alaska] X-COMP OF SURF & BL WIND STRESS
var_id: rm_amal_tauxbl
names: REGIONAL MEAN [Alaska] X-COMP OF SURF & BL WIND STRESS
units: N/m^2
long_name: REGIONAL MEAN [Alaska] Y-COMP OF SURF & BL WIND STRESS
var_id: rm_amal_tauybl
names: REGIONAL MEAN [Alaska] Y-COMP OF SURF & BL WIND STRESS
long_name: REGIONAL MEAN [Amazon Basin] ATMOS ENERGY CORR'N IN COLUMN W/M2
var_id: rm_amsa_field14201
names: REGIONAL MEAN [Amazon Basin] ATMOS ENERGY CORR'N IN COLUMN W/M2
long_name: REGIONAL MEAN [Amazon Basin] CLEAR-SKY (II) DOWN SURFACE LW FLUX
var_id: rm_amsa_field2208
names: REGIONAL MEAN [Amazon Basin] CLEAR-SKY (II) DOWN SURFACE LW FLUX
long_name: REGIONAL MEAN [Amazon Basin] CLEAR-SKY (II) DOWN SURFACE SW FLUX
var_id: rm_amsa_field1210
names: REGIONAL MEAN [Amazon Basin] CLEAR-SKY (II) DOWN SURFACE SW FLUX
long_name: REGIONAL MEAN [Amazon Basin] CLEAR-SKY (II) UP SURFACE SW FLUX
var_id: rm_amsa_field1211
names: REGIONAL MEAN [Amazon Basin] CLEAR-SKY (II) UP SURFACE SW FLUX
long_name: REGIONAL MEAN [Amazon Basin] CONVECTIVE RAINFALL RATE KG/M2/S
var_id: rm_amsa_field5205
names: REGIONAL MEAN [Amazon Basin] CONVECTIVE RAINFALL RATE KG/M2/S
long_name: REGIONAL MEAN [Amazon Basin] CONVECTIVE SNOWFALL RATE KG/M2/S
var_id: rm_amsa_field5206
names: REGIONAL MEAN [Amazon Basin] CONVECTIVE SNOWFALL RATE KG/M2/S
units: %
long_name: REGIONAL MEAN [Amazon Basin] Convective Cloud amount
var_id: rm_amsa_clc
names: REGIONAL MEAN [Amazon Basin] Convective Cloud amount
units: K
long_name: REGIONAL MEAN [Amazon Basin] Daily maximum surface (1.5m) temperature
var_id: rm_amsa_tasmax
names: REGIONAL MEAN [Amazon Basin] Daily maximum surface (1.5m) temperature
units: K
long_name: REGIONAL MEAN [Amazon Basin] Daily minimum surface (1.5m) temperature
var_id: rm_amsa_tasmin
names: REGIONAL MEAN [Amazon Basin] Daily minimum surface (1.5m) temperature
long_name: REGIONAL MEAN [Amazon Basin] FIELD 210
var_id: rm_amsa_field210
names: REGIONAL MEAN [Amazon Basin] FIELD 210
units: K
long_name: REGIONAL MEAN [Amazon Basin] Ground Surface Temperature
var_id: rm_amsa_ts
names: REGIONAL MEAN [Amazon Basin] Ground Surface Temperature
long_name: REGIONAL MEAN [Amazon Basin] HEAT FLUX THROUGH SEA ICE (GBM) W/M2
var_id: rm_amsa_field3201
names: REGIONAL MEAN [Amazon Basin] HEAT FLUX THROUGH SEA ICE (GBM) W/M2
units: W/m^2
long_name: REGIONAL MEAN [Amazon Basin] Heat flux latent surface
var_id: rm_amsa_hfls
names: REGIONAL MEAN [Amazon Basin] Heat flux latent surface
long_name: REGIONAL MEAN [Amazon Basin] LARGE SCALE RAINFALL RATE KG/M2/S
var_id: rm_amsa_field4203
names: REGIONAL MEAN [Amazon Basin] LARGE SCALE RAINFALL RATE KG/M2/S
long_name: REGIONAL MEAN [Amazon Basin] LARGE SCALE SNOWFALL RATE KG/M2/S
var_id: rm_amsa_field4204
names: REGIONAL MEAN [Amazon Basin] LARGE SCALE SNOWFALL RATE KG/M2/S
units: W/m^2
long_name: REGIONAL MEAN [Amazon Basin] LW radiation TOA (OLR)
var_id: rm_amsa_rlut
names: REGIONAL MEAN [Amazon Basin] LW radiation TOA (OLR)
units: W/m^2
long_name: REGIONAL MEAN [Amazon Basin] LW radiation TOA clear sky
var_id: rm_amsa_rlutcs
names: REGIONAL MEAN [Amazon Basin] LW radiation TOA clear sky
units: W/m^2
long_name: REGIONAL MEAN [Amazon Basin] LW radiation downward surface
var_id: rm_amsa_rlds
names: REGIONAL MEAN [Amazon Basin] LW radiation downward surface
units: Pa
long_name: REGIONAL MEAN [Amazon Basin] Mean sea-level pressure
var_id: rm_amsa_psl
names: REGIONAL MEAN [Amazon Basin] Mean sea-level pressure
units: W/m^2
long_name: REGIONAL MEAN [Amazon Basin] NET DOWN SURFACE SW FLUX: SW TS ONLY
var_id: rm_amsa_netrsds
names: REGIONAL MEAN [Amazon Basin] NET DOWN SURFACE SW FLUX: SW TS ONLY
units: W/m^2
long_name: REGIONAL MEAN [Amazon Basin] Net downward surface LW radiation
var_id: rm_amsa_rlnds
names: REGIONAL MEAN [Amazon Basin] Net downward surface LW radiation
long_name: REGIONAL MEAN [Amazon Basin] OMEGA ON MODEL LEVELS
var_id: rm_amsa_field12201
names: REGIONAL MEAN [Amazon Basin] OMEGA ON MODEL LEVELS
long_name: REGIONAL MEAN [Amazon Basin] QT SOURCE SINK IN QT POS KG/M2/S
var_id: rm_amsa_field13201mlyr
names: REGIONAL MEAN [Amazon Basin] QT SOURCE SINK IN QT POS KG/M2/S
long_name: REGIONAL MEAN [Amazon Basin] REF. SEA SURF TEMP (SLAB MODEL) K A
var_id: rm_amsa_field40178
names: REGIONAL MEAN [Amazon Basin] REF. SEA SURF TEMP (SLAB MODEL) K A
long_name: REGIONAL MEAN [Amazon Basin] RELATIVE HUMIDITY AT 1.5M
var_id: rm_amsa_field3245
names: REGIONAL MEAN [Amazon Basin] RELATIVE HUMIDITY AT 1.5M
long_name: REGIONAL MEAN [Amazon Basin] SEA ICE DEPTH (MEAN OVER ICE)
var_id: rm_amsa_field32
names: REGIONAL MEAN [Amazon Basin] SEA ICE DEPTH (MEAN OVER ICE)
long_name: REGIONAL MEAN [Amazon Basin] SEA ICE FRACTION AFTER SLAB K
var_id: rm_amsa_field40031
names: REGIONAL MEAN [Amazon Basin] SEA ICE FRACTION AFTER SLAB K
long_name: REGIONAL MEAN [Amazon Basin] SEA ICE FRACTION AFTER TIMESTEP
var_id: rm_amsa_field31
names: REGIONAL MEAN [Amazon Basin] SEA ICE FRACTION AFTER TIMESTEP
long_name: REGIONAL MEAN [Amazon Basin] SEAICE DEPTH(GRD BOX MN)AFTER SLAB M
var_id: rm_amsa_field40203
names: REGIONAL MEAN [Amazon Basin] SEAICE DEPTH(GRD BOX MN)AFTER SLAB M
long_name: REGIONAL MEAN [Amazon Basin] SLAB CARRYHEAT (W M-2) SLAB
var_id: rm_amsa_field40220
names: REGIONAL MEAN [Amazon Basin] SLAB CARRYHEAT (W M-2) SLAB
long_name: REGIONAL MEAN [Amazon Basin] SLAB HEATING RATE (ICE) K/S
var_id: rm_amsa_field40221
names: REGIONAL MEAN [Amazon Basin] SLAB HEATING RATE (ICE) K/S
long_name: REGIONAL MEAN [Amazon Basin] SNOW AMOUNT AFTER SLAB KG/M2
var_id: rm_amsa_field40023
names: REGIONAL MEAN [Amazon Basin] SNOW AMOUNT AFTER SLAB KG/M2
long_name: REGIONAL MEAN [Amazon Basin] SPECIFIC HUMIDITY AT 1.5M
var_id: rm_amsa_field3237
names: REGIONAL MEAN [Amazon Basin] SPECIFIC HUMIDITY AT 1.5M
long_name: REGIONAL MEAN [Amazon Basin] SURF & BL TOTL MOISTURE FLUX KG/M2/S
var_id: rm_amsa_field3223
names: REGIONAL MEAN [Amazon Basin] SURF & BL TOTL MOISTURE FLUX KG/M2/S
units: W/m^2
long_name: REGIONAL MEAN [Amazon Basin] SURFACE & B.LAYER HEAT FLUXES
var_id: rm_amsa_hfbl
names: REGIONAL MEAN [Amazon Basin] SURFACE & B.LAYER HEAT FLUXES
long_name: REGIONAL MEAN [Amazon Basin] SURFACE SH FLUX FROM SEA (GBM) W/M2
var_id: rm_amsa_field3228
names: REGIONAL MEAN [Amazon Basin] SURFACE SH FLUX FROM SEA (GBM) W/M2
long_name: REGIONAL MEAN [Amazon Basin] SURFACE TEMPERATURE AFTER SLAB K
var_id: rm_amsa_field40024
names: REGIONAL MEAN [Amazon Basin] SURFACE TEMPERATURE AFTER SLAB K
units: W/m^2
long_name: REGIONAL MEAN [Amazon Basin] SW radiation downward TOA
var_id: rm_amsa_rsdt
names: REGIONAL MEAN [Amazon Basin] SW radiation downward TOA
units: W/m^2
long_name: REGIONAL MEAN [Amazon Basin] SW radiation upward TOA
var_id: rm_amsa_rsut
names: REGIONAL MEAN [Amazon Basin] SW radiation upward TOA
units: W/m^2
long_name: REGIONAL MEAN [Amazon Basin] SW radiation upward TOA clear sky
var_id: rm_amsa_rsutcs
names: REGIONAL MEAN [Amazon Basin] SW radiation upward TOA clear sky
units: K
long_name: REGIONAL MEAN [Amazon Basin] Surface (1.5m) air temperature
var_id: rm_amsa_tas
names: REGIONAL MEAN [Amazon Basin] Surface (1.5m) air temperature
long_name: REGIONAL MEAN [Amazon Basin] TOTAL CLOUD AMOUNT IN LW RADIATION
var_id: rm_amsa_field2204
names: REGIONAL MEAN [Amazon Basin] TOTAL CLOUD AMOUNT IN LW RADIATION
long_name: REGIONAL MEAN [Amazon Basin] TOTAL DOWNWARD SURFACE SW FLUX
var_id: rm_amsa_field1235
names: REGIONAL MEAN [Amazon Basin] TOTAL DOWNWARD SURFACE SW FLUX
long_name: REGIONAL MEAN [Amazon Basin] TOTAL RAINFALL RATE: LS+CONV KG/M2/S
var_id: rm_amsa_field5214
names: REGIONAL MEAN [Amazon Basin] TOTAL RAINFALL RATE: LS+CONV KG/M2/S
long_name: REGIONAL MEAN [Amazon Basin] TOTAL SNOWFALL RATE: LS+CONV KG/M2/S
var_id: rm_amsa_field5215
names: REGIONAL MEAN [Amazon Basin] TOTAL SNOWFALL RATE: LS+CONV KG/M2/S
units: kg/(m^2*s)
long_name: REGIONAL MEAN [Amazon Basin] Total precipitation rate
var_id: rm_amsa_prmax
names: REGIONAL MEAN [Amazon Basin] Total precipitation rate
long_name: REGIONAL MEAN [Amazon Basin] U COMPNT OF WIND AFTER TIMESTEP
var_id: rm_amsa_field2max
names: REGIONAL MEAN [Amazon Basin] U COMPNT OF WIND AFTER TIMESTEP
long_name: REGIONAL MEAN [Amazon Basin] V COMPNT OF WIND AFTER TIMESTEP
var_id: rm_amsa_field3max
names: REGIONAL MEAN [Amazon Basin] V COMPNT OF WIND AFTER TIMESTEP
long_name: REGIONAL MEAN [Amazon Basin] WIND MIXING EN'GY FLUX INTO SEA W/M2
var_id: rm_amsa_field3224
names: REGIONAL MEAN [Amazon Basin] WIND MIXING EN'GY FLUX INTO SEA W/M2
units: N/m^2
long_name: REGIONAL MEAN [Amazon Basin] X-COMP OF SURF & BL WIND STRESS
var_id: rm_amsa_tauxbl
names: REGIONAL MEAN [Amazon Basin] X-COMP OF SURF & BL WIND STRESS
units: N/m^2
long_name: REGIONAL MEAN [Amazon Basin] Y-COMP OF SURF & BL WIND STRESS
var_id: rm_amsa_tauybl
names: REGIONAL MEAN [Amazon Basin] Y-COMP OF SURF & BL WIND STRESS
long_name: REGIONAL MEAN [Antarctica] CONVECTIVE RAINFALL RATE KG/M2/S
var_id: rm_ant_field5205
names: REGIONAL MEAN [Antarctica] CONVECTIVE RAINFALL RATE KG/M2/S
long_name: REGIONAL MEAN [Antarctica] CONVECTIVE SNOWFALL RATE KG/M2/S
var_id: rm_ant_field5206
names: REGIONAL MEAN [Antarctica] CONVECTIVE SNOWFALL RATE KG/M2/S
units: K
long_name: REGIONAL MEAN [Antarctica] Daily maximum surface (1.5m) temperature
var_id: rm_ant_tasmax
names: REGIONAL MEAN [Antarctica] Daily maximum surface (1.5m) temperature
units: K
long_name: REGIONAL MEAN [Antarctica] Daily minimum surface (1.5m) temperature
var_id: rm_ant_tasmin
names: REGIONAL MEAN [Antarctica] Daily minimum surface (1.5m) temperature
long_name: REGIONAL MEAN [Antarctica] HEAT FLUX THROUGH SEA ICE (GBM) W/M2
var_id: rm_ant_field3201
names: REGIONAL MEAN [Antarctica] HEAT FLUX THROUGH SEA ICE (GBM) W/M2
units: W/m^2
long_name: REGIONAL MEAN [Antarctica] Heat flux latent surface
var_id: rm_ant_hfls
names: REGIONAL MEAN [Antarctica] Heat flux latent surface
long_name: REGIONAL MEAN [Antarctica] LARGE SCALE RAINFALL RATE KG/M2/S
var_id: rm_ant_field4203
names: REGIONAL MEAN [Antarctica] LARGE SCALE RAINFALL RATE KG/M2/S
long_name: REGIONAL MEAN [Antarctica] LARGE SCALE SNOWFALL RATE KG/M2/S
var_id: rm_ant_field4204
names: REGIONAL MEAN [Antarctica] LARGE SCALE SNOWFALL RATE KG/M2/S
units: W/m^2
long_name: REGIONAL MEAN [Antarctica] LW radiation TOA (OLR)
var_id: rm_ant_rlut
names: REGIONAL MEAN [Antarctica] LW radiation TOA (OLR)
units: W/m^2
long_name: REGIONAL MEAN [Antarctica] Net downward surface LW radiation
var_id: rm_ant_rlnds
names: REGIONAL MEAN [Antarctica] Net downward surface LW radiation
long_name: REGIONAL MEAN [Antarctica] SEA ICE FRACTION AFTER TIMESTEP
var_id: rm_ant_field31
names: REGIONAL MEAN [Antarctica] SEA ICE FRACTION AFTER TIMESTEP
long_name: REGIONAL MEAN [Antarctica] SURF & BL TOTL MOISTURE FLUX KG/M2/S
var_id: rm_ant_field3223
names: REGIONAL MEAN [Antarctica] SURF & BL TOTL MOISTURE FLUX KG/M2/S
units: W/m^2
long_name: REGIONAL MEAN [Antarctica] SURFACE & B.LAYER HEAT FLUXES
var_id: rm_ant_hfbl
names: REGIONAL MEAN [Antarctica] SURFACE & B.LAYER HEAT FLUXES
long_name: REGIONAL MEAN [Antarctica] SURFACE SH FLUX FROM SEA (GBM) W/M2
var_id: rm_ant_field3228
names: REGIONAL MEAN [Antarctica] SURFACE SH FLUX FROM SEA (GBM) W/M2
units: W/m^2
long_name: REGIONAL MEAN [Antarctica] SW radiation downward TOA
var_id: rm_ant_rsdt
names: REGIONAL MEAN [Antarctica] SW radiation downward TOA
units: W/m^2
long_name: REGIONAL MEAN [Antarctica] SW radiation upward TOA
var_id: rm_ant_rsut
names: REGIONAL MEAN [Antarctica] SW radiation upward TOA
units: K
long_name: REGIONAL MEAN [Antarctica] Surface (1.5m) air temperature
var_id: rm_ant_tas
names: REGIONAL MEAN [Antarctica] Surface (1.5m) air temperature
long_name: REGIONAL MEAN [Antarctica] TOTAL CLOUD AMOUNT IN LW RADIATION
var_id: rm_ant_field2204
names: REGIONAL MEAN [Antarctica] TOTAL CLOUD AMOUNT IN LW RADIATION
units: kg/(m^2*s)
long_name: REGIONAL MEAN [Antarctica] Total precipitation rate
var_id: rm_ant_prmax
names: REGIONAL MEAN [Antarctica] Total precipitation rate
long_name: REGIONAL MEAN [Antarctica] U COMPNT OF WIND AFTER TIMESTEP
var_id: rm_ant_field2max
names: REGIONAL MEAN [Antarctica] U COMPNT OF WIND AFTER TIMESTEP
long_name: REGIONAL MEAN [Antarctica] V COMPNT OF WIND AFTER TIMESTEP
var_id: rm_ant_field3max
names: REGIONAL MEAN [Antarctica] V COMPNT OF WIND AFTER TIMESTEP
long_name: REGIONAL MEAN [Antarctica] WIND MIXING EN'GY FLUX INTO SEA W/M2
var_id: rm_ant_field3224
names: REGIONAL MEAN [Antarctica] WIND MIXING EN'GY FLUX INTO SEA W/M2
units: N/m^2
long_name: REGIONAL MEAN [Antarctica] X-COMP OF SURF & BL WIND STRESS
var_id: rm_ant_tauxbl
names: REGIONAL MEAN [Antarctica] X-COMP OF SURF & BL WIND STRESS
units: N/m^2
long_name: REGIONAL MEAN [Antarctica] Y-COMP OF SURF & BL WIND STRESS
var_id: rm_ant_tauybl
names: REGIONAL MEAN [Antarctica] Y-COMP OF SURF & BL WIND STRESS
long_name: REGIONAL MEAN [Australia] ATMOS ENERGY CORR'N IN COLUMN W/M2
var_id: rm_aust_field14201
names: REGIONAL MEAN [Australia] ATMOS ENERGY CORR'N IN COLUMN W/M2
long_name: REGIONAL MEAN [Australia] CLEAR-SKY (II) DOWN SURFACE LW FLUX
var_id: rm_aust_field2208
names: REGIONAL MEAN [Australia] CLEAR-SKY (II) DOWN SURFACE LW FLUX
long_name: REGIONAL MEAN [Australia] CLEAR-SKY (II) DOWN SURFACE SW FLUX
var_id: rm_aust_field1210
names: REGIONAL MEAN [Australia] CLEAR-SKY (II) DOWN SURFACE SW FLUX
long_name: REGIONAL MEAN [Australia] CLEAR-SKY (II) UP SURFACE SW FLUX
var_id: rm_aust_field1211
names: REGIONAL MEAN [Australia] CLEAR-SKY (II) UP SURFACE SW FLUX
long_name: REGIONAL MEAN [Australia] CONVECTIVE RAINFALL RATE KG/M2/S
var_id: rm_aust_field5205
names: REGIONAL MEAN [Australia] CONVECTIVE RAINFALL RATE KG/M2/S
long_name: REGIONAL MEAN [Australia] CONVECTIVE SNOWFALL RATE KG/M2/S
var_id: rm_aust_field5206
names: REGIONAL MEAN [Australia] CONVECTIVE SNOWFALL RATE KG/M2/S
units: %
long_name: REGIONAL MEAN [Australia] Convective Cloud amount
var_id: rm_aust_clc
names: REGIONAL MEAN [Australia] Convective Cloud amount
units: K
long_name: REGIONAL MEAN [Australia] Daily maximum surface (1.5m) temperature
var_id: rm_aust_tasmax
names: REGIONAL MEAN [Australia] Daily maximum surface (1.5m) temperature
units: K
long_name: REGIONAL MEAN [Australia] Daily minimum surface (1.5m) temperature
var_id: rm_aust_tasmin
names: REGIONAL MEAN [Australia] Daily minimum surface (1.5m) temperature
long_name: REGIONAL MEAN [Australia] FIELD 210
var_id: rm_aust_field210
names: REGIONAL MEAN [Australia] FIELD 210
units: K
long_name: REGIONAL MEAN [Australia] Ground Surface Temperature
var_id: rm_aust_ts
names: REGIONAL MEAN [Australia] Ground Surface Temperature
long_name: REGIONAL MEAN [Australia] HEAT FLUX THROUGH SEA ICE (GBM) W/M2
var_id: rm_aust_field3201
names: REGIONAL MEAN [Australia] HEAT FLUX THROUGH SEA ICE (GBM) W/M2
units: W/m^2
long_name: REGIONAL MEAN [Australia] Heat flux latent surface
var_id: rm_aust_hfls
names: REGIONAL MEAN [Australia] Heat flux latent surface
long_name: REGIONAL MEAN [Australia] LARGE SCALE RAINFALL RATE KG/M2/S
var_id: rm_aust_field4203
names: REGIONAL MEAN [Australia] LARGE SCALE RAINFALL RATE KG/M2/S
long_name: REGIONAL MEAN [Australia] LARGE SCALE SNOWFALL RATE KG/M2/S
var_id: rm_aust_field4204
names: REGIONAL MEAN [Australia] LARGE SCALE SNOWFALL RATE KG/M2/S
units: W/m^2
long_name: REGIONAL MEAN [Australia] LW radiation TOA (OLR)
var_id: rm_aust_rlut
names: REGIONAL MEAN [Australia] LW radiation TOA (OLR)
units: W/m^2
long_name: REGIONAL MEAN [Australia] LW radiation TOA clear sky
var_id: rm_aust_rlutcs
names: REGIONAL MEAN [Australia] LW radiation TOA clear sky
units: W/m^2
long_name: REGIONAL MEAN [Australia] LW radiation downward surface
var_id: rm_aust_rlds
names: REGIONAL MEAN [Australia] LW radiation downward surface
units: Pa
long_name: REGIONAL MEAN [Australia] Mean sea-level pressure
var_id: rm_aust_psl
names: REGIONAL MEAN [Australia] Mean sea-level pressure
units: W/m^2
long_name: REGIONAL MEAN [Australia] NET DOWN SURFACE SW FLUX: SW TS ONLY
var_id: rm_aust_netrsds
names: REGIONAL MEAN [Australia] NET DOWN SURFACE SW FLUX: SW TS ONLY
units: W/m^2
long_name: REGIONAL MEAN [Australia] Net downward surface LW radiation
var_id: rm_aust_rlnds
names: REGIONAL MEAN [Australia] Net downward surface LW radiation
long_name: REGIONAL MEAN [Australia] OMEGA ON MODEL LEVELS
var_id: rm_aust_field12201
names: REGIONAL MEAN [Australia] OMEGA ON MODEL LEVELS
long_name: REGIONAL MEAN [Australia] QT SOURCE SINK IN QT POS KG/M2/S
var_id: rm_aust_field13201mlyr
names: REGIONAL MEAN [Australia] QT SOURCE SINK IN QT POS KG/M2/S
long_name: REGIONAL MEAN [Australia] REF. SEA SURF TEMP (SLAB MODEL) K A
var_id: rm_aust_field40178
names: REGIONAL MEAN [Australia] REF. SEA SURF TEMP (SLAB MODEL) K A
long_name: REGIONAL MEAN [Australia] RELATIVE HUMIDITY AT 1.5M
var_id: rm_aust_field3245
names: REGIONAL MEAN [Australia] RELATIVE HUMIDITY AT 1.5M
long_name: REGIONAL MEAN [Australia] SEA ICE DEPTH (MEAN OVER ICE)
var_id: rm_aust_field32
names: REGIONAL MEAN [Australia] SEA ICE DEPTH (MEAN OVER ICE)
long_name: REGIONAL MEAN [Australia] SEA ICE FRACTION AFTER SLAB K
var_id: rm_aust_field40031
names: REGIONAL MEAN [Australia] SEA ICE FRACTION AFTER SLAB K
long_name: REGIONAL MEAN [Australia] SEA ICE FRACTION AFTER TIMESTEP
var_id: rm_aust_field31
names: REGIONAL MEAN [Australia] SEA ICE FRACTION AFTER TIMESTEP
long_name: REGIONAL MEAN [Australia] SEAICE DEPTH(GRD BOX MN)AFTER SLAB M
var_id: rm_aust_field40203
names: REGIONAL MEAN [Australia] SEAICE DEPTH(GRD BOX MN)AFTER SLAB M
long_name: REGIONAL MEAN [Australia] SLAB CARRYHEAT (W M-2) SLAB
var_id: rm_aust_field40220
names: REGIONAL MEAN [Australia] SLAB CARRYHEAT (W M-2) SLAB
long_name: REGIONAL MEAN [Australia] SLAB HEATING RATE (ICE) K/S
var_id: rm_aust_field40221
names: REGIONAL MEAN [Australia] SLAB HEATING RATE (ICE) K/S
long_name: REGIONAL MEAN [Australia] SNOW AMOUNT AFTER SLAB KG/M2
var_id: rm_aust_field40023
names: REGIONAL MEAN [Australia] SNOW AMOUNT AFTER SLAB KG/M2
long_name: REGIONAL MEAN [Australia] SPECIFIC HUMIDITY AT 1.5M
var_id: rm_aust_field3237
names: REGIONAL MEAN [Australia] SPECIFIC HUMIDITY AT 1.5M
long_name: REGIONAL MEAN [Australia] SURF & BL TOTL MOISTURE FLUX KG/M2/S
var_id: rm_aust_field3223
names: REGIONAL MEAN [Australia] SURF & BL TOTL MOISTURE FLUX KG/M2/S
units: W/m^2
long_name: REGIONAL MEAN [Australia] SURFACE & B.LAYER HEAT FLUXES
var_id: rm_aust_hfbl
names: REGIONAL MEAN [Australia] SURFACE & B.LAYER HEAT FLUXES
long_name: REGIONAL MEAN [Australia] SURFACE SH FLUX FROM SEA (GBM) W/M2
var_id: rm_aust_field3228
names: REGIONAL MEAN [Australia] SURFACE SH FLUX FROM SEA (GBM) W/M2
long_name: REGIONAL MEAN [Australia] SURFACE TEMPERATURE AFTER SLAB K
var_id: rm_aust_field40024
names: REGIONAL MEAN [Australia] SURFACE TEMPERATURE AFTER SLAB K
units: W/m^2
long_name: REGIONAL MEAN [Australia] SW radiation downward TOA
var_id: rm_aust_rsdt
names: REGIONAL MEAN [Australia] SW radiation downward TOA
units: W/m^2
long_name: REGIONAL MEAN [Australia] SW radiation upward TOA
var_id: rm_aust_rsut
names: REGIONAL MEAN [Australia] SW radiation upward TOA
units: W/m^2
long_name: REGIONAL MEAN [Australia] SW radiation upward TOA clear sky
var_id: rm_aust_rsutcs
names: REGIONAL MEAN [Australia] SW radiation upward TOA clear sky
units: K
long_name: REGIONAL MEAN [Australia] Surface (1.5m) air temperature
var_id: rm_aust_tas
names: REGIONAL MEAN [Australia] Surface (1.5m) air temperature
long_name: REGIONAL MEAN [Australia] TOTAL CLOUD AMOUNT IN LW RADIATION
var_id: rm_aust_field2204
names: REGIONAL MEAN [Australia] TOTAL CLOUD AMOUNT IN LW RADIATION
long_name: REGIONAL MEAN [Australia] TOTAL DOWNWARD SURFACE SW FLUX
var_id: rm_aust_field1235
names: REGIONAL MEAN [Australia] TOTAL DOWNWARD SURFACE SW FLUX
long_name: REGIONAL MEAN [Australia] TOTAL RAINFALL RATE: LS+CONV KG/M2/S
var_id: rm_aust_field5214
names: REGIONAL MEAN [Australia] TOTAL RAINFALL RATE: LS+CONV KG/M2/S
long_name: REGIONAL MEAN [Australia] TOTAL SNOWFALL RATE: LS+CONV KG/M2/S
var_id: rm_aust_field5215
names: REGIONAL MEAN [Australia] TOTAL SNOWFALL RATE: LS+CONV KG/M2/S
units: kg/(m^2*s)
long_name: REGIONAL MEAN [Australia] Total precipitation rate
var_id: rm_aust_prmax
names: REGIONAL MEAN [Australia] Total precipitation rate
long_name: REGIONAL MEAN [Australia] U COMPNT OF WIND AFTER TIMESTEP
var_id: rm_aust_field2max
names: REGIONAL MEAN [Australia] U COMPNT OF WIND AFTER TIMESTEP
long_name: REGIONAL MEAN [Australia] V COMPNT OF WIND AFTER TIMESTEP
var_id: rm_aust_field3max
names: REGIONAL MEAN [Australia] V COMPNT OF WIND AFTER TIMESTEP
long_name: REGIONAL MEAN [Australia] WIND MIXING EN'GY FLUX INTO SEA W/M2
var_id: rm_aust_field3224
names: REGIONAL MEAN [Australia] WIND MIXING EN'GY FLUX INTO SEA W/M2
units: N/m^2
long_name: REGIONAL MEAN [Australia] X-COMP OF SURF & BL WIND STRESS
var_id: rm_aust_tauxbl
names: REGIONAL MEAN [Australia] X-COMP OF SURF & BL WIND STRESS
units: N/m^2
long_name: REGIONAL MEAN [Australia] Y-COMP OF SURF & BL WIND STRESS
var_id: rm_aust_tauybl
names: REGIONAL MEAN [Australia] Y-COMP OF SURF & BL WIND STRESS
long_name: REGIONAL MEAN [Central America] ATMOS ENERGY CORR'N IN COLUMN W/M2
var_id: rm_amc_field14201
names: REGIONAL MEAN [Central America] ATMOS ENERGY CORR'N IN COLUMN W/M2
long_name: REGIONAL MEAN [Central America] CLEAR-SKY (II) DOWN SURFACE LW FLUX
var_id: rm_amc_field2208
names: REGIONAL MEAN [Central America] CLEAR-SKY (II) DOWN SURFACE LW FLUX
long_name: REGIONAL MEAN [Central America] CLEAR-SKY (II) DOWN SURFACE SW FLUX
var_id: rm_amc_field1210
names: REGIONAL MEAN [Central America] CLEAR-SKY (II) DOWN SURFACE SW FLUX
long_name: REGIONAL MEAN [Central America] CLEAR-SKY (II) UP SURFACE SW FLUX
var_id: rm_amc_field1211
names: REGIONAL MEAN [Central America] CLEAR-SKY (II) UP SURFACE SW FLUX
long_name: REGIONAL MEAN [Central America] CONVECTIVE RAINFALL RATE KG/M2/S
var_id: rm_amc_field5205
names: REGIONAL MEAN [Central America] CONVECTIVE RAINFALL RATE KG/M2/S
long_name: REGIONAL MEAN [Central America] CONVECTIVE SNOWFALL RATE KG/M2/S
var_id: rm_amc_field5206
names: REGIONAL MEAN [Central America] CONVECTIVE SNOWFALL RATE KG/M2/S
units: %
long_name: REGIONAL MEAN [Central America] Convective Cloud amount
var_id: rm_amc_clc
names: REGIONAL MEAN [Central America] Convective Cloud amount
units: K
long_name: REGIONAL MEAN [Central America] Daily maximum surface (1.5m) temperature
var_id: rm_amc_tasmax
names: REGIONAL MEAN [Central America] Daily maximum surface (1.5m) temperature
units: K
long_name: REGIONAL MEAN [Central America] Daily minimum surface (1.5m) temperature
var_id: rm_amc_tasmin
names: REGIONAL MEAN [Central America] Daily minimum surface (1.5m) temperature
long_name: REGIONAL MEAN [Central America] FIELD 210
var_id: rm_amc_field210
names: REGIONAL MEAN [Central America] FIELD 210
units: K
long_name: REGIONAL MEAN [Central America] Ground Surface Temperature
var_id: rm_amc_ts
names: REGIONAL MEAN [Central America] Ground Surface Temperature
long_name: REGIONAL MEAN [Central America] HEAT FLUX THROUGH SEA ICE (GBM) W/M2
var_id: rm_amc_field3201
names: REGIONAL MEAN [Central America] HEAT FLUX THROUGH SEA ICE (GBM) W/M2
units: W/m^2
long_name: REGIONAL MEAN [Central America] Heat flux latent surface
var_id: rm_amc_hfls
names: REGIONAL MEAN [Central America] Heat flux latent surface
long_name: REGIONAL MEAN [Central America] LARGE SCALE RAINFALL RATE KG/M2/S
var_id: rm_amc_field4203
names: REGIONAL MEAN [Central America] LARGE SCALE RAINFALL RATE KG/M2/S
long_name: REGIONAL MEAN [Central America] LARGE SCALE SNOWFALL RATE KG/M2/S
var_id: rm_amc_field4204
names: REGIONAL MEAN [Central America] LARGE SCALE SNOWFALL RATE KG/M2/S
units: W/m^2
long_name: REGIONAL MEAN [Central America] LW radiation TOA (OLR)
var_id: rm_amc_rlut
names: REGIONAL MEAN [Central America] LW radiation TOA (OLR)
units: W/m^2
long_name: REGIONAL MEAN [Central America] LW radiation TOA clear sky
var_id: rm_amc_rlutcs
names: REGIONAL MEAN [Central America] LW radiation TOA clear sky
units: W/m^2
long_name: REGIONAL MEAN [Central America] LW radiation downward surface
var_id: rm_amc_rlds
names: REGIONAL MEAN [Central America] LW radiation downward surface
units: Pa
long_name: REGIONAL MEAN [Central America] Mean sea-level pressure
var_id: rm_amc_psl
names: REGIONAL MEAN [Central America] Mean sea-level pressure
units: W/m^2
long_name: REGIONAL MEAN [Central America] NET DOWN SURFACE SW FLUX: SW TS ONLY
var_id: rm_amc_netrsds
names: REGIONAL MEAN [Central America] NET DOWN SURFACE SW FLUX: SW TS ONLY
units: W/m^2
long_name: REGIONAL MEAN [Central America] Net downward surface LW radiation
var_id: rm_amc_rlnds
names: REGIONAL MEAN [Central America] Net downward surface LW radiation
long_name: REGIONAL MEAN [Central America] OMEGA ON MODEL LEVELS
var_id: rm_amc_field12201
names: REGIONAL MEAN [Central America] OMEGA ON MODEL LEVELS
long_name: REGIONAL MEAN [Central America] QT SOURCE SINK IN QT POS KG/M2/S
var_id: rm_amc_field13201mlyr
names: REGIONAL MEAN [Central America] QT SOURCE SINK IN QT POS KG/M2/S
long_name: REGIONAL MEAN [Central America] REF. SEA SURF TEMP (SLAB MODEL) K A
var_id: rm_amc_field40178
names: REGIONAL MEAN [Central America] REF. SEA SURF TEMP (SLAB MODEL) K A
long_name: REGIONAL MEAN [Central America] RELATIVE HUMIDITY AT 1.5M
var_id: rm_amc_field3245
names: REGIONAL MEAN [Central America] RELATIVE HUMIDITY AT 1.5M
long_name: REGIONAL MEAN [Central America] SEA ICE DEPTH (MEAN OVER ICE)
var_id: rm_amc_field32
names: REGIONAL MEAN [Central America] SEA ICE DEPTH (MEAN OVER ICE)
long_name: REGIONAL MEAN [Central America] SEA ICE FRACTION AFTER SLAB K
var_id: rm_amc_field40031
names: REGIONAL MEAN [Central America] SEA ICE FRACTION AFTER SLAB K
long_name: REGIONAL MEAN [Central America] SEA ICE FRACTION AFTER TIMESTEP
var_id: rm_amc_field31
names: REGIONAL MEAN [Central America] SEA ICE FRACTION AFTER TIMESTEP
long_name: REGIONAL MEAN [Central America] SEAICE DEPTH(GRD BOX MN)AFTER SLAB M
var_id: rm_amc_field40203
names: REGIONAL MEAN [Central America] SEAICE DEPTH(GRD BOX MN)AFTER SLAB M
long_name: REGIONAL MEAN [Central America] SLAB CARRYHEAT (W M-2) SLAB
var_id: rm_amc_field40220
names: REGIONAL MEAN [Central America] SLAB CARRYHEAT (W M-2) SLAB
long_name: REGIONAL MEAN [Central America] SLAB HEATING RATE (ICE) K/S
var_id: rm_amc_field40221
names: REGIONAL MEAN [Central America] SLAB HEATING RATE (ICE) K/S
long_name: REGIONAL MEAN [Central America] SNOW AMOUNT AFTER SLAB KG/M2
var_id: rm_amc_field40023
names: REGIONAL MEAN [Central America] SNOW AMOUNT AFTER SLAB KG/M2
long_name: REGIONAL MEAN [Central America] SPECIFIC HUMIDITY AT 1.5M
var_id: rm_amc_field3237
names: REGIONAL MEAN [Central America] SPECIFIC HUMIDITY AT 1.5M
long_name: REGIONAL MEAN [Central America] SURF & BL TOTL MOISTURE FLUX KG/M2/S
var_id: rm_amc_field3223
names: REGIONAL MEAN [Central America] SURF & BL TOTL MOISTURE FLUX KG/M2/S
units: W/m^2
long_name: REGIONAL MEAN [Central America] SURFACE & B.LAYER HEAT FLUXES
var_id: rm_amc_hfbl
names: REGIONAL MEAN [Central America] SURFACE & B.LAYER HEAT FLUXES
long_name: REGIONAL MEAN [Central America] SURFACE SH FLUX FROM SEA (GBM) W/M2
var_id: rm_amc_field3228
names: REGIONAL MEAN [Central America] SURFACE SH FLUX FROM SEA (GBM) W/M2
long_name: REGIONAL MEAN [Central America] SURFACE TEMPERATURE AFTER SLAB K
var_id: rm_amc_field40024
names: REGIONAL MEAN [Central America] SURFACE TEMPERATURE AFTER SLAB K
units: W/m^2
long_name: REGIONAL MEAN [Central America] SW radiation downward TOA
var_id: rm_amc_rsdt
names: REGIONAL MEAN [Central America] SW radiation downward TOA
units: W/m^2
long_name: REGIONAL MEAN [Central America] SW radiation upward TOA
var_id: rm_amc_rsut
names: REGIONAL MEAN [Central America] SW radiation upward TOA
units: W/m^2
long_name: REGIONAL MEAN [Central America] SW radiation upward TOA clear sky
var_id: rm_amc_rsutcs
names: REGIONAL MEAN [Central America] SW radiation upward TOA clear sky
units: K
long_name: REGIONAL MEAN [Central America] Surface (1.5m) air temperature
var_id: rm_amc_tas
names: REGIONAL MEAN [Central America] Surface (1.5m) air temperature
long_name: REGIONAL MEAN [Central America] TOTAL CLOUD AMOUNT IN LW RADIATION
var_id: rm_amc_field2204
names: REGIONAL MEAN [Central America] TOTAL CLOUD AMOUNT IN LW RADIATION
long_name: REGIONAL MEAN [Central America] TOTAL DOWNWARD SURFACE SW FLUX
var_id: rm_amc_field1235
names: REGIONAL MEAN [Central America] TOTAL DOWNWARD SURFACE SW FLUX
long_name: REGIONAL MEAN [Central America] TOTAL RAINFALL RATE: LS+CONV KG/M2/S
var_id: rm_amc_field5214
names: REGIONAL MEAN [Central America] TOTAL RAINFALL RATE: LS+CONV KG/M2/S
long_name: REGIONAL MEAN [Central America] TOTAL SNOWFALL RATE: LS+CONV KG/M2/S
var_id: rm_amc_field5215
names: REGIONAL MEAN [Central America] TOTAL SNOWFALL RATE: LS+CONV KG/M2/S
units: kg/(m^2*s)
long_name: REGIONAL MEAN [Central America] Total precipitation rate
var_id: rm_amc_prmax
names: REGIONAL MEAN [Central America] Total precipitation rate
long_name: REGIONAL MEAN [Central America] U COMPNT OF WIND AFTER TIMESTEP
var_id: rm_amc_field2max
names: REGIONAL MEAN [Central America] U COMPNT OF WIND AFTER TIMESTEP
long_name: REGIONAL MEAN [Central America] V COMPNT OF WIND AFTER TIMESTEP
var_id: rm_amc_field3max
names: REGIONAL MEAN [Central America] V COMPNT OF WIND AFTER TIMESTEP
long_name: REGIONAL MEAN [Central America] WIND MIXING EN'GY FLUX INTO SEA W/M2
var_id: rm_amc_field3224
names: REGIONAL MEAN [Central America] WIND MIXING EN'GY FLUX INTO SEA W/M2
units: N/m^2
long_name: REGIONAL MEAN [Central America] X-COMP OF SURF & BL WIND STRESS
var_id: rm_amc_tauxbl
names: REGIONAL MEAN [Central America] X-COMP OF SURF & BL WIND STRESS
units: N/m^2
long_name: REGIONAL MEAN [Central America] Y-COMP OF SURF & BL WIND STRESS
var_id: rm_amc_tauybl
names: REGIONAL MEAN [Central America] Y-COMP OF SURF & BL WIND STRESS
long_name: REGIONAL MEAN [Central Asia] CONVECTIVE RAINFALL RATE KG/M2/S
var_id: rm_asc_field5205
names: REGIONAL MEAN [Central Asia] CONVECTIVE RAINFALL RATE KG/M2/S
long_name: REGIONAL MEAN [Central Asia] CONVECTIVE SNOWFALL RATE KG/M2/S
var_id: rm_asc_field5206
names: REGIONAL MEAN [Central Asia] CONVECTIVE SNOWFALL RATE KG/M2/S
units: K
long_name: REGIONAL MEAN [Central Asia] Daily maximum surface (1.5m) temperature
var_id: rm_asc_tasmax
names: REGIONAL MEAN [Central Asia] Daily maximum surface (1.5m) temperature
units: K
long_name: REGIONAL MEAN [Central Asia] Daily minimum surface (1.5m) temperature
var_id: rm_asc_tasmin
names: REGIONAL MEAN [Central Asia] Daily minimum surface (1.5m) temperature
long_name: REGIONAL MEAN [Central Asia] HEAT FLUX THROUGH SEA ICE (GBM) W/M2
var_id: rm_asc_field3201
names: REGIONAL MEAN [Central Asia] HEAT FLUX THROUGH SEA ICE (GBM) W/M2
units: W/m^2
long_name: REGIONAL MEAN [Central Asia] Heat flux latent surface
var_id: rm_asc_hfls
names: REGIONAL MEAN [Central Asia] Heat flux latent surface
long_name: REGIONAL MEAN [Central Asia] LARGE SCALE RAINFALL RATE KG/M2/S
var_id: rm_asc_field4203
names: REGIONAL MEAN [Central Asia] LARGE SCALE RAINFALL RATE KG/M2/S
long_name: REGIONAL MEAN [Central Asia] LARGE SCALE SNOWFALL RATE KG/M2/S
var_id: rm_asc_field4204
names: REGIONAL MEAN [Central Asia] LARGE SCALE SNOWFALL RATE KG/M2/S
units: W/m^2
long_name: REGIONAL MEAN [Central Asia] LW radiation TOA (OLR)
var_id: rm_asc_rlut
names: REGIONAL MEAN [Central Asia] LW radiation TOA (OLR)
units: W/m^2
long_name: REGIONAL MEAN [Central Asia] NET DOWN SURFACE SW FLUX: SW TS ONLY
var_id: rm_asc_netrsds
names: REGIONAL MEAN [Central Asia] NET DOWN SURFACE SW FLUX: SW TS ONLY
units: W/m^2
long_name: REGIONAL MEAN [Central Asia] Net downward surface LW radiation
var_id: rm_asc_rlnds
names: REGIONAL MEAN [Central Asia] Net downward surface LW radiation
long_name: REGIONAL MEAN [Central Asia] SEA ICE FRACTION AFTER TIMESTEP
var_id: rm_asc_field31
names: REGIONAL MEAN [Central Asia] SEA ICE FRACTION AFTER TIMESTEP
long_name: REGIONAL MEAN [Central Asia] SURF & BL TOTL MOISTURE FLUX KG/M2/S
var_id: rm_asc_field3223
names: REGIONAL MEAN [Central Asia] SURF & BL TOTL MOISTURE FLUX KG/M2/S
units: W/m^2
long_name: REGIONAL MEAN [Central Asia] SURFACE & B.LAYER HEAT FLUXES
var_id: rm_asc_hfbl
names: REGIONAL MEAN [Central Asia] SURFACE & B.LAYER HEAT FLUXES
long_name: REGIONAL MEAN [Central Asia] SURFACE SH FLUX FROM SEA (GBM) W/M2
var_id: rm_asc_field3228
names: REGIONAL MEAN [Central Asia] SURFACE SH FLUX FROM SEA (GBM) W/M2
units: W/m^2
long_name: REGIONAL MEAN [Central Asia] SW radiation downward TOA
var_id: rm_asc_rsdt
names: REGIONAL MEAN [Central Asia] SW radiation downward TOA
units: W/m^2
long_name: REGIONAL MEAN [Central Asia] SW radiation upward TOA
var_id: rm_asc_rsut
names: REGIONAL MEAN [Central Asia] SW radiation upward TOA
units: K
long_name: REGIONAL MEAN [Central Asia] Surface (1.5m) air temperature
var_id: rm_asc_tas
names: REGIONAL MEAN [Central Asia] Surface (1.5m) air temperature
long_name: REGIONAL MEAN [Central Asia] TOTAL CLOUD AMOUNT IN LW RADIATION
var_id: rm_asc_field2204
names: REGIONAL MEAN [Central Asia] TOTAL CLOUD AMOUNT IN LW RADIATION
units: kg/(m^2*s)
long_name: REGIONAL MEAN [Central Asia] Total precipitation rate
var_id: rm_asc_prmax
names: REGIONAL MEAN [Central Asia] Total precipitation rate
long_name: REGIONAL MEAN [Central Asia] U COMPNT OF WIND AFTER TIMESTEP
var_id: rm_asc_field2max
names: REGIONAL MEAN [Central Asia] U COMPNT OF WIND AFTER TIMESTEP
long_name: REGIONAL MEAN [Central Asia] V COMPNT OF WIND AFTER TIMESTEP
var_id: rm_asc_field3max
names: REGIONAL MEAN [Central Asia] V COMPNT OF WIND AFTER TIMESTEP
long_name: REGIONAL MEAN [Central Asia] WIND MIXING EN'GY FLUX INTO SEA W/M2
var_id: rm_asc_field3224
names: REGIONAL MEAN [Central Asia] WIND MIXING EN'GY FLUX INTO SEA W/M2
units: N/m^2
long_name: REGIONAL MEAN [Central Asia] X-COMP OF SURF & BL WIND STRESS
var_id: rm_asc_tauxbl
names: REGIONAL MEAN [Central Asia] X-COMP OF SURF & BL WIND STRESS
units: N/m^2
long_name: REGIONAL MEAN [Central Asia] Y-COMP OF SURF & BL WIND STRESS
var_id: rm_asc_tauybl
names: REGIONAL MEAN [Central Asia] Y-COMP OF SURF & BL WIND STRESS
long_name: REGIONAL MEAN [Central North America] ATMOS ENERGY CORR'N IN COLUMN W/M2
var_id: rm_amnc_field14201
names: REGIONAL MEAN [Central North America] ATMOS ENERGY CORR'N IN COLUMN W/M2
long_name: REGIONAL MEAN [Central North America] CLEAR-SKY (II) DOWN SURFACE LW FLUX
var_id: rm_amnc_field2208
names: REGIONAL MEAN [Central North America] CLEAR-SKY (II) DOWN SURFACE LW FLUX
long_name: REGIONAL MEAN [Central North America] CLEAR-SKY (II) DOWN SURFACE SW FLUX
var_id: rm_amnc_field1210
names: REGIONAL MEAN [Central North America] CLEAR-SKY (II) DOWN SURFACE SW FLUX
long_name: REGIONAL MEAN [Central North America] CLEAR-SKY (II) UP SURFACE SW FLUX
var_id: rm_amnc_field1211
names: REGIONAL MEAN [Central North America] CLEAR-SKY (II) UP SURFACE SW FLUX
long_name: REGIONAL MEAN [Central North America] CONVECTIVE RAINFALL RATE KG/M2/S
var_id: rm_amnc_field5205
names: REGIONAL MEAN [Central North America] CONVECTIVE RAINFALL RATE KG/M2/S
long_name: REGIONAL MEAN [Central North America] CONVECTIVE SNOWFALL RATE KG/M2/S
var_id: rm_amnc_field5206
names: REGIONAL MEAN [Central North America] CONVECTIVE SNOWFALL RATE KG/M2/S
units: %
long_name: REGIONAL MEAN [Central North America] Convective Cloud amount
var_id: rm_amnc_clc
names: REGIONAL MEAN [Central North America] Convective Cloud amount
units: K
long_name: REGIONAL MEAN [Central North America] Daily maximum surface (1.5m) temperature
var_id: rm_amnc_tasmax
names: REGIONAL MEAN [Central North America] Daily maximum surface (1.5m) temperature
units: K
long_name: REGIONAL MEAN [Central North America] Daily minimum surface (1.5m) temperature
var_id: rm_amnc_tasmin
names: REGIONAL MEAN [Central North America] Daily minimum surface (1.5m) temperature
long_name: REGIONAL MEAN [Central North America] FIELD 210
var_id: rm_amnc_field210
names: REGIONAL MEAN [Central North America] FIELD 210
units: K
long_name: REGIONAL MEAN [Central North America] Ground Surface Temperature
var_id: rm_amnc_ts
names: REGIONAL MEAN [Central North America] Ground Surface Temperature
long_name: REGIONAL MEAN [Central North America] HEAT FLUX THROUGH SEA ICE (GBM) W/M2
var_id: rm_amnc_field3201
names: REGIONAL MEAN [Central North America] HEAT FLUX THROUGH SEA ICE (GBM) W/M2
units: W/m^2
long_name: REGIONAL MEAN [Central North America] Heat flux latent surface
var_id: rm_amnc_hfls
names: REGIONAL MEAN [Central North America] Heat flux latent surface
long_name: REGIONAL MEAN [Central North America] LARGE SCALE RAINFALL RATE KG/M2/S
var_id: rm_amnc_field4203
names: REGIONAL MEAN [Central North America] LARGE SCALE RAINFALL RATE KG/M2/S
long_name: REGIONAL MEAN [Central North America] LARGE SCALE SNOWFALL RATE KG/M2/S
var_id: rm_amnc_field4204
names: REGIONAL MEAN [Central North America] LARGE SCALE SNOWFALL RATE KG/M2/S
units: W/m^2
long_name: REGIONAL MEAN [Central North America] LW radiation TOA (OLR)
var_id: rm_amnc_rlut
names: REGIONAL MEAN [Central North America] LW radiation TOA (OLR)
units: W/m^2
long_name: REGIONAL MEAN [Central North America] LW radiation TOA clear sky
var_id: rm_amnc_rlutcs
names: REGIONAL MEAN [Central North America] LW radiation TOA clear sky
units: W/m^2
long_name: REGIONAL MEAN [Central North America] LW radiation downward surface
var_id: rm_amnc_rlds
names: REGIONAL MEAN [Central North America] LW radiation downward surface
units: Pa
long_name: REGIONAL MEAN [Central North America] Mean sea-level pressure
var_id: rm_amnc_psl
names: REGIONAL MEAN [Central North America] Mean sea-level pressure
units: W/m^2
long_name: REGIONAL MEAN [Central North America] NET DOWN SURFACE SW FLUX: SW TS ONLY
var_id: rm_amnc_netrsds
names: REGIONAL MEAN [Central North America] NET DOWN SURFACE SW FLUX: SW TS ONLY
units: W/m^2
long_name: REGIONAL MEAN [Central North America] Net downward surface LW radiation
var_id: rm_amnc_rlnds
names: REGIONAL MEAN [Central North America] Net downward surface LW radiation
long_name: REGIONAL MEAN [Central North America] OMEGA ON MODEL LEVELS
var_id: rm_amnc_field12201
names: REGIONAL MEAN [Central North America] OMEGA ON MODEL LEVELS
long_name: REGIONAL MEAN [Central North America] QT SOURCE SINK IN QT POS KG/M2/S
var_id: rm_amnc_field13201mlyr
names: REGIONAL MEAN [Central North America] QT SOURCE SINK IN QT POS KG/M2/S
long_name: REGIONAL MEAN [Central North America] REF. SEA SURF TEMP (SLAB MODEL) K A
var_id: rm_amnc_field40178
names: REGIONAL MEAN [Central North America] REF. SEA SURF TEMP (SLAB MODEL) K A
long_name: REGIONAL MEAN [Central North America] RELATIVE HUMIDITY AT 1.5M
var_id: rm_amnc_field3245
names: REGIONAL MEAN [Central North America] RELATIVE HUMIDITY AT 1.5M
long_name: REGIONAL MEAN [Central North America] SEA ICE DEPTH (MEAN OVER ICE)
var_id: rm_amnc_field32
names: REGIONAL MEAN [Central North America] SEA ICE DEPTH (MEAN OVER ICE)
long_name: REGIONAL MEAN [Central North America] SEA ICE FRACTION AFTER SLAB K
var_id: rm_amnc_field40031
names: REGIONAL MEAN [Central North America] SEA ICE FRACTION AFTER SLAB K
long_name: REGIONAL MEAN [Central North America] SEA ICE FRACTION AFTER TIMESTEP
var_id: rm_amnc_field31
names: REGIONAL MEAN [Central North America] SEA ICE FRACTION AFTER TIMESTEP
long_name: REGIONAL MEAN [Central North America] SEAICE DEPTH(GRD BOX MN)AFTER SLAB M
var_id: rm_amnc_field40203
names: REGIONAL MEAN [Central North America] SEAICE DEPTH(GRD BOX MN)AFTER SLAB M
long_name: REGIONAL MEAN [Central North America] SLAB CARRYHEAT (W M-2) SLAB
var_id: rm_amnc_field40220
names: REGIONAL MEAN [Central North America] SLAB CARRYHEAT (W M-2) SLAB
long_name: REGIONAL MEAN [Central North America] SLAB HEATING RATE (ICE) K/S
var_id: rm_amnc_field40221
names: REGIONAL MEAN [Central North America] SLAB HEATING RATE (ICE) K/S
long_name: REGIONAL MEAN [Central North America] SNOW AMOUNT AFTER SLAB KG/M2
var_id: rm_amnc_field40023
names: REGIONAL MEAN [Central North America] SNOW AMOUNT AFTER SLAB KG/M2
long_name: REGIONAL MEAN [Central North America] SPECIFIC HUMIDITY AT 1.5M
var_id: rm_amnc_field3237
names: REGIONAL MEAN [Central North America] SPECIFIC HUMIDITY AT 1.5M
long_name: REGIONAL MEAN [Central North America] SURF & BL TOTL MOISTURE FLUX KG/M2/S
var_id: rm_amnc_field3223
names: REGIONAL MEAN [Central North America] SURF & BL TOTL MOISTURE FLUX KG/M2/S
units: W/m^2
long_name: REGIONAL MEAN [Central North America] SURFACE & B.LAYER HEAT FLUXES
var_id: rm_amnc_hfbl
names: REGIONAL MEAN [Central North America] SURFACE & B.LAYER HEAT FLUXES
long_name: REGIONAL MEAN [Central North America] SURFACE SH FLUX FROM SEA (GBM) W/M2
var_id: rm_amnc_field3228
names: REGIONAL MEAN [Central North America] SURFACE SH FLUX FROM SEA (GBM) W/M2
long_name: REGIONAL MEAN [Central North America] SURFACE TEMPERATURE AFTER SLAB K
var_id: rm_amnc_field40024
names: REGIONAL MEAN [Central North America] SURFACE TEMPERATURE AFTER SLAB K
units: W/m^2
long_name: REGIONAL MEAN [Central North America] SW radiation downward TOA
var_id: rm_amnc_rsdt
names: REGIONAL MEAN [Central North America] SW radiation downward TOA
units: W/m^2
long_name: REGIONAL MEAN [Central North America] SW radiation upward TOA
var_id: rm_amnc_rsut
names: REGIONAL MEAN [Central North America] SW radiation upward TOA
units: W/m^2
long_name: REGIONAL MEAN [Central North America] SW radiation upward TOA clear sky
var_id: rm_amnc_rsutcs
names: REGIONAL MEAN [Central North America] SW radiation upward TOA clear sky
units: K
long_name: REGIONAL MEAN [Central North America] Surface (1.5m) air temperature
var_id: rm_amnc_tas
names: REGIONAL MEAN [Central North America] Surface (1.5m) air temperature
long_name: REGIONAL MEAN [Central North America] TOTAL CLOUD AMOUNT IN LW RADIATION
var_id: rm_amnc_field2204
names: REGIONAL MEAN [Central North America] TOTAL CLOUD AMOUNT IN LW RADIATION
long_name: REGIONAL MEAN [Central North America] TOTAL DOWNWARD SURFACE SW FLUX
var_id: rm_amnc_field1235
names: REGIONAL MEAN [Central North America] TOTAL DOWNWARD SURFACE SW FLUX
long_name: REGIONAL MEAN [Central North America] TOTAL RAINFALL RATE: LS+CONV KG/M2/S
var_id: rm_amnc_field5214
names: REGIONAL MEAN [Central North America] TOTAL RAINFALL RATE: LS+CONV KG/M2/S
long_name: REGIONAL MEAN [Central North America] TOTAL SNOWFALL RATE: LS+CONV KG/M2/S
var_id: rm_amnc_field5215
names: REGIONAL MEAN [Central North America] TOTAL SNOWFALL RATE: LS+CONV KG/M2/S
units: kg/(m^2*s)
long_name: REGIONAL MEAN [Central North America] Total precipitation rate
var_id: rm_amnc_prmax
names: REGIONAL MEAN [Central North America] Total precipitation rate
long_name: REGIONAL MEAN [Central North America] U COMPNT OF WIND AFTER TIMESTEP
var_id: rm_amnc_field2max
names: REGIONAL MEAN [Central North America] U COMPNT OF WIND AFTER TIMESTEP
long_name: REGIONAL MEAN [Central North America] V COMPNT OF WIND AFTER TIMESTEP
var_id: rm_amnc_field3max
names: REGIONAL MEAN [Central North America] V COMPNT OF WIND AFTER TIMESTEP
long_name: REGIONAL MEAN [Central North America] WIND MIXING EN'GY FLUX INTO SEA W/M2
var_id: rm_amnc_field3224
names: REGIONAL MEAN [Central North America] WIND MIXING EN'GY FLUX INTO SEA W/M2
units: N/m^2
long_name: REGIONAL MEAN [Central North America] X-COMP OF SURF & BL WIND STRESS
var_id: rm_amnc_tauxbl
names: REGIONAL MEAN [Central North America] X-COMP OF SURF & BL WIND STRESS
units: N/m^2
long_name: REGIONAL MEAN [Central North America] Y-COMP OF SURF & BL WIND STRESS
var_id: rm_amnc_tauybl
names: REGIONAL MEAN [Central North America] Y-COMP OF SURF & BL WIND STRESS
long_name: REGIONAL MEAN [East Asia] CONVECTIVE RAINFALL RATE KG/M2/S
var_id: rm_ase_field5205
names: REGIONAL MEAN [East Asia] CONVECTIVE RAINFALL RATE KG/M2/S
long_name: REGIONAL MEAN [East Asia] CONVECTIVE SNOWFALL RATE KG/M2/S
var_id: rm_ase_field5206
names: REGIONAL MEAN [East Asia] CONVECTIVE SNOWFALL RATE KG/M2/S
units: K
long_name: REGIONAL MEAN [East Asia] Daily maximum surface (1.5m) temperature
var_id: rm_ase_tasmax
names: REGIONAL MEAN [East Asia] Daily maximum surface (1.5m) temperature
units: K
long_name: REGIONAL MEAN [East Asia] Daily minimum surface (1.5m) temperature
var_id: rm_ase_tasmin
names: REGIONAL MEAN [East Asia] Daily minimum surface (1.5m) temperature
long_name: REGIONAL MEAN [East Asia] HEAT FLUX THROUGH SEA ICE (GBM) W/M2
var_id: rm_ase_field3201
names: REGIONAL MEAN [East Asia] HEAT FLUX THROUGH SEA ICE (GBM) W/M2
units: W/m^2
long_name: REGIONAL MEAN [East Asia] Heat flux latent surface
var_id: rm_ase_hfls
names: REGIONAL MEAN [East Asia] Heat flux latent surface
long_name: REGIONAL MEAN [East Asia] LARGE SCALE RAINFALL RATE KG/M2/S
var_id: rm_ase_field4203
names: REGIONAL MEAN [East Asia] LARGE SCALE RAINFALL RATE KG/M2/S
long_name: REGIONAL MEAN [East Asia] LARGE SCALE SNOWFALL RATE KG/M2/S
var_id: rm_ase_field4204
names: REGIONAL MEAN [East Asia] LARGE SCALE SNOWFALL RATE KG/M2/S
units: W/m^2
long_name: REGIONAL MEAN [East Asia] LW radiation TOA (OLR)
var_id: rm_ase_rlut
names: REGIONAL MEAN [East Asia] LW radiation TOA (OLR)
units: W/m^2
long_name: REGIONAL MEAN [East Asia] NET DOWN SURFACE SW FLUX: SW TS ONLY
var_id: rm_ase_netrsds
names: REGIONAL MEAN [East Asia] NET DOWN SURFACE SW FLUX: SW TS ONLY
units: W/m^2
long_name: REGIONAL MEAN [East Asia] Net downward surface LW radiation
var_id: rm_ase_rlnds
names: REGIONAL MEAN [East Asia] Net downward surface LW radiation
long_name: REGIONAL MEAN [East Asia] SEA ICE FRACTION AFTER TIMESTEP
var_id: rm_ase_field31
names: REGIONAL MEAN [East Asia] SEA ICE FRACTION AFTER TIMESTEP
long_name: REGIONAL MEAN [East Asia] SURF & BL TOTL MOISTURE FLUX KG/M2/S
var_id: rm_ase_field3223
names: REGIONAL MEAN [East Asia] SURF & BL TOTL MOISTURE FLUX KG/M2/S
units: W/m^2
long_name: REGIONAL MEAN [East Asia] SURFACE & B.LAYER HEAT FLUXES
var_id: rm_ase_hfbl
names: REGIONAL MEAN [East Asia] SURFACE & B.LAYER HEAT FLUXES
long_name: REGIONAL MEAN [East Asia] SURFACE SH FLUX FROM SEA (GBM) W/M2
var_id: rm_ase_field3228
names: REGIONAL MEAN [East Asia] SURFACE SH FLUX FROM SEA (GBM) W/M2
units: W/m^2
long_name: REGIONAL MEAN [East Asia] SW radiation downward TOA
var_id: rm_ase_rsdt
names: REGIONAL MEAN [East Asia] SW radiation downward TOA
units: W/m^2
long_name: REGIONAL MEAN [East Asia] SW radiation upward TOA
var_id: rm_ase_rsut
names: REGIONAL MEAN [East Asia] SW radiation upward TOA
units: K
long_name: REGIONAL MEAN [East Asia] Surface (1.5m) air temperature
var_id: rm_ase_tas
names: REGIONAL MEAN [East Asia] Surface (1.5m) air temperature
long_name: REGIONAL MEAN [East Asia] TOTAL CLOUD AMOUNT IN LW RADIATION
var_id: rm_ase_field2204
names: REGIONAL MEAN [East Asia] TOTAL CLOUD AMOUNT IN LW RADIATION
units: kg/(m^2*s)
long_name: REGIONAL MEAN [East Asia] Total precipitation rate
var_id: rm_ase_prmax
names: REGIONAL MEAN [East Asia] Total precipitation rate
long_name: REGIONAL MEAN [East Asia] U COMPNT OF WIND AFTER TIMESTEP
var_id: rm_ase_field2max
names: REGIONAL MEAN [East Asia] U COMPNT OF WIND AFTER TIMESTEP
long_name: REGIONAL MEAN [East Asia] V COMPNT OF WIND AFTER TIMESTEP
var_id: rm_ase_field3max
names: REGIONAL MEAN [East Asia] V COMPNT OF WIND AFTER TIMESTEP
long_name: REGIONAL MEAN [East Asia] WIND MIXING EN'GY FLUX INTO SEA W/M2
var_id: rm_ase_field3224
names: REGIONAL MEAN [East Asia] WIND MIXING EN'GY FLUX INTO SEA W/M2
units: N/m^2
long_name: REGIONAL MEAN [East Asia] X-COMP OF SURF & BL WIND STRESS
var_id: rm_ase_tauxbl
names: REGIONAL MEAN [East Asia] X-COMP OF SURF & BL WIND STRESS
units: N/m^2
long_name: REGIONAL MEAN [East Asia] Y-COMP OF SURF & BL WIND STRESS
var_id: rm_ase_tauybl
names: REGIONAL MEAN [East Asia] Y-COMP OF SURF & BL WIND STRESS
long_name: REGIONAL MEAN [Eastern Africa] CONVECTIVE RAINFALL RATE KG/M2/S
var_id: rm_afe_field5205
names: REGIONAL MEAN [Eastern Africa] CONVECTIVE RAINFALL RATE KG/M2/S
long_name: REGIONAL MEAN [Eastern Africa] CONVECTIVE SNOWFALL RATE KG/M2/S
var_id: rm_afe_field5206
names: REGIONAL MEAN [Eastern Africa] CONVECTIVE SNOWFALL RATE KG/M2/S
units: K
long_name: REGIONAL MEAN [Eastern Africa] Daily maximum surface (1.5m) temperature
var_id: rm_afe_tasmax
names: REGIONAL MEAN [Eastern Africa] Daily maximum surface (1.5m) temperature
units: K
long_name: REGIONAL MEAN [Eastern Africa] Daily minimum surface (1.5m) temperature
var_id: rm_afe_tasmin
names: REGIONAL MEAN [Eastern Africa] Daily minimum surface (1.5m) temperature
long_name: REGIONAL MEAN [Eastern Africa] HEAT FLUX THROUGH SEA ICE (GBM) W/M2
var_id: rm_afe_field3201
names: REGIONAL MEAN [Eastern Africa] HEAT FLUX THROUGH SEA ICE (GBM) W/M2
units: W/m^2
long_name: REGIONAL MEAN [Eastern Africa] Heat flux latent surface
var_id: rm_afe_hfls
names: REGIONAL MEAN [Eastern Africa] Heat flux latent surface
long_name: REGIONAL MEAN [Eastern Africa] LARGE SCALE RAINFALL RATE KG/M2/S
var_id: rm_afe_field4203
names: REGIONAL MEAN [Eastern Africa] LARGE SCALE RAINFALL RATE KG/M2/S
long_name: REGIONAL MEAN [Eastern Africa] LARGE SCALE SNOWFALL RATE KG/M2/S
var_id: rm_afe_field4204
names: REGIONAL MEAN [Eastern Africa] LARGE SCALE SNOWFALL RATE KG/M2/S
units: W/m^2
long_name: REGIONAL MEAN [Eastern Africa] LW radiation TOA (OLR)
var_id: rm_afe_rlut
names: REGIONAL MEAN [Eastern Africa] LW radiation TOA (OLR)
units: W/m^2
long_name: REGIONAL MEAN [Eastern Africa] NET DOWN SURFACE SW FLUX: SW TS ONLY
var_id: rm_afe_netrsds
names: REGIONAL MEAN [Eastern Africa] NET DOWN SURFACE SW FLUX: SW TS ONLY
units: W/m^2
long_name: REGIONAL MEAN [Eastern Africa] Net downward surface LW radiation
var_id: rm_afe_rlnds
names: REGIONAL MEAN [Eastern Africa] Net downward surface LW radiation
long_name: REGIONAL MEAN [Eastern Africa] SEA ICE FRACTION AFTER TIMESTEP
var_id: rm_afe_field31
names: REGIONAL MEAN [Eastern Africa] SEA ICE FRACTION AFTER TIMESTEP
long_name: REGIONAL MEAN [Eastern Africa] SURF & BL TOTL MOISTURE FLUX KG/M2/S
var_id: rm_afe_field3223
names: REGIONAL MEAN [Eastern Africa] SURF & BL TOTL MOISTURE FLUX KG/M2/S
units: W/m^2
long_name: REGIONAL MEAN [Eastern Africa] SURFACE & B.LAYER HEAT FLUXES
var_id: rm_afe_hfbl
names: REGIONAL MEAN [Eastern Africa] SURFACE & B.LAYER HEAT FLUXES
long_name: REGIONAL MEAN [Eastern Africa] SURFACE SH FLUX FROM SEA (GBM) W/M2
var_id: rm_afe_field3228
names: REGIONAL MEAN [Eastern Africa] SURFACE SH FLUX FROM SEA (GBM) W/M2
units: W/m^2
long_name: REGIONAL MEAN [Eastern Africa] SW radiation downward TOA
var_id: rm_afe_rsdt
names: REGIONAL MEAN [Eastern Africa] SW radiation downward TOA
units: W/m^2
long_name: REGIONAL MEAN [Eastern Africa] SW radiation upward TOA
var_id: rm_afe_rsut
names: REGIONAL MEAN [Eastern Africa] SW radiation upward TOA
units: K
long_name: REGIONAL MEAN [Eastern Africa] Surface (1.5m) air temperature
var_id: rm_afe_tas
names: REGIONAL MEAN [Eastern Africa] Surface (1.5m) air temperature
long_name: REGIONAL MEAN [Eastern Africa] TOTAL CLOUD AMOUNT IN LW RADIATION
var_id: rm_afe_field2204
names: REGIONAL MEAN [Eastern Africa] TOTAL CLOUD AMOUNT IN LW RADIATION
units: kg/(m^2*s)
long_name: REGIONAL MEAN [Eastern Africa] Total precipitation rate
var_id: rm_afe_prmax
names: REGIONAL MEAN [Eastern Africa] Total precipitation rate
long_name: REGIONAL MEAN [Eastern Africa] U COMPNT OF WIND AFTER TIMESTEP
var_id: rm_afe_field2max
names: REGIONAL MEAN [Eastern Africa] U COMPNT OF WIND AFTER TIMESTEP
long_name: REGIONAL MEAN [Eastern Africa] V COMPNT OF WIND AFTER TIMESTEP
var_id: rm_afe_field3max
names: REGIONAL MEAN [Eastern Africa] V COMPNT OF WIND AFTER TIMESTEP
long_name: REGIONAL MEAN [Eastern Africa] WIND MIXING EN'GY FLUX INTO SEA W/M2
var_id: rm_afe_field3224
names: REGIONAL MEAN [Eastern Africa] WIND MIXING EN'GY FLUX INTO SEA W/M2
units: N/m^2
long_name: REGIONAL MEAN [Eastern Africa] X-COMP OF SURF & BL WIND STRESS
var_id: rm_afe_tauxbl
names: REGIONAL MEAN [Eastern Africa] X-COMP OF SURF & BL WIND STRESS
units: N/m^2
long_name: REGIONAL MEAN [Eastern Africa] Y-COMP OF SURF & BL WIND STRESS
var_id: rm_afe_tauybl
names: REGIONAL MEAN [Eastern Africa] Y-COMP OF SURF & BL WIND STRESS
long_name: REGIONAL MEAN [Eastern North America] ATMOS ENERGY CORR'N IN COLUMN W/M2
var_id: rm_amne_field14201
names: REGIONAL MEAN [Eastern North America] ATMOS ENERGY CORR'N IN COLUMN W/M2
long_name: REGIONAL MEAN [Eastern North America] CLEAR-SKY (II) DOWN SURFACE LW FLUX
var_id: rm_amne_field2208
names: REGIONAL MEAN [Eastern North America] CLEAR-SKY (II) DOWN SURFACE LW FLUX
long_name: REGIONAL MEAN [Eastern North America] CLEAR-SKY (II) DOWN SURFACE SW FLUX
var_id: rm_amne_field1210
names: REGIONAL MEAN [Eastern North America] CLEAR-SKY (II) DOWN SURFACE SW FLUX
long_name: REGIONAL MEAN [Eastern North America] CLEAR-SKY (II) UP SURFACE SW FLUX
var_id: rm_amne_field1211
names: REGIONAL MEAN [Eastern North America] CLEAR-SKY (II) UP SURFACE SW FLUX
long_name: REGIONAL MEAN [Eastern North America] CONVECTIVE RAINFALL RATE KG/M2/S
var_id: rm_amne_field5205
names: REGIONAL MEAN [Eastern North America] CONVECTIVE RAINFALL RATE KG/M2/S
long_name: REGIONAL MEAN [Eastern North America] CONVECTIVE SNOWFALL RATE KG/M2/S
var_id: rm_amne_field5206
names: REGIONAL MEAN [Eastern North America] CONVECTIVE SNOWFALL RATE KG/M2/S
units: %
long_name: REGIONAL MEAN [Eastern North America] Convective Cloud amount
var_id: rm_amne_clc
names: REGIONAL MEAN [Eastern North America] Convective Cloud amount
units: K
long_name: REGIONAL MEAN [Eastern North America] Daily maximum surface (1.5m) temperature
var_id: rm_amne_tasmax
names: REGIONAL MEAN [Eastern North America] Daily maximum surface (1.5m) temperature
units: K
long_name: REGIONAL MEAN [Eastern North America] Daily minimum surface (1.5m) temperature
var_id: rm_amne_tasmin
names: REGIONAL MEAN [Eastern North America] Daily minimum surface (1.5m) temperature
long_name: REGIONAL MEAN [Eastern North America] FIELD 210
var_id: rm_amne_field210
names: REGIONAL MEAN [Eastern North America] FIELD 210
units: K
long_name: REGIONAL MEAN [Eastern North America] Ground Surface Temperature
var_id: rm_amne_ts
names: REGIONAL MEAN [Eastern North America] Ground Surface Temperature
long_name: REGIONAL MEAN [Eastern North America] HEAT FLUX THROUGH SEA ICE (GBM) W/M2
var_id: rm_amne_field3201
names: REGIONAL MEAN [Eastern North America] HEAT FLUX THROUGH SEA ICE (GBM) W/M2
units: W/m^2
long_name: REGIONAL MEAN [Eastern North America] Heat flux latent surface
var_id: rm_amne_hfls
names: REGIONAL MEAN [Eastern North America] Heat flux latent surface
long_name: REGIONAL MEAN [Eastern North America] LARGE SCALE RAINFALL RATE KG/M2/S
var_id: rm_amne_field4203
names: REGIONAL MEAN [Eastern North America] LARGE SCALE RAINFALL RATE KG/M2/S
long_name: REGIONAL MEAN [Eastern North America] LARGE SCALE SNOWFALL RATE KG/M2/S
var_id: rm_amne_field4204
names: REGIONAL MEAN [Eastern North America] LARGE SCALE SNOWFALL RATE KG/M2/S
units: W/m^2
long_name: REGIONAL MEAN [Eastern North America] LW radiation TOA (OLR)
var_id: rm_amne_rlut
names: REGIONAL MEAN [Eastern North America] LW radiation TOA (OLR)
units: W/m^2
long_name: REGIONAL MEAN [Eastern North America] LW radiation TOA clear sky
var_id: rm_amne_rlutcs
names: REGIONAL MEAN [Eastern North America] LW radiation TOA clear sky
units: W/m^2
long_name: REGIONAL MEAN [Eastern North America] LW radiation downward surface
var_id: rm_amne_rlds
names: REGIONAL MEAN [Eastern North America] LW radiation downward surface
units: Pa
long_name: REGIONAL MEAN [Eastern North America] Mean sea-level pressure
var_id: rm_amne_psl
names: REGIONAL MEAN [Eastern North America] Mean sea-level pressure
units: W/m^2
long_name: REGIONAL MEAN [Eastern North America] NET DOWN SURFACE SW FLUX: SW TS ONLY
var_id: rm_amne_netrsds
names: REGIONAL MEAN [Eastern North America] NET DOWN SURFACE SW FLUX: SW TS ONLY
units: W/m^2
long_name: REGIONAL MEAN [Eastern North America] Net downward surface LW radiation
var_id: rm_amne_rlnds
names: REGIONAL MEAN [Eastern North America] Net downward surface LW radiation
long_name: REGIONAL MEAN [Eastern North America] OMEGA ON MODEL LEVELS
var_id: rm_amne_field12201
names: REGIONAL MEAN [Eastern North America] OMEGA ON MODEL LEVELS
long_name: REGIONAL MEAN [Eastern North America] QT SOURCE SINK IN QT POS KG/M2/S
var_id: rm_amne_field13201mlyr
names: REGIONAL MEAN [Eastern North America] QT SOURCE SINK IN QT POS KG/M2/S
long_name: REGIONAL MEAN [Eastern North America] REF. SEA SURF TEMP (SLAB MODEL) K A
var_id: rm_amne_field40178
names: REGIONAL MEAN [Eastern North America] REF. SEA SURF TEMP (SLAB MODEL) K A
long_name: REGIONAL MEAN [Eastern North America] RELATIVE HUMIDITY AT 1.5M
var_id: rm_amne_field3245
names: REGIONAL MEAN [Eastern North America] RELATIVE HUMIDITY AT 1.5M
long_name: REGIONAL MEAN [Eastern North America] SEA ICE DEPTH (MEAN OVER ICE)
var_id: rm_amne_field32
names: REGIONAL MEAN [Eastern North America] SEA ICE DEPTH (MEAN OVER ICE)
long_name: REGIONAL MEAN [Eastern North America] SEA ICE FRACTION AFTER SLAB K
var_id: rm_amne_field40031
names: REGIONAL MEAN [Eastern North America] SEA ICE FRACTION AFTER SLAB K
long_name: REGIONAL MEAN [Eastern North America] SEA ICE FRACTION AFTER TIMESTEP
var_id: rm_amne_field31
names: REGIONAL MEAN [Eastern North America] SEA ICE FRACTION AFTER TIMESTEP
long_name: REGIONAL MEAN [Eastern North America] SEAICE DEPTH(GRD BOX MN)AFTER SLAB M
var_id: rm_amne_field40203
names: REGIONAL MEAN [Eastern North America] SEAICE DEPTH(GRD BOX MN)AFTER SLAB M
long_name: REGIONAL MEAN [Eastern North America] SLAB CARRYHEAT (W M-2) SLAB
var_id: rm_amne_field40220
names: REGIONAL MEAN [Eastern North America] SLAB CARRYHEAT (W M-2) SLAB
long_name: REGIONAL MEAN [Eastern North America] SLAB HEATING RATE (ICE) K/S
var_id: rm_amne_field40221
names: REGIONAL MEAN [Eastern North America] SLAB HEATING RATE (ICE) K/S
long_name: REGIONAL MEAN [Eastern North America] SNOW AMOUNT AFTER SLAB KG/M2
var_id: rm_amne_field40023
names: REGIONAL MEAN [Eastern North America] SNOW AMOUNT AFTER SLAB KG/M2
long_name: REGIONAL MEAN [Eastern North America] SPECIFIC HUMIDITY AT 1.5M
var_id: rm_amne_field3237
names: REGIONAL MEAN [Eastern North America] SPECIFIC HUMIDITY AT 1.5M
long_name: REGIONAL MEAN [Eastern North America] SURF & BL TOTL MOISTURE FLUX KG/M2/S
var_id: rm_amne_field3223
names: REGIONAL MEAN [Eastern North America] SURF & BL TOTL MOISTURE FLUX KG/M2/S
units: W/m^2
long_name: REGIONAL MEAN [Eastern North America] SURFACE & B.LAYER HEAT FLUXES
var_id: rm_amne_hfbl
names: REGIONAL MEAN [Eastern North America] SURFACE & B.LAYER HEAT FLUXES
long_name: REGIONAL MEAN [Eastern North America] SURFACE SH FLUX FROM SEA (GBM) W/M2
var_id: rm_amne_field3228
names: REGIONAL MEAN [Eastern North America] SURFACE SH FLUX FROM SEA (GBM) W/M2
long_name: REGIONAL MEAN [Eastern North America] SURFACE TEMPERATURE AFTER SLAB K
var_id: rm_amne_field40024
names: REGIONAL MEAN [Eastern North America] SURFACE TEMPERATURE AFTER SLAB K
units: W/m^2
long_name: REGIONAL MEAN [Eastern North America] SW radiation downward TOA
var_id: rm_amne_rsdt
names: REGIONAL MEAN [Eastern North America] SW radiation downward TOA
units: W/m^2
long_name: REGIONAL MEAN [Eastern North America] SW radiation upward TOA
var_id: rm_amne_rsut
names: REGIONAL MEAN [Eastern North America] SW radiation upward TOA
units: W/m^2
long_name: REGIONAL MEAN [Eastern North America] SW radiation upward TOA clear sky
var_id: rm_amne_rsutcs
names: REGIONAL MEAN [Eastern North America] SW radiation upward TOA clear sky
units: K
long_name: REGIONAL MEAN [Eastern North America] Surface (1.5m) air temperature
var_id: rm_amne_tas
names: REGIONAL MEAN [Eastern North America] Surface (1.5m) air temperature
long_name: REGIONAL MEAN [Eastern North America] TOTAL CLOUD AMOUNT IN LW RADIATION
var_id: rm_amne_field2204
names: REGIONAL MEAN [Eastern North America] TOTAL CLOUD AMOUNT IN LW RADIATION
long_name: REGIONAL MEAN [Eastern North America] TOTAL DOWNWARD SURFACE SW FLUX
var_id: rm_amne_field1235
names: REGIONAL MEAN [Eastern North America] TOTAL DOWNWARD SURFACE SW FLUX
long_name: REGIONAL MEAN [Eastern North America] TOTAL RAINFALL RATE: LS+CONV KG/M2/S
var_id: rm_amne_field5214
names: REGIONAL MEAN [Eastern North America] TOTAL RAINFALL RATE: LS+CONV KG/M2/S
long_name: REGIONAL MEAN [Eastern North America] TOTAL SNOWFALL RATE: LS+CONV KG/M2/S
var_id: rm_amne_field5215
names: REGIONAL MEAN [Eastern North America] TOTAL SNOWFALL RATE: LS+CONV KG/M2/S
units: kg/(m^2*s)
long_name: REGIONAL MEAN [Eastern North America] Total precipitation rate
var_id: rm_amne_prmax
names: REGIONAL MEAN [Eastern North America] Total precipitation rate
long_name: REGIONAL MEAN [Eastern North America] U COMPNT OF WIND AFTER TIMESTEP
var_id: rm_amne_field2max
names: REGIONAL MEAN [Eastern North America] U COMPNT OF WIND AFTER TIMESTEP
long_name: REGIONAL MEAN [Eastern North America] V COMPNT OF WIND AFTER TIMESTEP
var_id: rm_amne_field3max
names: REGIONAL MEAN [Eastern North America] V COMPNT OF WIND AFTER TIMESTEP
long_name: REGIONAL MEAN [Eastern North America] WIND MIXING EN'GY FLUX INTO SEA W/M2
var_id: rm_amne_field3224
names: REGIONAL MEAN [Eastern North America] WIND MIXING EN'GY FLUX INTO SEA W/M2
units: N/m^2
long_name: REGIONAL MEAN [Eastern North America] X-COMP OF SURF & BL WIND STRESS
var_id: rm_amne_tauxbl
names: REGIONAL MEAN [Eastern North America] X-COMP OF SURF & BL WIND STRESS
units: N/m^2
long_name: REGIONAL MEAN [Eastern North America] Y-COMP OF SURF & BL WIND STRESS
var_id: rm_amne_tauybl
names: REGIONAL MEAN [Eastern North America] Y-COMP OF SURF & BL WIND STRESS
long_name: REGIONAL MEAN [Greenland] ATMOS ENERGY CORR'N IN COLUMN W/M2
var_id: rm_grnl_field14201
names: REGIONAL MEAN [Greenland] ATMOS ENERGY CORR'N IN COLUMN W/M2
long_name: REGIONAL MEAN [Greenland] CLEAR-SKY (II) DOWN SURFACE LW FLUX
var_id: rm_grnl_field2208
names: REGIONAL MEAN [Greenland] CLEAR-SKY (II) DOWN SURFACE LW FLUX
long_name: REGIONAL MEAN [Greenland] CLEAR-SKY (II) DOWN SURFACE SW FLUX
var_id: rm_grnl_field1210
names: REGIONAL MEAN [Greenland] CLEAR-SKY (II) DOWN SURFACE SW FLUX
long_name: REGIONAL MEAN [Greenland] CLEAR-SKY (II) UP SURFACE SW FLUX
var_id: rm_grnl_field1211
names: REGIONAL MEAN [Greenland] CLEAR-SKY (II) UP SURFACE SW FLUX
long_name: REGIONAL MEAN [Greenland] CONVECTIVE RAINFALL RATE KG/M2/S
var_id: rm_grnl_field5205
names: REGIONAL MEAN [Greenland] CONVECTIVE RAINFALL RATE KG/M2/S
long_name: REGIONAL MEAN [Greenland] CONVECTIVE SNOWFALL RATE KG/M2/S
var_id: rm_grnl_field5206
names: REGIONAL MEAN [Greenland] CONVECTIVE SNOWFALL RATE KG/M2/S
units: %
long_name: REGIONAL MEAN [Greenland] Convective Cloud amount
var_id: rm_grnl_clc
names: REGIONAL MEAN [Greenland] Convective Cloud amount
units: K
long_name: REGIONAL MEAN [Greenland] Daily maximum surface (1.5m) temperature
var_id: rm_grnl_tasmax
names: REGIONAL MEAN [Greenland] Daily maximum surface (1.5m) temperature
units: K
long_name: REGIONAL MEAN [Greenland] Daily minimum surface (1.5m) temperature
var_id: rm_grnl_tasmin
names: REGIONAL MEAN [Greenland] Daily minimum surface (1.5m) temperature
units: K
long_name: REGIONAL MEAN [Greenland] Ground Surface Temperature
var_id: rm_grnl_ts
names: REGIONAL MEAN [Greenland] Ground Surface Temperature
long_name: REGIONAL MEAN [Greenland] HEAT FLUX THROUGH SEA ICE (GBM) W/M2
var_id: rm_grnl_field3201
names: REGIONAL MEAN [Greenland] HEAT FLUX THROUGH SEA ICE (GBM) W/M2
units: W/m^2
long_name: REGIONAL MEAN [Greenland] Heat flux latent surface
var_id: rm_grnl_hfls
names: REGIONAL MEAN [Greenland] Heat flux latent surface
long_name: REGIONAL MEAN [Greenland] LARGE SCALE RAINFALL RATE KG/M2/S
var_id: rm_grnl_field4203
names: REGIONAL MEAN [Greenland] LARGE SCALE RAINFALL RATE KG/M2/S
long_name: REGIONAL MEAN [Greenland] LARGE SCALE SNOWFALL RATE KG/M2/S
var_id: rm_grnl_field4204
names: REGIONAL MEAN [Greenland] LARGE SCALE SNOWFALL RATE KG/M2/S
units: W/m^2
long_name: REGIONAL MEAN [Greenland] LW radiation TOA (OLR)
var_id: rm_grnl_rlut
names: REGIONAL MEAN [Greenland] LW radiation TOA (OLR)
units: W/m^2
long_name: REGIONAL MEAN [Greenland] LW radiation downward surface
var_id: rm_grnl_rlds
names: REGIONAL MEAN [Greenland] LW radiation downward surface
units: W/m^2
long_name: REGIONAL MEAN [Greenland] NET DOWN SURFACE SW FLUX: SW TS ONLY
var_id: rm_grnl_netrsds
names: REGIONAL MEAN [Greenland] NET DOWN SURFACE SW FLUX: SW TS ONLY
units: W/m^2
long_name: REGIONAL MEAN [Greenland] Net downward surface LW radiation
var_id: rm_grnl_rlnds
names: REGIONAL MEAN [Greenland] Net downward surface LW radiation
long_name: REGIONAL MEAN [Greenland] QT SOURCE SINK IN QT POS KG/M2/S
var_id: rm_grnl_field13201mlyr
names: REGIONAL MEAN [Greenland] QT SOURCE SINK IN QT POS KG/M2/S
long_name: REGIONAL MEAN [Greenland] RELATIVE HUMIDITY AT 1.5M
var_id: rm_grnl_field3245
names: REGIONAL MEAN [Greenland] RELATIVE HUMIDITY AT 1.5M
long_name: REGIONAL MEAN [Greenland] SEA ICE DEPTH (MEAN OVER ICE)
var_id: rm_grnl_field32
names: REGIONAL MEAN [Greenland] SEA ICE DEPTH (MEAN OVER ICE)
long_name: REGIONAL MEAN [Greenland] SEA ICE FRACTION AFTER TIMESTEP
var_id: rm_grnl_field31
names: REGIONAL MEAN [Greenland] SEA ICE FRACTION AFTER TIMESTEP
long_name: REGIONAL MEAN [Greenland] SPECIFIC HUMIDITY AT 1.5M
var_id: rm_grnl_field3237
names: REGIONAL MEAN [Greenland] SPECIFIC HUMIDITY AT 1.5M
long_name: REGIONAL MEAN [Greenland] SURF & BL TOTL MOISTURE FLUX KG/M2/S
var_id: rm_grnl_field3223
names: REGIONAL MEAN [Greenland] SURF & BL TOTL MOISTURE FLUX KG/M2/S
units: W/m^2
long_name: REGIONAL MEAN [Greenland] SURFACE & B.LAYER HEAT FLUXES
var_id: rm_grnl_hfbl
names: REGIONAL MEAN [Greenland] SURFACE & B.LAYER HEAT FLUXES
long_name: REGIONAL MEAN [Greenland] SURFACE SH FLUX FROM SEA (GBM) W/M2
var_id: rm_grnl_field3228
names: REGIONAL MEAN [Greenland] SURFACE SH FLUX FROM SEA (GBM) W/M2
units: W/m^2
long_name: REGIONAL MEAN [Greenland] SW radiation downward TOA
var_id: rm_grnl_rsdt
names: REGIONAL MEAN [Greenland] SW radiation downward TOA
units: W/m^2
long_name: REGIONAL MEAN [Greenland] SW radiation upward TOA
var_id: rm_grnl_rsut
names: REGIONAL MEAN [Greenland] SW radiation upward TOA
units: W/m^2
long_name: REGIONAL MEAN [Greenland] SW radiation upward TOA clear sky
var_id: rm_grnl_rsutcs
names: REGIONAL MEAN [Greenland] SW radiation upward TOA clear sky
units: K
long_name: REGIONAL MEAN [Greenland] Surface (1.5m) air temperature
var_id: rm_grnl_tas
names: REGIONAL MEAN [Greenland] Surface (1.5m) air temperature
long_name: REGIONAL MEAN [Greenland] TOTAL CLOUD AMOUNT IN LW RADIATION
var_id: rm_grnl_field2204
names: REGIONAL MEAN [Greenland] TOTAL CLOUD AMOUNT IN LW RADIATION
long_name: REGIONAL MEAN [Greenland] TOTAL DOWNWARD SURFACE SW FLUX
var_id: rm_grnl_field1235
names: REGIONAL MEAN [Greenland] TOTAL DOWNWARD SURFACE SW FLUX
long_name: REGIONAL MEAN [Greenland] TOTAL RAINFALL RATE: LS+CONV KG/M2/S
var_id: rm_grnl_field5214
names: REGIONAL MEAN [Greenland] TOTAL RAINFALL RATE: LS+CONV KG/M2/S
long_name: REGIONAL MEAN [Greenland] TOTAL SNOWFALL RATE: LS+CONV KG/M2/S
var_id: rm_grnl_field5215
names: REGIONAL MEAN [Greenland] TOTAL SNOWFALL RATE: LS+CONV KG/M2/S
units: kg/(m^2*s)
long_name: REGIONAL MEAN [Greenland] Total precipitation rate
var_id: rm_grnl_prmax
names: REGIONAL MEAN [Greenland] Total precipitation rate
long_name: REGIONAL MEAN [Greenland] U COMPNT OF WIND AFTER TIMESTEP
var_id: rm_grnl_field2max
names: REGIONAL MEAN [Greenland] U COMPNT OF WIND AFTER TIMESTEP
long_name: REGIONAL MEAN [Greenland] V COMPNT OF WIND AFTER TIMESTEP
var_id: rm_grnl_field3max
names: REGIONAL MEAN [Greenland] V COMPNT OF WIND AFTER TIMESTEP
long_name: REGIONAL MEAN [Greenland] WIND MIXING EN'GY FLUX INTO SEA W/M2
var_id: rm_grnl_field3224
names: REGIONAL MEAN [Greenland] WIND MIXING EN'GY FLUX INTO SEA W/M2
units: N/m^2
long_name: REGIONAL MEAN [Greenland] X-COMP OF SURF & BL WIND STRESS
var_id: rm_grnl_tauxbl
names: REGIONAL MEAN [Greenland] X-COMP OF SURF & BL WIND STRESS
units: N/m^2
long_name: REGIONAL MEAN [Greenland] Y-COMP OF SURF & BL WIND STRESS
var_id: rm_grnl_tauybl
names: REGIONAL MEAN [Greenland] Y-COMP OF SURF & BL WIND STRESS
long_name: REGIONAL MEAN [Mediterranean Basin] CLEAR-SKY (II) DOWN SURFACE SW FLUX
var_id: rm_eum_field1210
names: REGIONAL MEAN [Mediterranean Basin] CLEAR-SKY (II) DOWN SURFACE SW FLUX
long_name: REGIONAL MEAN [Mediterranean Basin] CLEAR-SKY (II) UP SURFACE SW FLUX
var_id: rm_eum_field1211
names: REGIONAL MEAN [Mediterranean Basin] CLEAR-SKY (II) UP SURFACE SW FLUX
long_name: REGIONAL MEAN [Mediterranean Basin] CONVECTIVE RAINFALL RATE KG/M2/S
var_id: rm_eum_field5205
names: REGIONAL MEAN [Mediterranean Basin] CONVECTIVE RAINFALL RATE KG/M2/S
long_name: REGIONAL MEAN [Mediterranean Basin] CONVECTIVE SNOWFALL RATE KG/M2/S
var_id: rm_eum_field5206
names: REGIONAL MEAN [Mediterranean Basin] CONVECTIVE SNOWFALL RATE KG/M2/S
units: %
long_name: REGIONAL MEAN [Mediterranean Basin] Convective Cloud amount
var_id: rm_eum_clc
names: REGIONAL MEAN [Mediterranean Basin] Convective Cloud amount
units: K
long_name: REGIONAL MEAN [Mediterranean Basin] Daily maximum surface (1.5m) temperature
var_id: rm_eum_tasmax
names: REGIONAL MEAN [Mediterranean Basin] Daily maximum surface (1.5m) temperature
units: K
long_name: REGIONAL MEAN [Mediterranean Basin] Daily minimum surface (1.5m) temperature
var_id: rm_eum_tasmin
names: REGIONAL MEAN [Mediterranean Basin] Daily minimum surface (1.5m) temperature
units: K
long_name: REGIONAL MEAN [Mediterranean Basin] Ground Surface Temperature
var_id: rm_eum_ts
names: REGIONAL MEAN [Mediterranean Basin] Ground Surface Temperature
long_name: REGIONAL MEAN [Mediterranean Basin] HEAT FLUX THROUGH SEA ICE (GBM) W/M2
var_id: rm_eum_field3201
names: REGIONAL MEAN [Mediterranean Basin] HEAT FLUX THROUGH SEA ICE (GBM) W/M2
units: W/m^2
long_name: REGIONAL MEAN [Mediterranean Basin] Heat flux latent surface
var_id: rm_eum_hfls
names: REGIONAL MEAN [Mediterranean Basin] Heat flux latent surface
long_name: REGIONAL MEAN [Mediterranean Basin] LARGE SCALE RAINFALL RATE KG/M2/S
var_id: rm_eum_field4203
names: REGIONAL MEAN [Mediterranean Basin] LARGE SCALE RAINFALL RATE KG/M2/S
long_name: REGIONAL MEAN [Mediterranean Basin] LARGE SCALE SNOWFALL RATE KG/M2/S
var_id: rm_eum_field4204
names: REGIONAL MEAN [Mediterranean Basin] LARGE SCALE SNOWFALL RATE KG/M2/S
units: W/m^2
long_name: REGIONAL MEAN [Mediterranean Basin] LW radiation TOA (OLR)
var_id: rm_eum_rlut
names: REGIONAL MEAN [Mediterranean Basin] LW radiation TOA (OLR)
units: W/m^2
long_name: REGIONAL MEAN [Mediterranean Basin] NET DOWN SURFACE SW FLUX: SW TS ONLY
var_id: rm_eum_netrsds
names: REGIONAL MEAN [Mediterranean Basin] NET DOWN SURFACE SW FLUX: SW TS ONLY
units: W/m^2
long_name: REGIONAL MEAN [Mediterranean Basin] Net downward surface LW radiation
var_id: rm_eum_rlnds
names: REGIONAL MEAN [Mediterranean Basin] Net downward surface LW radiation
long_name: REGIONAL MEAN [Mediterranean Basin] SEA ICE DEPTH (MEAN OVER ICE)
var_id: rm_eum_field32
names: REGIONAL MEAN [Mediterranean Basin] SEA ICE DEPTH (MEAN OVER ICE)
long_name: REGIONAL MEAN [Mediterranean Basin] SEA ICE FRACTION AFTER TIMESTEP
var_id: rm_eum_field31
names: REGIONAL MEAN [Mediterranean Basin] SEA ICE FRACTION AFTER TIMESTEP
long_name: REGIONAL MEAN [Mediterranean Basin] SURF & BL TOTL MOISTURE FLUX KG/M2/S
var_id: rm_eum_field3223
names: REGIONAL MEAN [Mediterranean Basin] SURF & BL TOTL MOISTURE FLUX KG/M2/S
units: W/m^2
long_name: REGIONAL MEAN [Mediterranean Basin] SURFACE & B.LAYER HEAT FLUXES
var_id: rm_eum_hfbl
names: REGIONAL MEAN [Mediterranean Basin] SURFACE & B.LAYER HEAT FLUXES
long_name: REGIONAL MEAN [Mediterranean Basin] SURFACE SH FLUX FROM SEA (GBM) W/M2
var_id: rm_eum_field3228
names: REGIONAL MEAN [Mediterranean Basin] SURFACE SH FLUX FROM SEA (GBM) W/M2
units: W/m^2
long_name: REGIONAL MEAN [Mediterranean Basin] SW radiation downward TOA
var_id: rm_eum_rsdt
names: REGIONAL MEAN [Mediterranean Basin] SW radiation downward TOA
units: W/m^2
long_name: REGIONAL MEAN [Mediterranean Basin] SW radiation upward TOA
var_id: rm_eum_rsut
names: REGIONAL MEAN [Mediterranean Basin] SW radiation upward TOA
units: W/m^2
long_name: REGIONAL MEAN [Mediterranean Basin] SW radiation upward TOA clear sky
var_id: rm_eum_rsutcs
names: REGIONAL MEAN [Mediterranean Basin] SW radiation upward TOA clear sky
units: K
long_name: REGIONAL MEAN [Mediterranean Basin] Surface (1.5m) air temperature
var_id: rm_eum_tas
names: REGIONAL MEAN [Mediterranean Basin] Surface (1.5m) air temperature
long_name: REGIONAL MEAN [Mediterranean Basin] TOTAL CLOUD AMOUNT IN LW RADIATION
var_id: rm_eum_field2204
names: REGIONAL MEAN [Mediterranean Basin] TOTAL CLOUD AMOUNT IN LW RADIATION
long_name: REGIONAL MEAN [Mediterranean Basin] TOTAL DOWNWARD SURFACE SW FLUX
var_id: rm_eum_field1235
names: REGIONAL MEAN [Mediterranean Basin] TOTAL DOWNWARD SURFACE SW FLUX
units: kg/(m^2*s)
long_name: REGIONAL MEAN [Mediterranean Basin] Total precipitation rate
var_id: rm_eum_prmax
names: REGIONAL MEAN [Mediterranean Basin] Total precipitation rate
long_name: REGIONAL MEAN [Mediterranean Basin] U COMPNT OF WIND AFTER TIMESTEP
var_id: rm_eum_field2max
names: REGIONAL MEAN [Mediterranean Basin] U COMPNT OF WIND AFTER TIMESTEP
long_name: REGIONAL MEAN [Mediterranean Basin] V COMPNT OF WIND AFTER TIMESTEP
var_id: rm_eum_field3max
names: REGIONAL MEAN [Mediterranean Basin] V COMPNT OF WIND AFTER TIMESTEP
long_name: REGIONAL MEAN [Mediterranean Basin] WIND MIXING EN'GY FLUX INTO SEA W/M2
var_id: rm_eum_field3224
names: REGIONAL MEAN [Mediterranean Basin] WIND MIXING EN'GY FLUX INTO SEA W/M2
units: N/m^2
long_name: REGIONAL MEAN [Mediterranean Basin] X-COMP OF SURF & BL WIND STRESS
var_id: rm_eum_tauxbl
names: REGIONAL MEAN [Mediterranean Basin] X-COMP OF SURF & BL WIND STRESS
units: N/m^2
long_name: REGIONAL MEAN [Mediterranean Basin] Y-COMP OF SURF & BL WIND STRESS
var_id: rm_eum_tauybl
names: REGIONAL MEAN [Mediterranean Basin] Y-COMP OF SURF & BL WIND STRESS
long_name: REGIONAL MEAN [NH Extratropics] CONVECTIVE RAINFALL RATE KG/M2/S
var_id: rm_hmnt_field5205
names: REGIONAL MEAN [NH Extratropics] CONVECTIVE RAINFALL RATE KG/M2/S
long_name: REGIONAL MEAN [NH Extratropics] CONVECTIVE SNOWFALL RATE KG/M2/S
var_id: rm_hmnt_field5206
names: REGIONAL MEAN [NH Extratropics] CONVECTIVE SNOWFALL RATE KG/M2/S
units: K
long_name: REGIONAL MEAN [NH Extratropics] Daily maximum surface (1.5m) temperature
var_id: rm_hmnt_tasmax
names: REGIONAL MEAN [NH Extratropics] Daily maximum surface (1.5m) temperature
units: K
long_name: REGIONAL MEAN [NH Extratropics] Daily minimum surface (1.5m) temperature
var_id: rm_hmnt_tasmin
names: REGIONAL MEAN [NH Extratropics] Daily minimum surface (1.5m) temperature
long_name: REGIONAL MEAN [NH Extratropics] HEAT FLUX THROUGH SEA ICE (GBM) W/M2
var_id: rm_hmnt_field3201
names: REGIONAL MEAN [NH Extratropics] HEAT FLUX THROUGH SEA ICE (GBM) W/M2
units: W/m^2
long_name: REGIONAL MEAN [NH Extratropics] Heat flux latent surface
var_id: rm_hmnt_hfls
names: REGIONAL MEAN [NH Extratropics] Heat flux latent surface
long_name: REGIONAL MEAN [NH Extratropics] LARGE SCALE RAINFALL RATE KG/M2/S
var_id: rm_hmnt_field4203
names: REGIONAL MEAN [NH Extratropics] LARGE SCALE RAINFALL RATE KG/M2/S
long_name: REGIONAL MEAN [NH Extratropics] LARGE SCALE SNOWFALL RATE KG/M2/S
var_id: rm_hmnt_field4204
names: REGIONAL MEAN [NH Extratropics] LARGE SCALE SNOWFALL RATE KG/M2/S
units: W/m^2
long_name: REGIONAL MEAN [NH Extratropics] LW radiation TOA (OLR)
var_id: rm_hmnt_rlut
names: REGIONAL MEAN [NH Extratropics] LW radiation TOA (OLR)
units: W/m^2
long_name: REGIONAL MEAN [NH Extratropics] Net downward surface LW radiation
var_id: rm_hmnt_rlnds
names: REGIONAL MEAN [NH Extratropics] Net downward surface LW radiation
long_name: REGIONAL MEAN [NH Extratropics] SEA ICE FRACTION AFTER TIMESTEP
var_id: rm_hmnt_field31
names: REGIONAL MEAN [NH Extratropics] SEA ICE FRACTION AFTER TIMESTEP
long_name: REGIONAL MEAN [NH Extratropics] SURF & BL TOTL MOISTURE FLUX KG/M2/S
var_id: rm_hmnt_field3223
names: REGIONAL MEAN [NH Extratropics] SURF & BL TOTL MOISTURE FLUX KG/M2/S
units: W/m^2
long_name: REGIONAL MEAN [NH Extratropics] SURFACE & B.LAYER HEAT FLUXES
var_id: rm_hmnt_hfbl
names: REGIONAL MEAN [NH Extratropics] SURFACE & B.LAYER HEAT FLUXES
long_name: REGIONAL MEAN [NH Extratropics] SURFACE SH FLUX FROM SEA (GBM) W/M2
var_id: rm_hmnt_field3228
names: REGIONAL MEAN [NH Extratropics] SURFACE SH FLUX FROM SEA (GBM) W/M2
units: W/m^2
long_name: REGIONAL MEAN [NH Extratropics] SW radiation downward TOA
var_id: rm_hmnt_rsdt
names: REGIONAL MEAN [NH Extratropics] SW radiation downward TOA
units: W/m^2
long_name: REGIONAL MEAN [NH Extratropics] SW radiation upward TOA
var_id: rm_hmnt_rsut
names: REGIONAL MEAN [NH Extratropics] SW radiation upward TOA
units: K
long_name: REGIONAL MEAN [NH Extratropics] Surface (1.5m) air temperature
var_id: rm_hmnt_tas
names: REGIONAL MEAN [NH Extratropics] Surface (1.5m) air temperature
long_name: REGIONAL MEAN [NH Extratropics] TOTAL CLOUD AMOUNT IN LW RADIATION
var_id: rm_hmnt_field2204
names: REGIONAL MEAN [NH Extratropics] TOTAL CLOUD AMOUNT IN LW RADIATION
units: kg/(m^2*s)
long_name: REGIONAL MEAN [NH Extratropics] Total precipitation rate
var_id: rm_hmnt_prmax
names: REGIONAL MEAN [NH Extratropics] Total precipitation rate
long_name: REGIONAL MEAN [NH Extratropics] U COMPNT OF WIND AFTER TIMESTEP
var_id: rm_hmnt_field2max
names: REGIONAL MEAN [NH Extratropics] U COMPNT OF WIND AFTER TIMESTEP
long_name: REGIONAL MEAN [NH Extratropics] V COMPNT OF WIND AFTER TIMESTEP
var_id: rm_hmnt_field3max
names: REGIONAL MEAN [NH Extratropics] V COMPNT OF WIND AFTER TIMESTEP
long_name: REGIONAL MEAN [NH Extratropics] WIND MIXING EN'GY FLUX INTO SEA W/M2
var_id: rm_hmnt_field3224
names: REGIONAL MEAN [NH Extratropics] WIND MIXING EN'GY FLUX INTO SEA W/M2
units: N/m^2
long_name: REGIONAL MEAN [NH Extratropics] X-COMP OF SURF & BL WIND STRESS
var_id: rm_hmnt_tauxbl
names: REGIONAL MEAN [NH Extratropics] X-COMP OF SURF & BL WIND STRESS
units: N/m^2
long_name: REGIONAL MEAN [NH Extratropics] Y-COMP OF SURF & BL WIND STRESS
var_id: rm_hmnt_tauybl
names: REGIONAL MEAN [NH Extratropics] Y-COMP OF SURF & BL WIND STRESS
long_name: REGIONAL MEAN [North Asia] CONVECTIVE RAINFALL RATE KG/M2/S
var_id: rm_asn_field5205
names: REGIONAL MEAN [North Asia] CONVECTIVE RAINFALL RATE KG/M2/S
long_name: REGIONAL MEAN [North Asia] CONVECTIVE SNOWFALL RATE KG/M2/S
var_id: rm_asn_field5206
names: REGIONAL MEAN [North Asia] CONVECTIVE SNOWFALL RATE KG/M2/S
units: K
long_name: REGIONAL MEAN [North Asia] Daily maximum surface (1.5m) temperature
var_id: rm_asn_tasmax
names: REGIONAL MEAN [North Asia] Daily maximum surface (1.5m) temperature
units: K
long_name: REGIONAL MEAN [North Asia] Daily minimum surface (1.5m) temperature
var_id: rm_asn_tasmin
names: REGIONAL MEAN [North Asia] Daily minimum surface (1.5m) temperature
long_name: REGIONAL MEAN [North Asia] HEAT FLUX THROUGH SEA ICE (GBM) W/M2
var_id: rm_asn_field3201
names: REGIONAL MEAN [North Asia] HEAT FLUX THROUGH SEA ICE (GBM) W/M2
units: W/m^2
long_name: REGIONAL MEAN [North Asia] Heat flux latent surface
var_id: rm_asn_hfls
names: REGIONAL MEAN [North Asia] Heat flux latent surface
long_name: REGIONAL MEAN [North Asia] LARGE SCALE RAINFALL RATE KG/M2/S
var_id: rm_asn_field4203
names: REGIONAL MEAN [North Asia] LARGE SCALE RAINFALL RATE KG/M2/S
long_name: REGIONAL MEAN [North Asia] LARGE SCALE SNOWFALL RATE KG/M2/S
var_id: rm_asn_field4204
names: REGIONAL MEAN [North Asia] LARGE SCALE SNOWFALL RATE KG/M2/S
units: W/m^2
long_name: REGIONAL MEAN [North Asia] LW radiation TOA (OLR)
var_id: rm_asn_rlut
names: REGIONAL MEAN [North Asia] LW radiation TOA (OLR)
units: W/m^2
long_name: REGIONAL MEAN [North Asia] Net downward surface LW radiation
var_id: rm_asn_rlnds
names: REGIONAL MEAN [North Asia] Net downward surface LW radiation
long_name: REGIONAL MEAN [North Asia] SEA ICE FRACTION AFTER TIMESTEP
var_id: rm_asn_field31
names: REGIONAL MEAN [North Asia] SEA ICE FRACTION AFTER TIMESTEP
long_name: REGIONAL MEAN [North Asia] SURF & BL TOTL MOISTURE FLUX KG/M2/S
var_id: rm_asn_field3223
names: REGIONAL MEAN [North Asia] SURF & BL TOTL MOISTURE FLUX KG/M2/S
units: W/m^2
long_name: REGIONAL MEAN [North Asia] SURFACE & B.LAYER HEAT FLUXES
var_id: rm_asn_hfbl
names: REGIONAL MEAN [North Asia] SURFACE & B.LAYER HEAT FLUXES
long_name: REGIONAL MEAN [North Asia] SURFACE SH FLUX FROM SEA (GBM) W/M2
var_id: rm_asn_field3228
names: REGIONAL MEAN [North Asia] SURFACE SH FLUX FROM SEA (GBM) W/M2
units: W/m^2
long_name: REGIONAL MEAN [North Asia] SW radiation downward TOA
var_id: rm_asn_rsdt
names: REGIONAL MEAN [North Asia] SW radiation downward TOA
units: W/m^2
long_name: REGIONAL MEAN [North Asia] SW radiation upward TOA
var_id: rm_asn_rsut
names: REGIONAL MEAN [North Asia] SW radiation upward TOA
units: K
long_name: REGIONAL MEAN [North Asia] Surface (1.5m) air temperature
var_id: rm_asn_tas
names: REGIONAL MEAN [North Asia] Surface (1.5m) air temperature
long_name: REGIONAL MEAN [North Asia] TOTAL CLOUD AMOUNT IN LW RADIATION
var_id: rm_asn_field2204
names: REGIONAL MEAN [North Asia] TOTAL CLOUD AMOUNT IN LW RADIATION
units: kg/(m^2*s)
long_name: REGIONAL MEAN [North Asia] Total precipitation rate
var_id: rm_asn_prmax
names: REGIONAL MEAN [North Asia] Total precipitation rate
long_name: REGIONAL MEAN [North Asia] U COMPNT OF WIND AFTER TIMESTEP
var_id: rm_asn_field2max
names: REGIONAL MEAN [North Asia] U COMPNT OF WIND AFTER TIMESTEP
long_name: REGIONAL MEAN [North Asia] V COMPNT OF WIND AFTER TIMESTEP
var_id: rm_asn_field3max
names: REGIONAL MEAN [North Asia] V COMPNT OF WIND AFTER TIMESTEP
long_name: REGIONAL MEAN [North Asia] WIND MIXING EN'GY FLUX INTO SEA W/M2
var_id: rm_asn_field3224
names: REGIONAL MEAN [North Asia] WIND MIXING EN'GY FLUX INTO SEA W/M2
units: N/m^2
long_name: REGIONAL MEAN [North Asia] X-COMP OF SURF & BL WIND STRESS
var_id: rm_asn_tauxbl
names: REGIONAL MEAN [North Asia] X-COMP OF SURF & BL WIND STRESS
units: N/m^2
long_name: REGIONAL MEAN [North Asia] Y-COMP OF SURF & BL WIND STRESS
var_id: rm_asn_tauybl
names: REGIONAL MEAN [North Asia] Y-COMP OF SURF & BL WIND STRESS
long_name: REGIONAL MEAN [Northern Europe] CONVECTIVE RAINFALL RATE KG/M2/S
var_id: rm_eun_field5205
names: REGIONAL MEAN [Northern Europe] CONVECTIVE RAINFALL RATE KG/M2/S
long_name: REGIONAL MEAN [Northern Europe] CONVECTIVE SNOWFALL RATE KG/M2/S
var_id: rm_eun_field5206
names: REGIONAL MEAN [Northern Europe] CONVECTIVE SNOWFALL RATE KG/M2/S
units: K
long_name: REGIONAL MEAN [Northern Europe] Daily maximum surface (1.5m) temperature
var_id: rm_eun_tasmax
names: REGIONAL MEAN [Northern Europe] Daily maximum surface (1.5m) temperature
units: K
long_name: REGIONAL MEAN [Northern Europe] Daily minimum surface (1.5m) temperature
var_id: rm_eun_tasmin
names: REGIONAL MEAN [Northern Europe] Daily minimum surface (1.5m) temperature
long_name: REGIONAL MEAN [Northern Europe] HEAT FLUX THROUGH SEA ICE (GBM) W/M2
var_id: rm_eun_field3201
names: REGIONAL MEAN [Northern Europe] HEAT FLUX THROUGH SEA ICE (GBM) W/M2
units: W/m^2
long_name: REGIONAL MEAN [Northern Europe] Heat flux latent surface
var_id: rm_eun_hfls
names: REGIONAL MEAN [Northern Europe] Heat flux latent surface
long_name: REGIONAL MEAN [Northern Europe] LARGE SCALE RAINFALL RATE KG/M2/S
var_id: rm_eun_field4203
names: REGIONAL MEAN [Northern Europe] LARGE SCALE RAINFALL RATE KG/M2/S
long_name: REGIONAL MEAN [Northern Europe] LARGE SCALE SNOWFALL RATE KG/M2/S
var_id: rm_eun_field4204
names: REGIONAL MEAN [Northern Europe] LARGE SCALE SNOWFALL RATE KG/M2/S
units: W/m^2
long_name: REGIONAL MEAN [Northern Europe] LW radiation TOA (OLR)
var_id: rm_eun_rlut
names: REGIONAL MEAN [Northern Europe] LW radiation TOA (OLR)
units: W/m^2
long_name: REGIONAL MEAN [Northern Europe] NET DOWN SURFACE SW FLUX: SW TS ONLY
var_id: rm_eun_netrsds
names: REGIONAL MEAN [Northern Europe] NET DOWN SURFACE SW FLUX: SW TS ONLY
units: W/m^2
long_name: REGIONAL MEAN [Northern Europe] Net downward surface LW radiation
var_id: rm_eun_rlnds
names: REGIONAL MEAN [Northern Europe] Net downward surface LW radiation
long_name: REGIONAL MEAN [Northern Europe] SEA ICE FRACTION AFTER TIMESTEP
var_id: rm_eun_field31
names: REGIONAL MEAN [Northern Europe] SEA ICE FRACTION AFTER TIMESTEP
long_name: REGIONAL MEAN [Northern Europe] SURF & BL TOTL MOISTURE FLUX KG/M2/S
var_id: rm_eun_field3223
names: REGIONAL MEAN [Northern Europe] SURF & BL TOTL MOISTURE FLUX KG/M2/S
units: W/m^2
long_name: REGIONAL MEAN [Northern Europe] SURFACE & B.LAYER HEAT FLUXES
var_id: rm_eun_hfbl
names: REGIONAL MEAN [Northern Europe] SURFACE & B.LAYER HEAT FLUXES
long_name: REGIONAL MEAN [Northern Europe] SURFACE SH FLUX FROM SEA (GBM) W/M2
var_id: rm_eun_field3228
names: REGIONAL MEAN [Northern Europe] SURFACE SH FLUX FROM SEA (GBM) W/M2
units: W/m^2
long_name: REGIONAL MEAN [Northern Europe] SW radiation downward TOA
var_id: rm_eun_rsdt
names: REGIONAL MEAN [Northern Europe] SW radiation downward TOA
units: W/m^2
long_name: REGIONAL MEAN [Northern Europe] SW radiation upward TOA
var_id: rm_eun_rsut
names: REGIONAL MEAN [Northern Europe] SW radiation upward TOA
units: K
long_name: REGIONAL MEAN [Northern Europe] Surface (1.5m) air temperature
var_id: rm_eun_tas
names: REGIONAL MEAN [Northern Europe] Surface (1.5m) air temperature
long_name: REGIONAL MEAN [Northern Europe] TOTAL CLOUD AMOUNT IN LW RADIATION
var_id: rm_eun_field2204
names: REGIONAL MEAN [Northern Europe] TOTAL CLOUD AMOUNT IN LW RADIATION
units: kg/(m^2*s)
long_name: REGIONAL MEAN [Northern Europe] Total precipitation rate
var_id: rm_eun_prmax
names: REGIONAL MEAN [Northern Europe] Total precipitation rate
long_name: REGIONAL MEAN [Northern Europe] U COMPNT OF WIND AFTER TIMESTEP
var_id: rm_eun_field2max
names: REGIONAL MEAN [Northern Europe] U COMPNT OF WIND AFTER TIMESTEP
long_name: REGIONAL MEAN [Northern Europe] V COMPNT OF WIND AFTER TIMESTEP
var_id: rm_eun_field3max
names: REGIONAL MEAN [Northern Europe] V COMPNT OF WIND AFTER TIMESTEP
long_name: REGIONAL MEAN [Northern Europe] WIND MIXING EN'GY FLUX INTO SEA W/M2
var_id: rm_eun_field3224
names: REGIONAL MEAN [Northern Europe] WIND MIXING EN'GY FLUX INTO SEA W/M2
units: N/m^2
long_name: REGIONAL MEAN [Northern Europe] X-COMP OF SURF & BL WIND STRESS
var_id: rm_eun_tauxbl
names: REGIONAL MEAN [Northern Europe] X-COMP OF SURF & BL WIND STRESS
units: N/m^2
long_name: REGIONAL MEAN [Northern Europe] Y-COMP OF SURF & BL WIND STRESS
var_id: rm_eun_tauybl
names: REGIONAL MEAN [Northern Europe] Y-COMP OF SURF & BL WIND STRESS
long_name: REGIONAL MEAN [Northern Hemisphere] CONVECTIVE RAINFALL RATE KG/M2/S
var_id: rm_hmn_field5205
names: REGIONAL MEAN [Northern Hemisphere] CONVECTIVE RAINFALL RATE KG/M2/S
long_name: REGIONAL MEAN [Northern Hemisphere] CONVECTIVE SNOWFALL RATE KG/M2/S
var_id: rm_hmn_field5206
names: REGIONAL MEAN [Northern Hemisphere] CONVECTIVE SNOWFALL RATE KG/M2/S
units: K
long_name: REGIONAL MEAN [Northern Hemisphere] Daily maximum surface (1.5m) temperature
var_id: rm_hmn_tasmax
names: REGIONAL MEAN [Northern Hemisphere] Daily maximum surface (1.5m) temperature
units: K
long_name: REGIONAL MEAN [Northern Hemisphere] Daily minimum surface (1.5m) temperature
var_id: rm_hmn_tasmin
names: REGIONAL MEAN [Northern Hemisphere] Daily minimum surface (1.5m) temperature
long_name: REGIONAL MEAN [Northern Hemisphere] HEAT FLUX THROUGH SEA ICE (GBM) W/M2
var_id: rm_hmn_field3201
names: REGIONAL MEAN [Northern Hemisphere] HEAT FLUX THROUGH SEA ICE (GBM) W/M2
units: W/m^2
long_name: REGIONAL MEAN [Northern Hemisphere] Heat flux latent surface
var_id: rm_hmn_hfls
names: REGIONAL MEAN [Northern Hemisphere] Heat flux latent surface
long_name: REGIONAL MEAN [Northern Hemisphere] LARGE SCALE RAINFALL RATE KG/M2/S
var_id: rm_hmn_field4203
names: REGIONAL MEAN [Northern Hemisphere] LARGE SCALE RAINFALL RATE KG/M2/S
long_name: REGIONAL MEAN [Northern Hemisphere] LARGE SCALE SNOWFALL RATE KG/M2/S
var_id: rm_hmn_field4204
names: REGIONAL MEAN [Northern Hemisphere] LARGE SCALE SNOWFALL RATE KG/M2/S
units: W/m^2
long_name: REGIONAL MEAN [Northern Hemisphere] LW radiation TOA (OLR)
var_id: rm_hmn_rlut
names: REGIONAL MEAN [Northern Hemisphere] LW radiation TOA (OLR)
units: W/m^2
long_name: REGIONAL MEAN [Northern Hemisphere] Net downward surface LW radiation
var_id: rm_hmn_rlnds
names: REGIONAL MEAN [Northern Hemisphere] Net downward surface LW radiation
long_name: REGIONAL MEAN [Northern Hemisphere] SEA ICE FRACTION AFTER TIMESTEP
var_id: rm_hmn_field31
names: REGIONAL MEAN [Northern Hemisphere] SEA ICE FRACTION AFTER TIMESTEP
long_name: REGIONAL MEAN [Northern Hemisphere] SURF & BL TOTL MOISTURE FLUX KG/M2/S
var_id: rm_hmn_field3223
names: REGIONAL MEAN [Northern Hemisphere] SURF & BL TOTL MOISTURE FLUX KG/M2/S
units: W/m^2
long_name: REGIONAL MEAN [Northern Hemisphere] SURFACE & B.LAYER HEAT FLUXES
var_id: rm_hmn_hfbl
names: REGIONAL MEAN [Northern Hemisphere] SURFACE & B.LAYER HEAT FLUXES
long_name: REGIONAL MEAN [Northern Hemisphere] SURFACE SH FLUX FROM SEA (GBM) W/M2
var_id: rm_hmn_field3228
names: REGIONAL MEAN [Northern Hemisphere] SURFACE SH FLUX FROM SEA (GBM) W/M2
units: W/m^2
long_name: REGIONAL MEAN [Northern Hemisphere] SW radiation downward TOA
var_id: rm_hmn_rsdt
names: REGIONAL MEAN [Northern Hemisphere] SW radiation downward TOA
units: W/m^2
long_name: REGIONAL MEAN [Northern Hemisphere] SW radiation upward TOA
var_id: rm_hmn_rsut
names: REGIONAL MEAN [Northern Hemisphere] SW radiation upward TOA
units: K
long_name: REGIONAL MEAN [Northern Hemisphere] Surface (1.5m) air temperature
var_id: rm_hmn_tas
names: REGIONAL MEAN [Northern Hemisphere] Surface (1.5m) air temperature
long_name: REGIONAL MEAN [Northern Hemisphere] TOTAL CLOUD AMOUNT IN LW RADIATION
var_id: rm_hmn_field2204
names: REGIONAL MEAN [Northern Hemisphere] TOTAL CLOUD AMOUNT IN LW RADIATION
units: kg/(m^2*s)
long_name: REGIONAL MEAN [Northern Hemisphere] Total precipitation rate
var_id: rm_hmn_prmax
names: REGIONAL MEAN [Northern Hemisphere] Total precipitation rate
long_name: REGIONAL MEAN [Northern Hemisphere] U COMPNT OF WIND AFTER TIMESTEP
var_id: rm_hmn_field2max
names: REGIONAL MEAN [Northern Hemisphere] U COMPNT OF WIND AFTER TIMESTEP
long_name: REGIONAL MEAN [Northern Hemisphere] V COMPNT OF WIND AFTER TIMESTEP
var_id: rm_hmn_field3max
names: REGIONAL MEAN [Northern Hemisphere] V COMPNT OF WIND AFTER TIMESTEP
long_name: REGIONAL MEAN [Northern Hemisphere] WIND MIXING EN'GY FLUX INTO SEA W/M2
var_id: rm_hmn_field3224
names: REGIONAL MEAN [Northern Hemisphere] WIND MIXING EN'GY FLUX INTO SEA W/M2
units: N/m^2
long_name: REGIONAL MEAN [Northern Hemisphere] X-COMP OF SURF & BL WIND STRESS
var_id: rm_hmn_tauxbl
names: REGIONAL MEAN [Northern Hemisphere] X-COMP OF SURF & BL WIND STRESS
units: N/m^2
long_name: REGIONAL MEAN [Northern Hemisphere] Y-COMP OF SURF & BL WIND STRESS
var_id: rm_hmn_tauybl
names: REGIONAL MEAN [Northern Hemisphere] Y-COMP OF SURF & BL WIND STRESS
long_name: REGIONAL MEAN [SH Extratropics] CONVECTIVE RAINFALL RATE KG/M2/S
var_id: rm_hmst_field5205
names: REGIONAL MEAN [SH Extratropics] CONVECTIVE RAINFALL RATE KG/M2/S
long_name: REGIONAL MEAN [SH Extratropics] CONVECTIVE SNOWFALL RATE KG/M2/S
var_id: rm_hmst_field5206
names: REGIONAL MEAN [SH Extratropics] CONVECTIVE SNOWFALL RATE KG/M2/S
units: K
long_name: REGIONAL MEAN [SH Extratropics] Daily maximum surface (1.5m) temperature
var_id: rm_hmst_tasmax
names: REGIONAL MEAN [SH Extratropics] Daily maximum surface (1.5m) temperature
units: K
long_name: REGIONAL MEAN [SH Extratropics] Daily minimum surface (1.5m) temperature
var_id: rm_hmst_tasmin
names: REGIONAL MEAN [SH Extratropics] Daily minimum surface (1.5m) temperature
long_name: REGIONAL MEAN [SH Extratropics] HEAT FLUX THROUGH SEA ICE (GBM) W/M2
var_id: rm_hmst_field3201
names: REGIONAL MEAN [SH Extratropics] HEAT FLUX THROUGH SEA ICE (GBM) W/M2
units: W/m^2
long_name: REGIONAL MEAN [SH Extratropics] Heat flux latent surface
var_id: rm_hmst_hfls
names: REGIONAL MEAN [SH Extratropics] Heat flux latent surface
long_name: REGIONAL MEAN [SH Extratropics] LARGE SCALE RAINFALL RATE KG/M2/S
var_id: rm_hmst_field4203
names: REGIONAL MEAN [SH Extratropics] LARGE SCALE RAINFALL RATE KG/M2/S
long_name: REGIONAL MEAN [SH Extratropics] LARGE SCALE SNOWFALL RATE KG/M2/S
var_id: rm_hmst_field4204
names: REGIONAL MEAN [SH Extratropics] LARGE SCALE SNOWFALL RATE KG/M2/S
units: W/m^2
long_name: REGIONAL MEAN [SH Extratropics] LW radiation TOA (OLR)
var_id: rm_hmst_rlut
names: REGIONAL MEAN [SH Extratropics] LW radiation TOA (OLR)
units: W/m^2
long_name: REGIONAL MEAN [SH Extratropics] Net downward surface LW radiation
var_id: rm_hmst_rlnds
names: REGIONAL MEAN [SH Extratropics] Net downward surface LW radiation
long_name: REGIONAL MEAN [SH Extratropics] SEA ICE FRACTION AFTER TIMESTEP
var_id: rm_hmst_field31
names: REGIONAL MEAN [SH Extratropics] SEA ICE FRACTION AFTER TIMESTEP
long_name: REGIONAL MEAN [SH Extratropics] SURF & BL TOTL MOISTURE FLUX KG/M2/S
var_id: rm_hmst_field3223
names: REGIONAL MEAN [SH Extratropics] SURF & BL TOTL MOISTURE FLUX KG/M2/S
units: W/m^2
long_name: REGIONAL MEAN [SH Extratropics] SURFACE & B.LAYER HEAT FLUXES
var_id: rm_hmst_hfbl
names: REGIONAL MEAN [SH Extratropics] SURFACE & B.LAYER HEAT FLUXES
long_name: REGIONAL MEAN [SH Extratropics] SURFACE SH FLUX FROM SEA (GBM) W/M2
var_id: rm_hmst_field3228
names: REGIONAL MEAN [SH Extratropics] SURFACE SH FLUX FROM SEA (GBM) W/M2
units: W/m^2
long_name: REGIONAL MEAN [SH Extratropics] SW radiation downward TOA
var_id: rm_hmst_rsdt
names: REGIONAL MEAN [SH Extratropics] SW radiation downward TOA
units: W/m^2
long_name: REGIONAL MEAN [SH Extratropics] SW radiation upward TOA
var_id: rm_hmst_rsut
names: REGIONAL MEAN [SH Extratropics] SW radiation upward TOA
units: K
long_name: REGIONAL MEAN [SH Extratropics] Surface (1.5m) air temperature
var_id: rm_hmst_tas
names: REGIONAL MEAN [SH Extratropics] Surface (1.5m) air temperature
long_name: REGIONAL MEAN [SH Extratropics] TOTAL CLOUD AMOUNT IN LW RADIATION
var_id: rm_hmst_field2204
names: REGIONAL MEAN [SH Extratropics] TOTAL CLOUD AMOUNT IN LW RADIATION
units: kg/(m^2*s)
long_name: REGIONAL MEAN [SH Extratropics] Total precipitation rate
var_id: rm_hmst_prmax
names: REGIONAL MEAN [SH Extratropics] Total precipitation rate