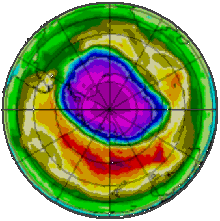 View XML
Ozone Monitoring Instrument (OMI) measurements from EOS-AURA (2004-present)
Latest Data Update:
2019-07-30
Publication State:
Published
Publication Date:
2007-01-15
Dataset Size:
5.33K Files | 983MB
---
Abstract
The Total Ozone Mapping Spectrometer (TOMS) is an instrument built and operated by the National Aeronautics and Space Administration (NASA). The instrument uses backscattered ultraviolet radiance to infer total column ozone measurements. The dataset consists of daily gridded averages of total ozone covering the entire globe, in the form of images, from NASA NIMBUS 7, Meteor-3, Earth Probe and ADEOS satellites. Data is from 1978 to 2006. The Ozone Monitoring Instrument (OMI) on the AURA spacecraft, OMI data of ozone are now available for the entire OMI mission. In addition to ozone data, OMI data for aerosol and reflectivity are available. These datasets are public.
Abbreviation: Not defined
Keywords: TOMS, Ozone
---
Details
Previous Info:

No news update for this record

Previously used record identifiers:

http://badc.nerc.ac.uk/view/badc.nerc.ac.uk__ATOM__dep_11688986116312466

Access rules:
Data lineage:

Total Ozone Mapping Spectrometer (TOMS) data were mirrored from GSFC NASA until saturday December 2, 2006, when contact with Earth Probe was lost.
Ozone Monitoring Instrument (OMI) data are continuously being mirrored at the BADC from NASA (since 2004).

Data Quality:

Data quality controlled by NASA. TOMS - Total Calibration Error - The Version 8 algorithm is now used for all TOMS data. For data beginning in year 2000, the calibration has been stabilized relative to NOAA-16 SBUV/2 in the equatorial zone. Because of continuing changes in the optical properties of the front scan mirror that are not well understood, we are now seeing a latitude dependent error that cannot be corrected by a simple calibration correction. The calibration appears to be stable near the equator. But by 50 degrees latitude, there is now a -2% to -4% error in TOMS, a bit larger in the northern hemisphere than in the southern hemisphere. Because of this error, data since 2002 should NOT be used for trend analysis.

File Format:

Data are ASCII formatted
Process overview
This dataset was generated by a combination of instruments deployed on platforms and computations as detailed below.
Instrument/Platform pairings
Mobile platform operations
Computation Element: 1
| | |
| --- | --- |
| Title | Deployed on EOS-AURA |
| Abstract | Deployed on EOS-AURA. |
| Input Description | None |
| Output Description | None |
| Software Reference | None |
long_name: Oxygen Compounds
names: Oxygen Compounds
long_name: Ozone
gcmd_url: http://vocab.ndg.nerc.ac.uk/term/P041/4/G164
gcmd_keyword: EARTH SCIENCE > Atmosphere > Atmospheric Chemistry/Oxygen Compounds > Ozone
names: EARTH SCIENCE > Atmosphere > Atmospheric Chemistry/Oxygen Compounds > Ozone, http://vocab.ndg.nerc.ac.uk/term/P041/4/G164
long_name: Total Ozone Column
names: Total Ozone Column
Co-ordinate Variables